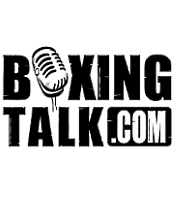 PRESS RELEASE:
Former two-time world champion Virgil Hill of Pleasantville, N.J., and undefeated, No. 1 contender Valery Brudov of Russia meet for the vacant World Boxing Association cruiserweight championship and International Boxing Federation mini-flyweight champ Muhammad Rachman of Indonesia defends against No. 1 challenger Omar Soto of Mexico City on "Collision Course, A Night Of Champions," an internationally televised pay-per-view card promoted by Star Boxing in association with Guilty Boxing and Silverhawk Boxing Friday, Jan. 27, at the Tropicana Casino and Resort in Atlantic City, N.J.
      Three other 12-round title bouts join the two world championship fights. 
      Unbeaten and world-ranked Mike Arnaoutis of Vineland, N.J., defends his North American Boxing Organization junior welterweight championship, world-rated Prince Badi Ajamu of Camden., N.J., defends his World Boxing Council Continental Americas and WBC Caribbean Boxing Federation light heavyweight title and former world champion Stevie Johnson of Vero Beach, Fla., defends his North American Boxing Congress lightweight crown.
      Also on the seven-bout "Collision Course" card will be world-ranked Nate Campbell of Jacksonville, Fla., against Francisco Javier Olvera of Mexico City in a 10-round lightweight fight.
      The pay-per-view telecast will include the Hill-Brudov and Rachman-Soto world championship fights, Arnaoutis' title defense and Campbell-Olvera. 
      The "Collision Course" card is televised on a pay-per-view basis in the United States and Canada at a suggested retail price of $24.95.
      "We're excited about presenting not one but two major titles bouts on 'Collision Course,' Atlantic City's first world championship card of 2006," said Joe DeGuardia, chief executive officer and president of Star Boxing. 
      "Virgil Hill is firmly established in light heavyweight and cruiserweight history; his 27 title fights make him a virtual legend," said Jay Hassman, chief operating officer for Guilty Boxing.  "Brudov may be the most feared slugger in Europe, Rachman is idolized in Asia and Soto is one of the top 10 fighters in Mexico.  Arnaoutis, Campbell and Ajamu are on the verge of stardom and Johnston is reestablishing himself as a force in the lightweight division."
      "Bringing this group together for 'Collision Course' was no easy task, but one that will be entertaining and rewarding for the fans at the Tropicana in Atlantic City and those watching on pay-per-view television," said Bill Sorensen of Silverhawk Boxing.  
      Tickets for the world championship "Collision Course" card, priced at $35, $50, $75, $100, $150 and $200, are on sale at the Havana Tower box office daily from 9 a.m. (Eastern) to 8:30 p.m. and at the North Tower box office Sunday and Monday from 3 to 8 p.m., Tuesday and Wednesday from 1 to 8 p.m. and Thursday through Saturday from 3 to 8 p.m.
      Tickets for "Collision Course" also may be purchased by calling the Tropicana box office at 800-526-2935 or 609-340-4020 or Ticketmaster at 800-736-1420.
      The "Collision Course" card starts at 7 p.m. with doors to the Tropicana Showroom opening at 6:30.
      This will be the first major world championship card presented in part by Guilty Boxing, which has put on weekly cards in Las Vegas, California and Mexico as well as in the eastern United States since 2004.
      The 42-year-old Hill, who has a record of 49-5 with 23 knockouts and is ranked No. 2 by the WBA, is in his 28th world championship bout.  Hill, who was a long-time resident of Williston, N.D., won the WBA lightweight heavyweight title during 1987 and defended successfully 21 times until 1996, the year he won the IBF light heavyweight championship as well.  He also was the WBA cruiserweight champion from 2000 to 2002.
      Brudov has a record of 30-0 with 23 knockouts and has won 11 straight by knockout.  This will be first time he has fought outside of Russia or France.
      The 33-year-old Rachman has a record of 50-7-4 with 22 knockouts and is defending his IBF mini-flyweight championship for the second time since winning it during 2004.
      This also will be the first time Rachman has fought in the United States.  A total of 59 of his 61 bouts have been in Indonesia.
      The 25-year-old Soto has a record of 15-2-1 with 10 knockouts.  Rachman and Soto have one common opponent, Daniel Reyes.  Rachman took a split decision to win his title Sept. 14, 2004, while Soto took a 12-round unanimous decision over Reyes in his most recent outing on a Guilty Boxing card Feb. 25, 2005, to earn the No. 1 position and a shot at the 105-pound championship.
      The 33-year-old Campbell has a record of 27-4-1 with 23 knockouts and is ranked No. 8 by the WBA and No. 9 by the IBF.  He's coming off a most impressive 10th-round knockout of previously undefeated Almazbek "Kid Diamond" Raiymkulov, the co-feature on the undercard of the Antonio Tarver-Roy Jones Jr. pay-per-view card Oct. 1 in Tampa, Fla.
      The 23-year-old Olvera has a record of 14-2 with 12 knockouts.     
      The 26-year-old Arnaoutis, a southpaw from Greece, has a record of 15-0-2 with seven knockouts and is ranked No. 3 by the World Boxing Organization and No. 14 by the IBF.  He won the NABO junior welterweight championship Oct. 22, 2004, with a first-round knockout of Jesse Feliciano in Santa Ynez. Calif.  Arnaoutis successfully defended with a 12-round decision over Roberto Santa Cruz Feb. 19 in Santa Ynez and, in his most recent outing, a first-round knockout of Jose Leo Moreno Dec. 9 in Kissimmee, Fla.
      The 34-year-old Ajamu has a record of 24-2-1 with 13 knockouts and is ranked No. 11 by the WBC.  Ajamu, who's trained by former world champion James "Buddy" McGirt, is defending the WBC Continental Americas championship he won during December, 2004, and the CABOFE title he won in his most recent outing, a 12-round decision over Thomas Reid Dec. 3.
      The 33-year-old Johnston, also a southpaw, has a record of 37-3-1 with 17 knockouts and has lost only once since 2000.  He won the WBC lightweight championship twice between 1997 and 2000 and has a mark of 10-2-1 in world title bouts.
      Opponents for Arnaoutis, Ajamu and Johnston will be determined.