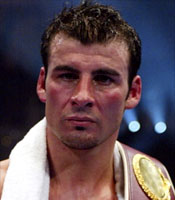 Joe Calzaghe has long been recognized as the premier super-middleweight on the planet...quite possibly since right back to his epic points verdict over Chris Eubank in 1997 - almost an entire decade ago. That victory brought the Welsh warrior the lesser-recognised WBO belt, of which he has made 17 straight defences, but more importantly it projected him to the forefront of the super-middleweight division...and he has stayed there ever since. Rivals like Sven Ottke, Markus Beyer, Charles Brewer and Byron Mitchell have come and gone, either being beaten by Joe or flat-out avoiding him...yet Joe is still without his big signature fight that may transform him from quality title holder to Super-Middleweight Great. Roy Jones had James Toney, Nigel Benn had Gerald McClellan, and now Joe Calzaghe has St. Petersburg, Florida's Jeff "Left Hook" Lacy...a feared, unbeaten IBF champion with knockout power in both hands.
This tantalising match up, set up for the MEN Arena, Manchester, England on March 4th, is quite possibly the biggest super-middleweight fight since the dramatic Benn-McClellan slugfest back in 1995. If Calzaghe can defuse the time-bomb that is Jeff Lacy, there will be no way the boxing world can deny one of it's most ignored talents any longer.
Boxingtalk's Matt Winsper caught up with Joe Calzaghe to talk about his upcoming fight with Jeff Lacy, what it means to his legacy, and the possibility of light-heavyweight superfights with Antonio Tarver or Roy Jones Jr.
MW: Joe, how is training going at the moment ready for the big fight, and how is the hand (injured from his last defence) holding out?
JC: Yeah, training is going OK, the hand feels good. I've started light sparring already and I'm just looking forward to stepping it up.
MW: Are you looking to do anything different in training, or is the same preparation as normal?
JC: I'm training basically the same, really. The only thing I might do is bring some different sparring partners in. Lacy is a short, stocky puncher, so I'll try to bring in some American guys, some short guys, so I get some good sparring ready for him. Normally I spar taller guys, so that's the only difference.
MW: Throughout your career, we've seen two Joe Calzaghes. One boxes at range and uses his jab and speed to win over the distance, the other as a solid in-fighter. Which one will it be for Lacy?
JC: It's difficult to say, really. He's a big puncher, so I will use my jab and take advantage of my speed, but I'll mix it up if I have to, too. Remember that I can do it both ways, and I'll fight him in close punch-for-punch if that's what it takes. I'm not one dimensional, I go into a fight with plan A and plan B, and I'll use whatever it takes for me to win.
MW: Obviously there have been many comments from the Lacy camp about you following your hand injury and the postponement of the original date. Might this force you to go in there with a more aggressive mood?
JC: I don't care what they say. I'll fight my fight and it won't affect my plans in any way. Gary Shaw likes to talk and say all this, but to tell you the truth, I don't give a shit what he says, anyway. I'll just go in there focused and fight my fight.
MW: Did you see the Pemberton knockout? Did it impress you?
JC: Yeah, it was a good punch. He took care of Pemberton quicker than what I expected, but remember that Scott Pemberton isn't Joe Calzaghe. He got hit and went straight down, but that is not going to happen with someone like me. Pemberton doesn't have the speed and the skills I have, and he's way past his sell-by-date. It was a good knockout, but to me it didn't prove anything.
MW: This is obviously the biggest super-middleweight fight for ages. After the missed opportunities in the past, is finally getting this signature fight vindication for you?
JC: I think so. It's good to finally get someone to step up and fight, and I have to give credit to Jeff Lacy for doing it. Boxing should be all about the best fighting the best, and the fact that me and him are getting in the ring is a breath of fresh air for both of us. In the past I've had lots of champions who just didn't want to know when it came to boxing me, so this is fantastic because it's a very tough fight.
MW: Will home territory be a big advantage?
JC: Well, sort of to myself. It's good to have the fight at home, but there is also added pressure. When I fought in Germany I felt very comfortable, because there was no pressure to look good. It's great to have your fans there behind you, but it also makes it uncomfortable sometimes, so it works both ways. Basically, though, it doesn't really affect the fight. It would be the same wherever we fought.
MW: How important is this fight compared to the rest of your career?
JC: With the exception of the Chris Eubank fight, I'd say it's probably the most important of my career. It's possibly my last fight at super-middleweight, so it's nice to get to fight another champion and leave with a great performance.
MW: You're now 33 years of age and relatively inactive of late. Will this affect you?
JC: I'll tell you after the fight! I've been injured a few times of late so I've probably missed out on a few defences I could have fitted in, but I'm still fighting, still winning, still unbeaten, so I don't think it makes any difference. Basically I save up my big performances for my big fights, and I'm up for this fight.
MW: Although a fighter should never look past his next fight, you mentioned it might be your last at super-middle. Who would be next at light-heavy, then, Antonio Tarver? Roy Jones?
JC: I've been at super-middleweight for all of my career now, and after this fight I'll have beaten everyone worth beating. I've always wanted to be a double world champion, so, yeah, I'll probably be moving up to light-heavyweight after this, and of course Tarver and Jones are options I'll look at. I always said I'd be retired at 32, but here I am, 33 and still fighting. I've always been a winner, always a champion and if I feel it's time to retire, I'll retire, but I feel as good as ever right now, so I'll keep looking for the best fights.
MW: Do you have any words for Jeff Lacy?
JC: No, not really. Gary Shaw likes to mouth off, but I don't give a shit what he says, I let my fists do all the talking. I'm just looking forward to it. I'm sure Jeff Lacy is, and I think it'll be the fight of the year.
MW: Joe, thanks very much for talking to us.
Send questions and comments to: mattwinsper@yahoo.co.uk