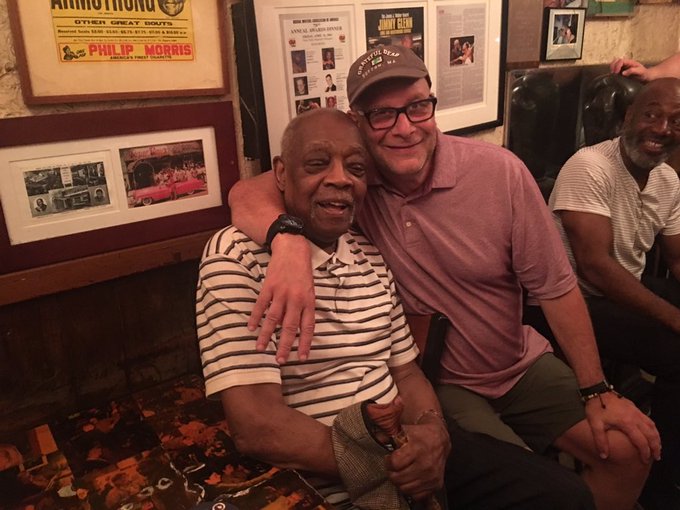 The coronavirus has claimed a New York boxing legend, the universally loved Jimmy Glenn, who reportedly passed away last night. As a trainer and cornerman, Glenn worked with Shane Mosley and Jameel McCline among many others. Earlier this year, Glenn (left, pictured with Lou DiBella) was well enough to attend McCline's induction into the New Jersey Boxing Hall of Fame, where McCline paid tribute to Glenn in his speech. Glenn was one of the last links to the glory days of boxing in New York. His ties to the sport date all the way back to Floyd Patterson and Muhammad Ali, and for years, he has owned Jimmy's Corner, a crowded bar in New York City's Times Square that is covered from floor to ceiling in boxing photos and fight posters.
Promoter Lou DiBella summed up many people's feelings by tweeting, "My heart is broken right now. Jimmy Glenn was more than a friend to me, he was my family. Along with my late Dad, Jimmy was the best man I have ever known. He was a source of unconditional love and support in my life for 30 years."
Boxingtalk joins the rest of the boxing world in mourning the loss of Jimmy Glenn.
Jimmy's Corner survives as a tribute to its owner. New York magazine called the place a "veritable shrine to boxing, [where] the walls are lined with fight posters, photos and other personal effects that owner and professional trainer Jimmy Glenn has pasted up over nearly 30 years (look for the shots of Jimmy with Muhammad Ali)."