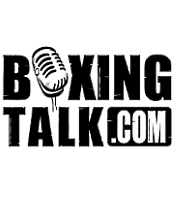 Undefeated middleweight Jesus Gonzales appears on Telfutura's Solo Boxeo program tomorrow night, facing hard hitting Dominican journeyman Alberto Mercedes in a scheduled eight round contest. Top Rank Promotions is putting on the show at the Fort McDowell Casino in Fountain Hills, Arizona, and headlining the bill is Cesar Bazan who meets Ernesto Zepeda. Boxingtalk.com caught up with Jesus, his father/trainer Ernie and Jesus' manager Cameron Dunkin as they were preparing for this crucial step in the Phoenix southpaw's career. Read on to learn more about this exciting prospect who goes by the name of "El Martillo". 
Jesus Gonzales has racked up a record of 13-0 with ten stoppages since turning pro in July of 2003. He's also built a dedicated fan base in and around the friendly confines of his hometown of Phoenix, as his thrilling, hard hitting style has been packing them in the historic downtown Dodge Theater. This time "El Martillo" is still fighting in Phoenix, but at a different venue. It's the beginnings of a plan to get the twenty year old phenom away from home. "Jesus needs to go on the road instead of fighting in the same town all the time," said Cameron Dunkin, who managed more world champions in his career than you can count on both hands. "He's fought in California once and in Laredo, TX recently but other than that he's fought 11 times in Arizona and all but one of those was in Phoenix." 
Before Gonzales hits the road he'll have to contend with Friday's opponent Alberto Mercedes, 12-8-1 (8). Mercedes' record may not be as impressive as his favored opponent but he has been in with a few fighters that are arguably more impressive than anyone on Gonzales' resume. "Mercedes will be a good test for Jesus," said Ernie Gonzales, longtime trainer and fixture in the Phoenix boxing scene as well as Jesus' father. "The guy went twelve rounds with Alex Bunema, eight rounds with Troy Rowlands and six rounds with David Estrada. He's a tough customer and most of his wins have come by knockout. Jesus has been looking really good and been training really hard, though and I think he's going to look really sharp in this fight." 
A long standing tradition in the sport has been for fighters on the way up to provide good sparring for more accomplished boxers preparing for big fights. In training camp recently, Jesus Gonzales got the opportunity to take part in that process. At this stage of his career, the heavy handed southpaw is well aware he needs to soak up all the learning he can. "I helped Kofi Jantuah get ready for the Kassim Ouma fight," he recalled. "It went really well, nothing I couldn't handle and it was fun. I also sparred with Rubin Williams who's going to fight Jeff Lacy in March. That was fun, too and I really took a lot away from both experiences." 
Should Gonzales fulfill expectations and get past Alberto Mercedes, larger motivations loom just over the horizon for the popular former heavily decorated amateur. Ernie Gonzales has been hoping for an opportunity that will help his son lose the "prospect" tag and plant his feet firmly among the land of contenders in the talented middleweight division. The trainer even has his sights fixed on what he believes is the perfect target. "We'd like to have the opportunity to fight Fernando Vargas or somebody like that," stated Ernie. "Vargas is building himself back up to the top and it would be great for us to fight him. That's down the road, but right now we're just looking to get this eight rounder out of the way and the next fight should be a ten rounder. Hopefully we'll continue to be televised and get a lot of publicity for Jesus' fights." 
Cameron Dunkin has a wealth of experience in managing fighters and has devised a more immediate plan to get Gonzales through the dangerous intermediate stage. The Las Vegas native thinks that a change in weight classes just might do the trick. "Jesus is about 5 foot 10 and not a big middleweight," he said. "I'd like to see him fight at junior middle. We want to get him down to 154, and I don't think will be a problem for Jesus. For this one, because the opponent is heavy, it's being fought at 158 or 159lbs, but we think Jesus could take advantage of good opportunities at junior middle. We'd like to step him up a bit this summer, have him fight for some kind of a small title. I'm also looking to fight him out in California, maybe on a pay per view show, something like that, and do something different rather than to keep him fighting in Arizona all the time." 
Regardless of where he fights, Jesus Gonzales will likely continue to win and impress those in the seats and at home watching his engaging two fisted style on TV. As he prepares to face another dangerous opponent, the young man steps into the ring fully aware of what he has to do to keep the party going. "I watched Mercedes fight one time, when we went 12 rounds with Bunema," said the Phoenix hopeful. "He's a pretty tough dude comes forward a lot. I like when an opponent does that because when they do they leave themselves open for shots. Mercedes doesn't seem to mind getting hit but he is going to care when I hit him." 
Boxingtalk.com would like to thank Jesus and Ernie Gonzales as well as Cameron Dunkin for making this article possible.
Send questions and comments to: thomaspointrd@aol.com