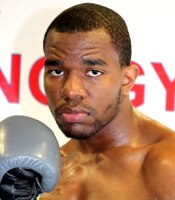 Greg Leon: I heard the news Jesse, I don't imagine you're happy. Why did Eleider Alvarez pull out of the fight? Jesse Hart: "They're saying he got injured but we never got a doctor's report. The said he tore ligaments, but we never got the proof. Either we do get proof or an injury or we starting calling a spade a spade. That's the question that has to be answered, because if we don't get paperwork why are the people going to say now? Are they still going to believe he's a killer? They call him the Kovalev crusher, but if we don't proof we're going to have to call a spade a spade and say he didn't want to fight Jesse Hart."
GL: How do you feel about the opponent change from Alvarez to Sullivan Barrera?
JH: "It's not going to be as big, it's just going to be me knocking out Sullivan Barrera, people aren't going to say he moved up against a top guy and a guy that was relevant. They're not going to give me the credit."
GL: Barrera might not be a big name, but it's hard not to consider him a top ten light heavyweight. You're making your debut at 175 against a top tenner not Tommy Karpency.
JH: "True, but I want the big credit. I wanted to fight somebody that knocked out somebody and in all his big fights Sullivan got creamed. Ward beat him to a pulp and Bivol destroyed him, and he's always getting dropped he was dropped against Joe Smith, he was dropped against that Dominican kid (Felix Valera) and Alvarez has never been down, so people are going to say c'mon Jesse what the f**k are you doing? That's what you're supposed to do he gets dropped every fight. I want the credit, I fight for the money, but I want the credit. I just want my name mentioned among the best that's all."
GL: If Alvarez isn't suffering from heart-itis is that the fight you'd be looking at if you can't get a title shot after Barrera?
JH: (laughs) "Absolutely. I would love to fight Alvarez and believe it or not I could still make 168 easy."
GL: I don't know why you're not fighting for the vacant super middleweight title at 168.
JH: "After I fought Ramirez I was still top two and then they give it to Billy Joe Saunders following a failed drug test and dropped me to number three. After I fight Barrera if Saunders wants to fight me, I'd be glad to fight him with the proper testing in place."
GL: Are you going to be able to prepare with the same level of intensity for Barrera even though you don't think it's such a big fight?
JH: "Absolutely, that's just who I am. We all know I'm not going to get credit for this fight, he's old he's slow as molasses and he's got some hard fights under his belt that have taken years off of his career. Against Alvarez I would be more pumped, but I'd get a lot of credit for beating him. I'm a realist though and I'm a boxing expert, I know I'm younger, I throw 80 punches a round to his 16, I'm keeping it all the way 100 giving you facts."
GL: Don't say Sean Monaghan's name again during this promotion. It's not a good look because anybody who goes the distance with Sean Monaghan ain't top ten in my opinion.
JH: "Thank you, but see, you understand what I'm saying?"
GL: I ain't trying to shit on Seanie, because at the end of the day he'll beat my motherf**king ass, but any elite light heavyweight stops Sean Monaghan.
JH: "I agree and that's my point exactly."
GL: Bernard Hopkins is your boxing idol and Smith beat Hopkins and he beat Smith and now you're out to beat him, that's the idea.
JH: "It's funny too because I wanted to fight Joe Smith because of that but he wanted to do the fight at 180 pounds in my first fight at light heavyweight.
GL: "There's more than one way to say no."
JH: "There is and that's exactly what I said when I heard he wanted to do the fight at 180."
GL: Closing thoughts for the fans.
JH: "Tune in on June 15th to watch me put the final nail in the coffin of Sullivan Barrera's career. I don't think there's going to be any commission in this country that's going to license him after they see what I do to him."
Send questions and comments to: Boxingtalkg@Yahoo.com