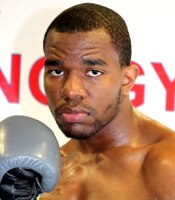 Greg Leon: Congrats on getting the Eleider Alvarez fight, it's the fight you were anticipating and now it's happening on June 15th. How do you feel about the fight? Jesse Hart: "I feel good about the fight, I'm glad I got the fight. When they called me (yesterday) I really didn't think he was going to sign the contract. You never know with guys, they say they're going to do something and they don't. You don't know what's going on so you've got to take the good with the bad in that aspect, but now that he's signed the contract I'm very excited about it."
GL: You seem determined to go to light heavyweight. I was talking to Bob Arum yesterday and he mentioned the probability that Gilberto "Zurdo" Ramirez could vacate the WBO super middleweight title and you might then be able to fight for the vacant WBO strap at super middleweight. But obviously moving to 175 is your preference.
Jesse Hart: "I do prefer to move up, you never know with guys like Zurdo. I'm not waiting on guys like that, that's bad for the sport. I feel like I deserve a third fight and at the end of the day I'm not going to chase you or wait for you. I ain't got a lot of time left in this game, so I ain't got no time to waste."
GL: Zurdo just made his light heavyweight debut against Tommy Karpency, which is the equivalent of dipping his toe in the light heavyweight waters. What you're doing with Alvarez is something totally different, you're jump into the pool head first. What made you...
JH: (cutting in) "I just want to show the world and people to see there's a difference between the two guys that they're dealing with. You got me and I'm going right into the fire while he's tip-toeing around. Throw me right to the wolves, that's what I want."
GL: Is this a must-win fight for your to remain at the highest level of boxing?
JH: "Absolutely! This is the most important fight of my career and I'm not approaching it no oher way. It is that and for me it's bigger than Zurdo Ramirez. You can't downplay what's going on right now. I'm going up in weight to fight the much bigger man in my first fight up there, so I'm really a super middleweight, he's got all of accolades and he beat the guy that you have to beat to become champion. He beat Sergey Kovalev and when you're dealing with a guy like that you know it's a big fight, you understand that and you embrace it because these are the moments I live for."
GL: Your idol is Bernard Hopkins, he was very good at identifying guys he can be successful against. Is that what you and your people are doing with this fight with Alvarez here?
JH: "He's dangerous and he's right handed, and dangerous opposition is what I need to performance at my highest level. You can't put me in there with a Tommy Karpency, I need threats to stay alert. Why keep fighting guys that aren't on my level when I don't got that much time left? I'm 29 years of age and I don't want to be in there until I'm 40 or 50 I'm trying to have an early exit from the sport."
GL: So a helluva five year run before saying goodbye.
JH: "That's absolutely what we're trying to do. I've dedicated my whole life to sport of boxing since I was six years old, and I just want to be great. I want my name to be mentioned with the Joe Frazier's and Muhammad Ali's. Those are big shoes to fill and my dad told me you've got to be able to be successful in multiple weight classes. It's a very important thing to do when you're on this level."
GL: And is the plan for a win on June 15th to lead to a title fight with one of Top Rank's light heavyweight champions?
JH: "That's right. I'm not taking nothing away from Alvarez, he can fight, I just don't think he's better than me. And after the fight people are going to come and say, well he's older now and he's fallen off since his last fight and...
GL: (cutting in) Nope. He stopped Kovalev two fights ago, I don't think anybody credible would be saying that.
JH: "I'm telling you, with me they always find something to say, so I hope there isn't any of that afterwards."
GL: Closing thoughts.
JH: "June 15th tune into ESPN+ and see Jesse Hart vs. Eleider Alvarez on the Tyson Fury undercard. Don't miss this fight. This is going to my statement maker right here, more heart that anything and this is going to be my coming out party that starts my legacy."
Send questions and comments to: Boxingtalkg@Yahoo.com