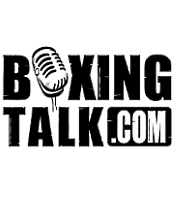 By Rea Frey
Following world middleweight champion Bernard Hopkins' zealous responses during a conference call earlier this week, Hopkins' challenger, Jermain Taylor, took his turn answering questions from the press about his preparation for the July 16th fight in Las Vegas. Taylor was joined by his trainer, Pat Burns, and his promoter, Lou DiBella.
Before Taylor got on the line, however, DiBella said a few words about how wonderful Taylor's training was going, how youth will be on Taylor's side in this fight, and that Taylor is bigger, stronger and faster and come fight night, he will prove that he is also better.
A reporter from ESPN asked DiBella about his relationship with Hopkins, the man he successfully sued for defamation and DiBella quickly interjected that he was not talking about that topic. "I'm not talking about my relationship with Bernard, I'm not talking about my numerous victories in court with him, I'm only here to talk about the fight. I'm taking the high road, which is a place that Bernard Hopkins has never been."
After an awkward silence, Taylor joined the call and one could immediately discern the difference between the two boxers' personalities. While an hour before, Hopkins went on a passionate rampage, Taylor exuded a warm confidence and respect that was missing from Hopkins. Taylor answered every question with a yes sir, yes ma'am or no sir, no ma'am and even apologized when he interrupted anyone's question. His respect emanated through his every response, and his shaky voice was softer than most fighters'.
The first question dealt with why this 26-year-old thinks he can take on Hopkins at this relatively early stage in his career. "I feel like my whole life has prepared me for this moment," Taylor sputtered. "Now it's my turn. I train hard, I work harder than any fighter I know. I think my style of boxing is going to penetrate him. I'm coming to fight. No. I'm actually coming to win."
23-0 since turning pro after the 2000 Olympics, Taylor went on to explain how he has watched Hopkins' fight tapes and thinks that though he is still a dangerous fighter, Hopkins has gotten older, a bit slower, and takes more shots to the head. "He's a slow starter, so I want to capitalize on that. And even if he does get old in the ring, he's still going to fight. I know how Bernard fights. If you want to make it a dirty fight, I'll make it a dirty fight. I'm not backing down from nobody. I've been boxing for fourteen years. This is a sport. I'm going to get in the ring, regardless of what is said. We're going to fight. Outside of the ring, it doesn't matter what we think of each other. I'll take him out to eat, whatever. But, I am prepared for everything. I've trained hard."
When asked if fighting in Vegas intimidated him, Taylor was quick to reply. "No, sir, it's not going to intimidate me at all. It's actually going to help me. I will have some of my people there and it will feel wonderful to have them support me. I've never fought anyone similar to Bernard, but I'm going to say I just take a little bit from each of my opponents and add it to a bank. And I'm going to take some of Bernard Hopkins, and add it to the bank too."
The subject then turned to his mother and how Jermain wants her to quit her job and relax. "I hope I'll be able to put enough money in her bank account that she can wake up and say, 'I don't want to go to work today.'"
When asked if he felt like he was in the middle of a feud between DiBella and Hopkins, Taylor sighed. "I don't feel like I'm in the middle. I don't worry about that."
A reporter interjected and explained that Hopkins said he would see DiBella's face when he was in the ring. DiBella laughed and replied, "I hope he's seeing me in that ring – I'm a lot slower and I don't have a strong jab, so he can see me all night!"
Taylor said that although he feels that bigger and stronger than his opponent, that does not equal an easy success. "It doesn't mean I'm going to win the fight. I've also got boxing skills. He can't take my jab away all twelve rounds. If he takes it away, he's going to have to lean in, and I'll get him with an uppercut. However he brings it, I'm going to take it to him. There ain't nothing he can do to beat me. I'm just going to go in there, I'm going to box. I motivate myself. I've been waiting on this moment a long time. Now it's my turn. This is what I wanted ever since I first started boxing. This is what I got into boxing for. I believe that all my experience has got me right to this point."
Although he is not hardened by doing jail time like Hopkins, Taylor insisted his whole life has prepared him for this fight. "I just feel like… there's been a lot of ups and downs in my life, a lot of hurt. I've had to step up to the plate when it wasn't my time and a lot of people see this fight like that. And I can do it."
The final question dealt with his two-year marriage and his children. Jermain Taylor's voice grew soft as he uttered his last sentence. "It's all about the kids. There's nothing like seeing my little girl smile, or my boy. It's all about the kids."
And on July 16 2005, it will be about one kid from Little Rock, Arkansas versus a master executioner from Philly.  Hopkins had earlier posed the question, will it be a short night or a slow death? Only time will tell who has the heart and skill to claim the middleweight title, and call themselves the true champion.