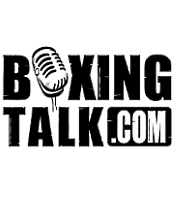 There's been more than a simple change in scenery for World Middleweight Champion Jermain Taylor as he prepares in Detroit's historic Kronk Gym for his June 17th title defense against Winky Wright.  It's been a change in philosophy, a change in an already intense work rate, and a change in attitude.  
"It's a boxing atmosphere here and I love it," said Taylor, who is now training with the legendary Emanuel Steward in the Motor City.  "Kronk Gym has had a lot of champions and I'm in awe just to be here."  
With one month to go before the epic clash between two of boxing's best at Memphis FedEx Forum which is being presented by DiBella Entertainment, Gary Shaw Productions and Prize Fight Promotions (a bout to be televised live on HBO World Championship Boxing beginning at 9:30pm ET / 8:30pm CT / 6:30pm PT), Taylor and the rest of his team – Steward and manager / co-trainer Ozell Nelson – checked in from the world famous Kronk Gym.  
Taylor's First Impressions Of The Gym…  
"Once you come in the Kronk gym and get the Kronk t-shirt, you're officially a member of the Kronk," said Taylor.  "As soon as you walk in the gym, you can feel it.  It's a boxing atmosphere.  There's people on the sidelines and everybody's got their own opinion of you and nobody's scared to say anything – everybody speaks their mind.  I love the gym, and being in Kronk helps you a lot because all you're around is boxing.  Every day you get up, you think about boxing, you go to the gym and think about boxing, you go home and think about it.  It's all boxing, and when I step into that ring on June 17th, I'm gonna be ready."  
Emanuel Steward Is One Of The Greatest Trainers In Boxing History, And His Home Is The Kronk Gym In Detroit, A Place Where You Must Check Your Ego At The Door Or Get Sent Home Packing.  Steward Describes Taylor's First Couple Of Weeks In The Gym…  
"This ain't no place to try and be somebody," laughed Steward.  "You come in here with your head up in the clouds, you're in the wrong place. So Jermain comes in, and he boxes the first time with Andy Lee, a left handed middleweight who's one of the stars at our gym right now, and they had a real rough and spirited workout.  It was nip and tuck.  He said, 'I'm not used to that.'  They boxed again on Friday and there was electricity in the air.  Jermain said, 'I've been here for two weeks training.  Never once has somebody asked me for my autograph.  Nobody's even asked to take a picture with me.'  I told him, 'You've got to realize that you were taking on the middleweight champion of this gym in Andy Lee.  This is his turf right here, and you being the middleweight champion of the world, you've got to earn that respect here.'"  
Steward's Stellar Reputation Precedes Him, But Why Was He The Right Man For The Job?  Ozell Nelson Explains…  
"Emanuel Steward has been around a long time, and I know he knows all the tricks of the trade," said Nelson.  "He's been around for decades, and some of the guys that would take him were guys that had already taken a loss, and Emanuel would come in and try to fix them.  By knowing all this about Emanuel, and him just training Wladimir Klitschko to beat Chris Byrd, a tricky southpaw, that played a big part in it."  
And How Has Taylor Reacted To The Change In Scenery…  
"Kronk is no joke," laughed Nelson.  "There's a bunch of talented guys down there and Jermain is striving on proving himself.  Every day is something different and the new scenery is allowing him to open up his eyes more and absorb what Emanuel is trying to teach him from a different perspective"  
Leaving His Usual Comfort Zone In Florida For Training Camp Was No Issue At All For 'Bad Intentions'…  
"I'm a fighter, that's what I do, and when it comes time to fight, I'm ready to fight," said Taylor. "I have an understanding wife, and when it's time to go to work, it's time to go to work.  I've got to pay my bills."  
Steward Has Taylor In Tough Sparring Sessions In Detroit With Unbeaten And Hungry Fighters Such As Andy Lee and Sechew Powell.  He Feels The More You Sweat In The Gym, The Less You Bleed In The Ring…  
"One of my philosophies that I've always believed strongly in is strong competition in sparring," said Steward.  "I don't believe in sparring partners and I don't even have them.  That's part of my success as a trainer – I've always had competitive workouts.  I feel that's what the Kronk is known for.  I've always believing in sparring with good fighters, not sparring partners.  And Jermain loves it."  
Taylor Is Coming Off Back to Back Wins Over Future Hall of Famer Bernard Hopkins and Now Is Jumping Into The Ring With One Of Boxing's Best, Pound for Pound, Winky Wright.  What Does This Attitude Say About Jermain Taylor, The Fighter?  
"Jermain is willing to take on all comers and fight the best," said Nelson.  "He said 'why wait when you can get 'em now.'"  
Adds Taylor…  
"I just want everybody to know that I'm not gonna run from nobody," he said.  "If they say Winky Wright's the best, then I want to fight the best.  And whoever is next afterwards, I'll fight him – it don't make a difference."  
So How Do You Beat A Tricky Southpaw Like Wright?  
"Winky can't win a fight just by keeping his hands over his head," said Steward. "You don't get points for that – you have to punch sooner or later.   That's where Jermain's reflexes will be a big factor and he's doing all kinds of things that people haven't seen from him yet."  
"I've had five southpaw world champions," continues Steward, "and everybody's working to help him – Andy's showing him what he gets hit the most with as a southpaw and we've got Sechew Powell, another undefeated boxer.  But no one has ever seen Winky Wright decisively beaten and he's on a roll right now.  I've had a lot of these situations and it's a challenge, but I find it stimulating to me as well. This is a hard guy to fight, and I'm a big fan of Winky, but I see a lot of little weaknesses, and I've got a younger fighter with faster hands and who's bigger.  If Jermain's in great shape physically and mentally and competing on a high level in the gym, he's gonna be a difficult guy for anybody to fight."  
What Was It About Taylor That Enticed Steward To Take On This Job?  
"I saw he had a certain amount of toughness in him," said Steward.  "I also saw that he was a big kid, and I always liked him.  And then he had that solid amateur background.  But it was his mental toughness, and I saw it in those two fights (with Hopkins).  Forget about all of that nice, Southern-type personality.  I see a real, real tough guy inside of Jermain Taylor."  
So How Does This Tough Guy From Little Rock, Arkansas Follow-up June 17th If He Beats Wright?  
"To tell you the truth, I'm not even worried about all that," said Taylor.  "All I want to know is that after I beat Winky Wright, who's next?"
_______________________________________________________________________________________________________________________________________________  
Tickets are priced at $1,250, $1000, $750, $500, $300, $150, $100 & $75, with over 6,000 seats priced at $100 or lower. Tickets will go on sale the morning of Wednesday, April 5th and will be available at FedExForum Box Office (901-205-2640), all Ticketmaster locations, by calling Ticketmaster at 901-525-1515 or online at
www.ticketmaster.com
.