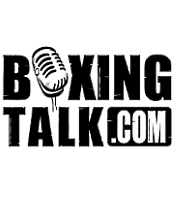 Press release:
With less than three weeks to go until fight night, Jermain "Bad Intentions" Taylor is entering the home stretch in his preparations for his Saturday, December 4, 2004 bout with former three time World Middleweight Champion William Joppy at Barton Coliseum in Little Rock, AR.
It is said that fights are won or lost in training camp.  If that is truly the case, then the camp that Jermain is having forshadows a happy homecoming on December 4th.
"Training is going really well," said Taylor. "Like always, I'm giving it 110%.  I know my fight against William Joppy is an important fight that will take me to the next level.  My preparations during this camp reflect that and I'm looking forward to coming home to Arkansas to show that."
"If Jermain wants to be a World Champion then he has to beat a guy like William Joppy," noted trainer Pat Burns.  "We've worked on some new things that will exploit Joppy's weaknesses…things the public has never seen before."
Jermain's longtime coach Ozell Nelson concurs with the sentiment about how the camp is coming along.  "Camp is going really well.  Everything is right on schedule."
Taylor promoter Lou DiBella stated that "when you fight the best, you have to be at your best and I am confident that with the help of Pat Burns and Ozell Nelson, Jermain will be at his best on December 4th."
"We're all extremely pleased that Jermain is having such a productive training camp," stated Taylor's management representative Jimmy Binns.  "We are all looking forward to the completion of this camp under the guidance of Coaches Burns and Nelson and a successful promotion under the auspices of DiBella Entertainment."
Sensational middleweight contender Jermain "Bad Intentions" Taylor returns home to Little Rock, Arkansas, to defend his WBC Continental Americas Middleweight Title against former three-time World Middleweight Champion William Joppy on Saturday night, December 4, at Barton Coliseum.
Taylor (21-0, 16 KO's), the United States 2000 Olympic Bronze medalist, has been a house on fire during his unbeaten pro career. "Bad Intentions" will face his sternest test to date against Joppy (34-3-1, 25 KO's), the former three-time middleweight kingpin from Silver Spring, Maryland.  
William Joppy has fought the best the division has to offer. The 34-year-old veteran's opponents have included the cream of the middleweight crop – Bernard Hopkins, Felix Trinidad and Howard Eastman.
"Season's Beatings" will also showcase Brooklyn's unbeaten Paulie Malignaggi (18-0, 5 KO's) vs. Sandro Casamonica (34-4, 21 KO's) for the WBC International Super Lightweight Championship as well as Little Rock's own heavyweight prospect, Terry Smith (20-1-1, 15 KO's) in a six round bout, plus Will Mitchell of Crossett, Arkansas, making his pro debut in a four round junior welterweight fight. Two other bouts are scheduled for the card and will be announced shortly.
Tickets for "Season's Beatings" are priced at $150, $108, $81, $54, $27 and $15, plus a limited number of Gold VIP tickets priced at $270 and are available at all Ticketmaster outlets, by calling Ticketmaster at 501-975-7575, online at
www.ticketmaster.com
, and at the Barton Coliseum box office (501-372-8341).
On fight night, doors open at 6:30 PM, and the first bout is scheduled for 7:30 PM.
"Season's Beatings" is brought to you by DiBella Entertainment in association with Don King Productions and Full Tilt Poker.com and is sponsored locally by Comcast Cable.