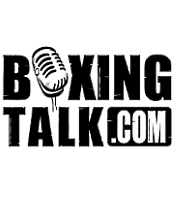 Undefeated welterweight Michael Jennings challenges Champion Chris Saunders for the English 147lb title Friday night on the undercard of the Hatton - Stewart IBF Junior Welter title eliminator put on by Frank Warren's Sports Network, to be held at a sold out MEN Arena in Manchester, England. A host of Sports Network's Manchester area fighters, headed by Michael Gomez, round out the action which will be aired live throughout the UK by Sky TV on it's SS1 service, with a start time of 10PM. Boxingtalk.com caught up with the undefeated Michael and his trainer, the longtime Manchester legend Brian Hughes, and you'll want to know more about this aggressive, all action welter from the small boxing mad town of Chorley, just north of Preston, England. Read on as Boxingtalk.com continues to present to Global boxing scene as no other media outlet can.
Michael Jennings, 23-0 (9), gets the step up he's been looking for as he meets former journeyman turned dangerous, experienced English Welterweight titlist, Chris Saunders. For Jennings, who has made three defenses of the WBU International belt he won a year and a half ago, it's the beginning of what he hopes will become his ascent into the upper echelons of a traditionally difficult and competitive division. "I feel good this fight I've got coming up and I've done everything I was supposed to do in preparation," said a focused Jennings. "I'm ready to go right now, but it's just a matter of waiting. This probably will be my toughest fight but they're all tough to some degree and you've just got to get through them."
The preparations Michael Jennings refers to are the architecture of Manchester boxing fixture Brian Hughes, who also currently trains British Welterweight Champion David Barnes and WBU International Light Middle strapholder Thomas McDonagh among others. As Hughes tells it, it's no wonder Jennings nailed his training, as the twenty seven year old seems a bit of a gym rat. "Michael is one of those type of boxers that you don't have to chase into the gym because he works so hard," said the trainer. "He's so fit and just a special athlete who loves training. It's not a grind or a bore to him but he loves it and I have to chase him out of the gym by telling him 'that's enough for today!' He's always working on his skill and teachings."
And a good thing at that as the opponent for Friday's matchup is a forty four fight veteran who has turned his career around by winning the English five months ago. While thirty five year old Chris Saunders does have twenty one losses to go along with twenty two wins, a good number of those setbacks were at the hands of some very accomplished British fighters such as Scott Dixon, Derek Roche, Billy Schwer, Shea Neary and Kevin Lueshing. Barnsley native Saunders is also a former British Welter Champion who has won his last six on the trot, including picking up the recently created English crown by stinging Marcus Portman in the very first round.
Hughes is well familiar with Saunders and has devised what he feels is the perfect strategy for his fighter to nullify whatever advantages the veteran may have. "Chris is a southpaw and a big puncher," stated Hughes. "He comes from around Sheffield and this fella can punch and he can really bang. He's an experienced man, very, very experienced. It's going to be a terrific fight as Michael is going to have to box off the back foot, because if you stand close with this man and he'll take your head off.  Obviously Michael can't afford to let that happen so he's got to go about things scientifically, like it's a game of chess. That's the style that we want him to go with because you can't fight the other man's fight, can you? We're going to use different tactics than what Michael is generally known for, and we've been working on just that. We've had loads of sparring to prepare for Saunders, including with David Barnes, who I also train and is a southpaw himself."
Not only has Jennings been immersed in southpaws lately, he grew up in close proximity to one. "Southpaws are awkward to fight but I've sparred nothing but for the past eight weeks and my brother is a southpaw as well, so I used to do a lot of sparring with him," he recalled. "The first few rounds against Chris Saunders will probably be pretty difficult, working him out and what have you but once I've done that I'll just do my own thing and hopefully get to him. He can bang a bit and is supposed to be pretty strong so for the first few rounds I'll just get on my back foot and box him to see what he's about. After that I'd like to wind it up a notch and see what happens."
Jennings, who in May handed tough Polish fighter Rafal Jackiewiscz his first stoppage loss, has all the warmth of a rattlesnake once the bell rings, but is far different in his daily life. "I've been coaching fighters for forty three years," said Hughes, "and been in boxing all my life. I've had umpteen champions and Michael is one of the nicest blokes I've ever had the privilege and the pleasure to train or even meet. He's such a nice man. If there is any justice in boxing, and that's not always the case, this lad deserves everything that's good. If he was your son, you'd be proud of that fact. He never gives anyone a moment's trouble, he's always got a smile on his face when he's training, and he always has a laugh and a joke with the other lads. Then he gets home from the gym and practices, practices, practices. That's why I'm saying he deserves success, because he puts so much into it."
Michael Jennings is more than ready to step it up and move his career into the next phase. Of course he has dreams like every other fighter of winning all the belts that really matter but for right now Jennings wisely has his sights fixed on the immediate future. "I've just got to win this fight and at the end of the day, that's what it's all about, innit?" asked the Chorley man rhetorically. "I just want to get another win, that's all I'm bothered about. I just want another win and to take another step up the ladder. I have the WBU International belt but it's very important for me to win the English, as it's a more recognized title than what I already have. It's a big step up for me, really, and I think it'll put me on the ladder to different things. I know that Chris Saunders has all the experience in the world and he's been a British Champion but at the end of the day I've got twenty three fights under my belt and am not without experience myself. This fight is going to put me in line for the British title so I have to win it, I've got to win it and I will win it."
Boxingtalk.com would like to thank Michael Jennings, Brian Hughes and Richard Maynard for making this article possible.
Send questions and comments to: thomaspointrd@aol.com