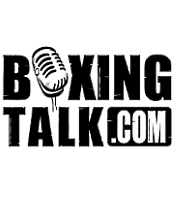 By Scott Shaffer
Jeffrey Resto could not have found himself in a more dramatic situation than he was in at the Manhattan Center in New York City on Thursday night. Although ahead on the scorecards against Michael Warrick, a man who already defeated him once,  Resto was hurt by Warrick and was in danger of losing a fight that he had promised himself he would either win or retire from boxing.  A Warrick right hand in the tenth round knocked Resto's mouthpiece out and sent him back towards the rope. As Warrick moved in to finish Resto off, Resto landed an uppercut that sent Warrick staggering backwards. Still fighting without his mouthpiece, Resto charged forward and landed two lefts that sent Warrick to the other side of the ring.  Resto rained a few punches in on Warrick until the referee stopped the fight at 1:53 of the last round.
"I got hurt," admitted Resto, who also floored Warrick with a body shot in the seventh round. "I got caught with a right hand, but that's when I am most dangerous."  Going into the last round, Resto led on the official scorecards 87-83 (twice) and 86-84. Considering Resto was dropped twice in his loss to Warrick less than a year ago, the safe and probably smart choice would have been for Resto to stay away from Warrick over the last three minutes. But anyone who has seen the exciting junior welterweight in the ring knows that avoiding action simply is not Resto's style.  "I thought I was ahead," said Resto, "but I wanted to make sure I won it this time."  The strategy nearly cost him, but it created high drama for the fans.
With the win, Resto improves to 20-2 and lives to fight another day. Although his body was bruised in several places, Resto thinks he can be ready for a June title bout if Arturo Gatti, Floyd Mayweather, Migeul Cotto or Vivian Harris need a late substitute. Talk of a title shot for Resto, although still remote for the moment, is a big turnaround for someone who made up his mind to retire if he lost. "Three losses would have been enough. I would not have kept fighting," said Resto, a quiet but extremely likeable family man who holds down a full time job in a New York City hospital. 
The loss was a bitter one for Warrick, 18-3, who was #22 in the Boxingtalk ratings. "From the beginning I didn't think he wanted another war like in our first fight," said Resto.  "I think that fight took something out of him." Still, promoter Lou DiBella praised Warrick and said he would bring him back for another fight. For Resto, the championship dream is alive again.  "I'm ready for any 140-pounder out there, especially Vivian Harris and Kostya Tszyu. If I lose to them, at least I can say I lost to the best."
On the undercard, what looked like it might be the first test of Jaidon Codrington's pro career turned out to be another early knockout. At 32-16 coming in, Etienne Whitaker had some good wins on his record. However, it is painfully obvious that Whitaker has absolutely no chin left. A Codrington jab wobbled Whitaker and a short left sprawled Whitaker out on the canvas. That ended the fight at just 1:45 of the first.  The finak blow was solid, and Codrington, now 8-0 with 8 KOs obviously has plenty of power, but its obvious that after three straight early knockout losses, Whitaker can no longer absorb punishment and should retire before he suffers a serious injury.
Codrington's partner in the Chin Checkers, Curtis Stevens saw his knockout string end at six but that probably is a good thing for him. Veteran Shannon Miller, 20-31-8, took him the full six rounds, and at times Stevens looked like he didn't know what to do with an opponent who didn't drop the first time he got touched on the chin. Still, Stevens landed many good punches and dominated the fight, winning by scores of 60-53, 60-54 and 59-55.
In other bouts, Robert Semidei turned pro with a win that was probably much tougher than he expected.  Jenkins Alvarez, now 0-4, was much tougher than his winless resume would indicate, and the featherweight bout was fought at a very fast pace... Victor James, 1-1, won a four-round heavyweight bout by split decision over Rudolf Louis, 0-1 and Terrance Thomas 2-3-1, won a unanimous four-round junior lightweight bout over Washington Hago, 1-1.
After the main event, an ugly brawl broke out that escalated into a chair-throwing free-for-all. One apparently innocent bystander tooka chair to the head and suffered a huge cut that covered him in blood which spilled onto this reporter as the man stumbled around in a daze. A sweaty Lou DiBella showed a lot more heart than the average Harvard lawyer when he leapt into the fracas to try and restore the peace. It was a disturbing end to an otherwise great episode of DiBella's Broadway Boxing series. 
Send questions and comments to: boxingratings@yahoo.com