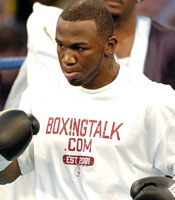 Less than two weeks from today, IBF super middleweight title holder Jeff Lacy will have an opportunity to continue his ascension up the pound-for-pound list when he fights his WBO counterpart, Joe Calzaghe.  With his relentless pressure and seeming cruiserweight power, Lacy's climb up boxing's food chain, which began shortly after his appearance in the 2000 Olympics, has been nothing short of impressive, and nothing less than exciting.  At the time Lacy took of the amateur headgear, Calzaghe was already a seasoned professional.  Six years later, Lacy is now on Calzaghe's championship level, a credit to both Lacy's quick learning curve, and Calzaghe's continual dominance over the super middleweight division, where he has been the most consistent and arguably the division's best fighter. 
On March 4, Showtime will be televising the much anticipated true world championship bout, a fight that promises explosions, and what will ultimately become the first blemish on either fighter's record. Lacy captured a vacant world title belt, when he disposed of tough veteran Syd Vanderpool in eight rounds, back in October 2004.  Since then, Lacy has continued to impress, going 'Old School' on fight fans by consistently staying busy, defending his IBF title on four occasions in just over a year's time. 
"Left Hook" Lacy, as he was dubbed early on in his career (he has since developed a killer right cross), has proven to be an exciting and aggressive fighter with eye-opening power in either hand, accumulating 17 knockouts on his way to a perfect 21-0 mark with one no contest (due to an accidental headbutt).  Just as impressive as his in-the-ring accomplishments has been Lacy's attitude toward the sport.  Lacy (28) is just now hitting his prime, and though he has made his first few substantial pay-days, he lives a clean life, and takes tremendous pride in his devotion to training.  It is because of the confidence Lacy has in himself, and what he puts into this sport he loves so much, that he has been able to continually challenge himself early in his career. 
Principle among such challenges was fighting for a world title after only 17 bouts as a professional.  Even more, Lacy is now heading into a unification fight against the division's longest reigning title holder, Calzaghe (32) of Wales, in the Welshman's own backyard, at the M.E.N. arena in Manchester England.  Lacy's bout with Calzaghe, coming within 18 months of winning a world title, speaks volumes about Lacy's willingness to fight the best fighters.
And at 168, one of, if not the best is Calzaghe, a rangy fighter who fights almost exclusively in England, and has been clamoring for a big fight for years.  Fortunately for fight fans, just when it seemed Calzaghe was doomed to become an often avoided title holder, along came Lacy.  On paper, Calzaghe will unquestionably be Lacy's biggest test to date as a professional, and will be the more seasoned half of the most important fight the 168 pound division has had in over a decade.  The Welshman is a perfect 40-0, with 31 of those wins coming before the final bell ever sounded.  Calzaghe is a well rounded fighter, who can box quite well when he feels the necessity, but instead has often shown a tendency to leave opponents parallel with the ring mat more often than not.  Though he may not have the explosive power of Lacy (and who else does?), Calzaghe has never been known to turn down an opportunity to swap leather, an invitation that fans can bet Lacy will be sure to extend.
Calzaghe, who has been champion for almost 9 years, has been plagued by accusations of being an overprotected European fighter, who was not willing to either unify his belt, or leave the confines of his home turf over in England.  Only now, at the age of 32 is Calzaghe getting his shot to be a worldwide boxing star, and not simply the pride of Wales.  In addition, one has to figure that Calzaghe, a relatively bright guy, has got to be irked by the fact that Ricky Hatton, a younger fighter who was until recently promoted by Calzaghe's own promoter, Frank Warren, has taken the English Isles by storm, and become the country's most important pugilistic sweetheart.  Hatton's leap frog over the long time world title holder, is something the Welshman has publicly stated is serving as added motivation.
And so it is, the young up and coming fighter, filled with world-class firepower and worldwide ambitions will be going into the lion's den to take on the more seasoned veteran fighter.  Listening to Calzaghe talk of his "career defining" fight, it becomes obvious he realizes that in spite of not having the 'Cinderella' ride to the top of the sport that Lacy has had, his first shot could also potentially be his only and last chance to become the star that he has so adamantly claimed he should have always been. 
March 4 promises to be a great example of boxing at its best.  Two undefeated champions, known for their propensity to bring the ruckus and not tap dance, are pitted in a high stakes match-up with boxing being the only guaranteed winner no matter the outcome.  Regardless of whether Jeff Lacy continues his explosion onto the world scene, or whether Calzaghe puts the stamp on a great career gone largely ignored, fight fans owe both men a resounding 'thank you', as well as their undivided attention come March 4 (dedicated to Brendan Steward and Will Austin).
Send questions and comments to: michaeltyoussef@msn.com