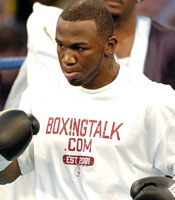 GL: Can you give us some thoughts on your performance? "
I think Scott gave it a good effort. He came out with a nice jab but I had to do what I had to do. He was trying to box me from the outside so I knew I had to keep the pressure on. His game plan was to stay away, but I have a good delivery system and I knew the pressure wouldn't allow him to do what he wanted to do, especially at that altitude."
GL: He sure was huffing and puffing after the first round.
Jeff Lacy: (laughs) "Yes he was."
GL: You nailed him into the ground, tell us about that knockout punch.
JL: "Everybody is looking out for the left hook, so I had to go to the gym and work on that right hand. That's one of things I worked on in with Scott in the gym when we brought him in for sparring and I landed that shot a lot."
GL: After the fight you called out Antonio Tarver. What made you decide to call out the best light heavyweight in the world on National TV?
JL: "I'm all about making fights the fans want to see. Since I can't get the big fight at super middleweight why not move up to light heavyweight to challenge best champion there and that's Antonio Tarver."
GL: Tarver recently told me that beating Hollywood Williams and Shot Pemberton, he called him Shot Pemberton doesn't give you the right to call him out. He says Jeff Lacy and his handlers should be placed on 24 hour watch because they're trying to committ career suicide. In short, he doesn't seem to interested in making that fight. He seems more interested in fighting Tyson, Toney and Klitschko. Is that disappointing and is there anything you'd like to say in response?
JL: "First of all I'm sure any of those guys at heavyweight would find it disrespectful that he's calling them out. What has he done other than beat Roy Jones? If Roy Jones Jr doesn't give him the opportunity, he wouldn't have the name he has now. The only reason he's sitting in this position is because of Roy and now he doesn't even want to give Glen Johnson, another guy who beat him, another shot either. He can't say he don't want to give me a shot because he feels I'm not ready. If that's the case why don't he take the easy fight? If he thinks they feeding me to the wolves, take the fight and don't worry about the guy you're going to get in there to beat up on. I would never worry about that. If it was me in his position and I felt there was a young champion coming up from a lower weight class and I felt I could make millions against someone I could knock out, do you think I would walk away from the easy fight. Come on Greg, you be the judge?
GL: After seeing Tarver's last few fights, how do you think a fight between you and Tarver plays out?
JL: "I'll knock him out. He won't go ten rounds."
GL: That's a bold statement. Can you elaborate on things you've seen from him in the ring that would lead you to believe that?
JL: "Tarver can't handle pressure and he can't fight backing up. The pressure that I put on a fighter and the strength that I have, and keep in mind I would be a lot stronger at light heavyweight. I don't think he would last eight rounds in the ring with me!"
GL: If you're unable to move forward with a Tarver fight, are you willing to reconsider fighting Calzaghe?
JL: "I would love to fight Joe Calzaghe at super middlewweight. It depends on what he has to do, but he has to be willing to guarantee me certain things so I know he ain't wasting my time. I'm willing to go up a weight class, knock Tarver out and then come back down to fight Calzaghe if I have to. It doesn't matter to me how it plays out, I just want to fight the best."
GL: You've fought three times in 2005, are you planning to stay as active in 2006?
JL: "Of course. As long as I stay off that injured list I'll beat out there."
GL: Do you have any idea when your next fight might take place?
JL: "Probably the first week of February, but we're not sure yet. Maybe March."