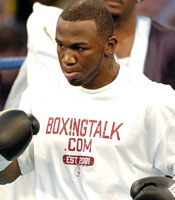 GL: Before we came on the record you were telling me that you feel this fight is the beginning of your career. Can you elaborate on that any?
"I really look at this fight as the beginning of my career. Everything I've done up until this point means nothing with this fight coming about on March 4. I'm very excited about this fight and I'm going to be very confident going into this fight. It's not that I'm overlooking Joe Calzaghe, but this is the fight I've been looking for and this is the fight that is going to be the beginning of my career."
GL: Are you approaching training camp for this fight any differently than your previous fights?
Jeff Lacy: "The only thing I have to worry about is overtraining. I'm so psyched about this fight happening with him finally taking the fight that as the days get closer and I train everyday, I just more and more excited. I will be in the greatest shape I've ever been in for this fight."
GL: How do you feel about fighting Calzaghe in his hometown?
JL: "I'm one of those throwback fighters. It doesn't matter where I fight, give me a ring and a bell and I'm ready to fight. I'm all about making the fights that matter to me and the fights that the fans want to see me fight. Fights that are meaningful to me and my people."
GL: You've been watching Calzaghe for a while now; do you think he presents any challenges you've yet to deal with?
JL: "Joe Calzaghe is a skilled fighter. He's not a world champion with 17 defenses for nothing. Out of all those defenses, you're going to fight some guys that fight better than others and I take my hat off to him for his success. I'm not overlooking him but my confidence is so up to par going into this fight that I'm going to rise to the occasion. He's undefeated, he's been on top for so long and I'm going to be at my best for this fight, I'm definitely not overlooking him."
GL: Byron Mitchell floored him but he was able to get right back up and stop Mitchell in the same round. If you hurt him will you take your time or rush in for the kill like Mitchell did?
JL: "The difference is, Mitchell went in for the kill with his hands down and that's what ended up catching him. When they stopped the fight it was actually after Mitchell threw a punch, he wasn't really that hurt when they stopped it. Byron Mitchell has been down and come back to knock guys out too. They stopped the fight early but a win is a win is a win. He got by Byron Mitchell but he's going to be in there with a young killer on March 4, somebody that's determined somebody that has the skills, somebody that's going to be throwing harder than he is with the hand speed to match his. People don't understand my speed because there's nobody out there to compare me to. When I'm in there with somebody with hand speed, that's when you're going to see my speed come into play. Watch, I'm telling you."
GL: Prior to Taylor's fight with Hopkins; you've never been shying about saying how you feel you've been in there with better guys than JT. With that being said, can we expect you to deliver more convincingly in your first marquee fight than Taylor was able to against Hopkins?
JL: "Styles make fights. I'm not going to rag on Jermain Taylor. A win is a win like I said, and he's still undefeated. He got on the stage and took the belts from Bernard Hopkins a guy that they called pound for pound at the time. I'm not knocking Jermain Taylor and styles make fights. What we've done in the past is different because we're in two different weight classes. I'm just taking in what I've learned over the years and the experience I have now in there with Joe Calzaghe."
GL: I don't expect you're going to be traveling around the world to go to the scorecards, but will you have your people all over the judges will be appointed should it go 12?
JL: "Hopefully we won't get the judges opinion. I'm not looking for the judges' opinion on this fight. I'm going over there to knock him out. If it goes 12 it's going to be a 12 round beating. I'm not taking one step back. I'm going to get in there and take the fight to him. I have the ball and they're going to have to play catch up. Watch. I'm not going to be sitting there waiting on him. I'm going be in there pressing the fight the whole time."
GL: So it's going to be a meet me in the middle kind of fight?
JL: "No because if he meets me in the middle, I'm going to push him to the ropes. I'm going to be the stronger fighter in there that night."
GL: Would you say that this is the biggest super middleweight fight since Roy Jones Jr-James Toney?
JL: "People have said that to me and this is a step towards unifying the titles, so I would say yes, it's just as big as that fight."
GL: "And you're expecting this fight to be more explosive that that one was correct?
JL: "Yes, but it maybe a short night. Maybe it's over in one round. People might not get a chance to see how big a fight this could be. Joe is not a boxer and he's easily drawn into a fight, and when that fight happens will he be able to withstand what I have to dish out for twelve rounds, because I know I can."
GL: What would a victory over Calzaghe mean to you?
JL: "Stardom. It's the beginning of my career as a prizefighter. And I was willing to put my career on the line the moment I said I would fight him in his hometown so believe me I'm not slacking. I know what I'm up against and I'm going to put it all on the line. I want all of the other title holders to put it on the line like I do it. They talk about wanting to fight but they don't want to fight."
GL: The winner of this fight will be in a position to bring some serious attention back to the super middleweight division...
JL: "Right now my position is all about Joe Calzaghe. I can't make no decision about what I'm going to do after that until I win on March 4."
GL: When do you plan on arriving in England?
JL: "I'll be there two weeks before, I'm arriving on February 20."
GL: In the past we've touched on how you're not going to have to change much to adjust to the fight time, which won't have a negative effect on your performance as it did for Kostya Tszyu last June. Can you reiterate that to us now?
JL: "I want to stay on my time zone. We're going to be fighting live in the United States at 10PM eastern time. I'm going to train at 12 or 1 in the morning over there. Even if we have to shake out in the room, I'm going to stay on my time zone. So he's going to be the one who has to adjust not me."
GL: Is there anything you'd like to say in closing?
JL: "I'm going out there to make the biggest fights. 2006 is my growing year. It's just the beginning of my career. After my victory over Joe Calzaghe I'm going to be on my way to make bigger and better fights."
Send questions and comments to: gleon@Boxingtalk.com