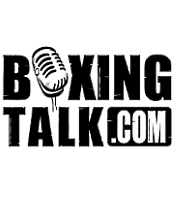 "I am ready to fight. It is enough talking; I am ready to fight."
Press release:
With a world title unification showdown against World Boxing Organization (WBO) 168-pound titleholder Joe Calzaghe all but set for later this year, International Boxing Federation (IBF) Super Middleweight Champion Jeff Lacy will first have to defend his crown against former world champion and current International Boxing Organization (IBO) super middleweight kingpin, Robin Reid, on SHOWTIME CHAMPIONSHIP BOXING Saturday, Aug. 6, 2005, at 9 p.m. ET/PT (delayed on the west coast).
Hughes: Robin worked very hard back in England.  We brought a lot of old sparring with him and he is really up for it, believe me, and he has got nothing but respect for your fellow, Jeff Lacy, just like we have.  He is looking forward to Saturday night, Aug. 6. 
Birmingham: As far as Jeff goes, every fighter always says, "I am in the best shape of my life," and honestly, I am telling you that Jeff is in by far the best shape of his life.  We also respect Robin.  I met Robin back in 1996 when he was WBC champ.  I had Winky (Wright) over there defending his WBO title and Robin looked great.  He is a great fighter and we are looking forward to a really good fight. 
Lacy: I am ready to fight.  It is enough talking; I am ready to fight. 
Begin Press Questions.
Question: Jeff, what is it like finally being able to not only defend your title, but to do so in front of the hometown fans? 
Lacy: It is something I always loved and I always dreamed of doing, defending the world title here in the Bay area.  Now it has come true and now it is time for me to go to work. 
Question: After watching tapes of Reid, what kind of potential problems is he going to present?
Lacy: I am looking for me to go out there and get Robin Reid to doing what I want him to do.  I am not looking for what he is going to try to do.
Question: Style wise, do you think this is a good match for you?

Lacy: Of course, that is why we made the fight.  Robin Reid can consider himself being one of the best, but I am here to prove him wrong.
Question: Robin has been victim of a couple of iffy decisions against a couple of other guys.  Does that make him maybe a little bit more dangerous than just your typical mandatory? 
Lacy: I have something that I love to have around my waist and it is going to be tough getting it away from me.  He has a taste of it and he has lost it before. 
Question: What have you done in training to get yourself in such good shape?
Lacy: My strengthening and plyometrics trainer has really given my muscles more lean, more punching power, more flexibility.  It just scares me the way I am punching right now.  It is good that we brought this guy. Robin is supposed to have this iron chin and we are going to test it. 
Question: Is that Daryl Hudson you have been using for that?
Lacy: Yes.
Question: As far as punching power, could you tell the effects of it in sparring? 
Lacy: Not only in sparring; it is just my whole body position and the way I am able to turn over my punches.  It just gave me a lot more flexibility in my pivot and in my turning over my punches.
Question: You brought in Hudson right after the (Ruben) Williams fight, correct?
Lacy: Yes.
Question: So did you sense something was wrong after you fought Williams? 
Lacy: Fighters get bored at doing the same thing all the time. So we needed a change of pace and by bringing in Daryl Hudson it was an extra incentive for me.  
Question: Do you think this is really the perfect fight for you in your hometown?
Lacy: I am all about fighting anybody that is willing to step into the ring.  For me to pull this fight and have it in my hometown, it says a lot about me. 
Question: Reid is the only fighter to go to a split decision with Joe Calzaghe.  Do you want to go out and do a lot more against Reid?  Do you want to show Calzaghe something?
Lacy: My style and Calzaghe's style are two different styles.  I mean, I am not going to go make the same footsteps that Calzaghe went on and did. It is a totally different fight, two different fighters. 
Question: Jeff, do you feel any pressure to perform differently in this fight with a big fight [Calzaghe] coming up in the future?
Lacy: I am looking ahead to Robin Reid next Saturday night and that is what we have been working a game plan on and that is the only thing I am worried about right now.
Question: How important is this fight for you?
Lacy: Well, the most important thing is to get past Robin Reid for Calzaghe.  He is the No. 1 mandatory and he poses a threat to me.  He is trying to take something that I have and that I love and I am going to defend that.
Question: I know you guys were in the Olympics together, did you see the fight between Jermain Taylor and Bernard Hopkins and what did you think?
Lacy: Yes, I did.  I just want to congratulate Jermain for being undisputed middleweight champion.  Like I said, you get a chance to go back in and have a rematch fight for anybody who has questions about his win, and he dictates what he does and I dictate what I do. 
Question: How long have you been trained by Dan Birmingham?  Has he been with you most of your pro fights?
Lacy: We first parted in 1996, and then he came back in 2004.  This will be his third (actually fifth) pro fight he has been with me. 
Question: To that end, what kind of an effect has Dan had on your career as far as you progressing as a fighter?
Lacy: Trust and taking me where I need to be taken.  Over the years that I was not with him, I got away from the basics. We went back to the basics and just tightened everything else up and now you have me. 
Question: Dan, what do you think about Jeff's progress and what, if anything, do you think he still needs to improve on?
Birmingham: We are working on everything you can think of – his rhythm, his timing, getting positioned, his defense, keeping his hands up.  His progress is great.  He really got his experience in the amateurs.  Jeff is a very seasoned 19-0.  And Aug. 6, you will see more improvement. One more thing I want to say about Daryl Hudson, it was actually my idea to bring Daryl in because he did such a magnificent job with Winky. 
Question: Jeff, what is your favorite memory from coming up as an amateur? 
Lacy: What stands out the most is me fighting the tough row to try to make it to the Olympics. It was my first big amount of pressure that I ever had to deal with and is nothing compared to the pressure now.  I feel like this is a breeze. 
Question: Back then, did your family or Dan help you with dealing with that? 
Lacy: It was just something about me.  I am the type of person that walks around with no worries.  Another thing, to see Winky go through it before I get my feet in the door helps me out a lot. 
Question: Brian, give us a quick recap on Robin, what his mindset is going into this fight?  What are his thoughts about getting jobbed in the two fights against Calzaghe and Sven Ottke? 

Hughes: Well, he learned when he went to Germany to fight Ottke, everything was against him and he understands that everything will be against him here.  He knows that if it goes to a point decision, that Jeff – who I consider a great fighter and I really mean that – will get all the favoritism.  We have to accept that because we are coming into his back yard.  But Robin is motivated.   Even though he is 34, if you look at him, he looks like he is only 27.   He has been watching tapes of Jeff Lacy and he has got the greatest admiration for him, but he believes that he is going to go back to England as the new super middleweight champion.  And all these fights, like Calzaghe and Ottke, they have come and gone. In the future Jeff will have to go through phases like this where he will box people who you know in your heart and soul that you have defeated, but you do not get the decision for whatever reason and that motivates you even more.  He has been training this morning and was so frustrated with just talking on this phone before.  He stormed out and got the young sparring partner we brought over and he is just going to do a few rounds with him.  That is how determined he is to beat Jeff Lacy.  So what I would say to all the American people, to the people that are paying for tickets, do not be going out to get hamburgers or ice cream.  Stay there because this will be one heck of a fight, I can assure you. 
Question: Brian, Robin has not had that many fights recently.   How much of a concern is that for you?
Hughes: We keep him checking over so he is really fresh.  Anybody that has seen him, cannot believe that he is a boxer, and that is because he works on techniques so much.  I have watched tapes of Jeff Lacy and I think he is really a super fighter and I mean that sincerely.  But Robin Reid has got aplomb and he has got an antidote to whatever Jeff Lacy comes up with.
Question: Jeff, is there anything you have done or will have to do as the fight gets close to block out the obvious potential distractions of fighting at home?
Lacy: It has already happened for me.  I am from here, so I have trained here, so I have already blocked everyone else out and focused on Robin Reid this whole entire camp. 
Question: Jeff, regarding you and Dan Birmingham, how long were you guys apart and why did you split up in the first place?

Lacy: We were apart in 1996 and we just got back together in 2004. 
Question: Jeff, who do you think has been your toughest opponent so far.
Lacy: As far as me picking one person that had it all, I have not had that one person because once they showed their strength and I took that away from them, it was like they were out there like sitting ducks. 
Question: Jeff, do you have a prediction for this upcoming fight?
Lacy: I know he did not travel all this way just to come out and lay down.  I am looking to be victorious, no matter how it happens. 
Question: Jeff what has been the hardest fight on you so far?

Lacy: I haven't had one full well rounded fighter in the ring to where I had to worry about him the whole fight.  .
Question: Brian, why has Robin been so inactive in the last two years?  Was it bitterness from losing those decisions?
Hughes: Obviously he was bitter at Calzaghe and the German officials when he thought he won. The reason he has not fought is because it was a political thing.  Jeff is quite right, Robin Reid would not just come over there for the paycheck. He is coming over to win a world championship.
Question: Because of the bad experiences with the two bad decisions with Calzaghe and Ottke, is it in Robin's mind that he has to win by knockout in this fight?
Hughes: He will need to score a really convincing victory, whether it is inside the distance or if it is on points.  He knows he will have to do a masterful job and that is what he is trained for. 
Question: Does Robin feel like he just has too much experience for Lacy?
Hughes: He has a lot more experience and the records show that Jeff has only had 19 contests and Robin Reid has had 42.  Robin Reid knows that Jeff Lacy is a big star over here and he is going out of his way to gain the victory. He will do everything to do that.
Question: Jeff, do you think the combination of your pressure style coupled with  Reid's inactivity is going to be too much for him?
Lacy: It is going to be me dictating the pace, and I can do it for 12 rounds.  That is going to be the big tale of this fight. 
Question: Jeff, Reid has a two-inch reach advantage on you.  How will that be of any consequence either way for you to gain the upper hand? 
Lacy: I always deal with people with longer reach than I have and never had any trouble with hitting the target.
Question: Jeff, how important is it for you to unify the titles?

Lacy: I have to go through Robin Reid to attain my quest.  I am treating this matter very, very seriously. 
Question: Dan, are you worried that Jeff might actually look too good against Reid?
Birmingham: I want my fighters to dominate and if that is what happens, like Winky looked too good against (Tito) Trinidad, then so be it.  I think that is what is going to happen because Jeff is so dedicated for this fight. He is going to look great. 
Question: Jeff, is there any timetable if you win this fight to fight Calzaghe?

Lacy: I am not going to answer any more questions about the future.  My fight and quest is a week from Saturday and it is Robin Reid. 
Question: Can you give a prediction?
Lacy: I am going to win, no matter how it comes.
Question: Dan, how do you look at the difference in experience and how is that going to work in Jeff's favor?
Birmingham: Jeff was fighting national amateur tournaments when he was 11 and 12 years old.  He knows how to take the pressure really well and really this professional kind of pressure is easy and fun for him.  So I do not think it is a factor at all.
Question: Jeff, you have been off the past five months.  Has that felt like kind of a retirement for you or was it a welcome break?

Lacy: I have been a man on a mission ever since I won the title. After this fight, I am sure I am scheduled to go a couple more times.  There is nothing wrong with a break in between. 
Question: Do you feel like there is still more for you to prove or is it just a point that you know what you have to do and people are going to have to accept it?
Lacy: We are just focused on my career.  I like being the underdog, it does not matter to me.  I like proving people wrong. 
End Press Questions.  Begin Closing Comments.
Hughes: First of all, I would like to apologize for Robin.  He has been very frustrated over the past week or so.  But believe me on the night of Aug. 6, he will give Jeff Lacy everything that they need. 
Birmingham: I would just like to say to Brian that if you think Robin feels bad today, wait until August 6.