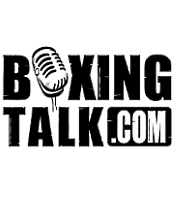 Press Release:
Duva Boxing LLC, in association with CSI Sports will present Championship Boxing on Friday, January 28, 2005. The main event of the evening features undefeated cruiserweight prospect, Shaun George (9-0-1, 5 KO's) taking on Jermell Barnes (17-7, 4 KO's).
[editor's note: George fought a draw against Andrew Hutchinson in 2000.  This result is continually omitted from his press releases, which list his record as an incorrect 9-0]
A native of Brooklyn, NY, George started boxing at the age of 12 when his dad introduced him to boxing as a way of staying out of trouble.  From there his love of boxing and superior talent led him to become a two time NY Golden Glove Champion, US (under 19) National Champion, US Jr. Olympic Champion and earned him a scholarship from the US Olympic Education Center to attend Northern Michigan University.  Anxious to return to the ring after a nine month lay off, George has used his time away wisely.  After earning his Certificate in Paralegal Studies in June, George spent the summer working as an assistant trainer on the boxing reality series "The Next Great Champ" before returning home to resume a full time training schedule.  When asked what his game plan is for this fight George replies,  "I've been patiently waiting to make my mark on the sport of boxing, and I can't think of a better way to start the next era of my career than with a championship belt.  I plan on being smarter, faster and I plan on teaching the "teacher" a boxing lesson."   Trained by Hall of Famer, Tommy Brooks, and managed by legendary boxing great, Lou Duva, the two agree that they see something special in George.  "Not only does Shaun have the determination to become a champion, but with his talent inside and outside the ring the sky's the limit as to what he can achieve."
Hoping to end the undefeated record of George and make his mark on the cruiserweight division is Rochester, NY native Jermell Barnes.  With almost three times the amount of fights as George, Barnes is sure to try and capitalize on his ring experience.  Barnes has earned his B.A. in criminal justice from Shaw University and works as an elementary school teacher in his hometown.  He has appeared several times on ESPN and has a walk-in puncher style that promises to provide an exciting, action packed bout.
The undercard features Atlantic City welterweight stand-out Shamone Alvarez who scored a terrific one round knock-out on a ShoBox telecast in November. Alvarez is looking forward to showing his fans the same knock-out power when he steps in the ring on January 28
th. Also on the card is Alvarez' stablemate, light heavyweight Alfred Kinsey, along with Philadelphia fighters, 4-0 featherweight, Ramaz Gazashvilli, and Jr. Middleweight Avtandil Khurtsidze, 4-0-2.

Tickets for this event are priced at $75, $50 and $30 and can be purchased by calling the Tropicana Box Office (609) 340-4000 or Duva Boxing (973) 237-0999. The show begins at 7:30PM, doors open at 6:30PM .