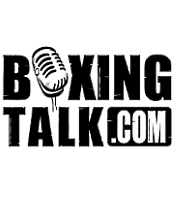 James "Lights Out" Toney outquicked, outboxed, and ultimately outclassed defending champion John Ruiz en route to convincingly capturing the World Boxing Association heavyweight title last Saturday night in New York's Madison Square Garden on HBO.
Toney, however, feels he is capable of much better, even though he was victorious by scores of 116-111 twice and 115-112 and got credit for the bout's lone knockdown. "I only had four-and-a-half weeks to train," he said. "I usually train 11 weeks for a fight. But I told Dan (Goossen) to take the fight date and I'll put myself through hell to get in the best shape within the time limits. You could see I was stronger and in total command down the stretch, but believe me, what you saw was not James Toney at his best. It feels great to reach my goal and become heavyweight champion, but I can and will fight at a much higher level in my next fight.  Oh, I can't wait."  
"The best is yet to come from Light's Out." 
The new force in the division, the fast-talking, colorful and charismatic Toney (69-4-2, 43 KOs) wants to return to the ring and defend his WBA and International Boxing Association titles in July. 
"I want to keep busy and get more green, the real green stuff," he said. "I want any of the other champions.  I will fight anyone, anywhere, at any time. That's what throwbacks do. And I've said all along, I'm an 'old school' fighter, a throwback who fights anyone. 
"I am the best fighter in the world and I will continue to prove it for the fans to see when I become the ultimate, sole, undisputed heavyweight champion. Many experts thought I didn't belong in the heavyweight division, but I ignored them.  What will they say now?  I want everyone right now, including that monster Frankenstein (Vitali Klitschko). That's why I'm now the man in the heavyweight division...I fight everyone. The people want one heavyweight champion that they can identify and relate to, and believe me, I am it."   
By dethroning Ruiz, Toney became only the third middleweight boxer in history to win a heavyweight belt and also the shortest (5'9") in over 100 years.  Quite a tall order for the new champion? 
"When you think about it, what I did was a historic achievement," he said. "Only two other middleweights have gone on to win the heavyweight title, but they did not have to overcome the obstacles I did.                     
 "I knew my will and determination would carry over into the fight with Ruiz.  I mean last January (2004) I had surgery on my Achilles, which everybody said would be a career-ending injury and I was determined to get back into the gym within six months.  Then in my bout in September I ripped the muscles in my left bicep and tricep, which I feel would have destroyed the feint of heart.  But I refused to let that stop my goal of becoming heavyweight champion, and I just worked harder to overcome this injury."   
"I just feel so great. With the 90's behind me, the experts that doubted me, and the injuries that hounded me, I feel like nothing will keep me from being one of the all time great heavyweight champions.  I just can't tell you how important it was for me to do this, not only for myself but the people that believed in me all along, especially 'Pops' (John Arthur), a very stabilizing factor in my success as a person and fighter. But it feels very satisfying to do what very few thought I could do. I proved so many people wrong. Think about it: I am now a ten-time world champion. I've proved that winning this belt, that the other titles I've aquired through the years have that special meaning to me also, whether the media want to recognize it or not.  And I am just getting started, I want more belts!'' 
Toney verbally belittled Ruiz before and after the fight. But, in retrospect, the new WBA titleholder said "I beat the best heavyweight champion of the time. 
"Ruiz isn't pretty, but based on what he had done, he deserves credit. He is very strong and durable. Sure, he fights ugly, but look where that style took him. Aside from Lennox Lewis, there have not been very many recent heavyweight champions that had as many successful title defenses as Ruiz. He beat Evander Holyfield when Holyfield was in his prime and still had a lot left. He also beat former champion (Hasim) Rahman,  (Andrew) Golota and Kirk Johnson. 
"I will always appreciate Ruiz for giving me the opportunity.  He just had the misfortune of having to fight me.'' 
On Thursday, Toney will be at the Spa Resort Casino in Palm Springs, Calif., to call the IBF title elimination fight between former world champions Julio Gonzalez and Montell Griffin on FSN's "Best Damn Sports Show Period." Toney will join Chris Rose and John Salley as the hosts.  
The next evening Toney, along with promoter Dan Goossen and stablemate Glen Johnson, will attend the Boxing Writers Association of America's annual awards banquet at Mandalay Bay in Las Vegas. Johnson will accept his award for being named the BWAA 2004 Fighter of the Year.  
"I was their top fighter in 2003, and now it is Glen's turn," Toney said. "He had a helluva year, knocking out Roy Jones and then defeating Antonio Tarver. But I'm putting everyone on notice now, 2005 is going to be my year.'' 
Goossen, who heads up the Van Nuys, Calif.-based Goossen Tutor Promotions, handles both Johnson and Toney. Toney is his first heavyweight champion. 
"It's been many hard years of work and perseverance to reach this point," said Goossen, who has promoted boxing and many world champions for nearly 25 years.  Without the support of Ron Tutor, and the many years of hard work from Tom (Brown) and Craig (Goossen), none of this would have been as rewarding.  
"There have been a lot of great thrills for me along the way, but this is the pinnacle, the heavyweight championship of the world. But I truly realize that the fighters are the ones who I applaud, I just get them the opportunities to make me look good.  It's something that only a few in this industry have attained, especially in the heavyweight division."  
"I give all the credit to James for doing what he said he would do and what we believed he would do.''