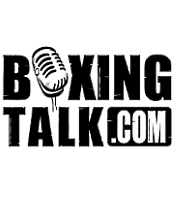 How is your leg doing? What do you know about Rydell ? I hear that he respects you but he's not afraid of you.
JamesToney:"My leg is doing very well, number one. The respect, I appreciate that but again as soon as that bell rings on Thursday Sepember twenty-third he better be ready to die. I'm ready to fight and I know everybody is mentioning my leg thinking it will be a big problem. It's no problem at all. Training went very well and I'm ready to do it. I'm ready to bring it. Rydell is a very credible fighter. I'm not taking nothing away from him. I'm not taking him lightly. He's a good fighter. He's undefeated. He didn't stay undefeated for nothing. What I know about him is that he's a good boxer and that's But what I can say is it's not going to be enough."
Is it easy to stay focused on this Rydell Booker or are you kind of tempted to look ahead to Klitschko?
JT:"No I'm not looking ahead. I'm focused on this guy because it's been nine months since I beat up anybody. And I can't wait to get my hands on this guy. And everything else after that, like Dan said, whatever he lines up next, hey I'm light-headed. They're like bowling pins to me and I'm the bowling ball coming down the lane. STRIKE!
Are you more anxious or more excited about this?
JT:"Both. I can't sleep at night. Boy I'm getting ready to beat somebody up. Time to get some sleep.
Was there not another actual heavyweight out there that you could have fought? Why did you pick Booker?
JT:"Hey let me tell you something. Dan Goosen, the great promoter, he does what he does. He put the offers out there to Danny Williams, Mike Tyson or anybody that wants to fight but everybody talks a good game but they not signing no contracts. I'm not taking nothing away from Rydell Booker. I don't think you should take anything away from him. He's going to come to fight but he's going to get knocked out that night. I'll fight anybody, anywhere, anytime. That's our motto here in this company. It's not my fault that these so called big guys they scared to sign the contracts. Dan put the offer out there to Hassim Rahman. Nobody's stepping up. This kid is. He's taking a chance and he's going to get done up pretty good.
How has your weight been?
JT:"How's your weight? I'm in great shape. Under construction right now. We ready to go. I will be ready one hundred percent. We ready to go. All I'm saying is you'll see for yourself. I know everyone hears me say over and over again that I'm the best heavyweight, I'm in great shape and this and that. Then when you see you're like what the hell happened. All you got to do is tune in and you will see."
How did training camp go? How long did you train for and where did you train?
JT:"Training's going good. Been in camp for two months now since I heard to ok from Doctor Daley everything is going good. The promotions are going pretty good. I'm just very excited and it's so close I can't wait. I'm counting down. I trained at the Wild Card. NO need to leave my home."
Who did you use as sparring partners?
JT:"We used a few sparring partners. I had so many of them they have been going out. Who ever lasts that's who they be."
Within the next yar or so will you think about McCline?
JT:"Everybody keeps throwing McCline in my face. If McCline wants some like I said I'll fight anybody it doesn't matter. I tell Dan go find me the biggest, baddest son of a bitch out there. If he thinks he's better than me lets see and watch how hard he falls."
(Dan Goosen mentions that McCline was offered more money to fight James Toney than he's making to fight Chris Byrd.)
How do you feel about hearing that Holyfield will be Brewster's next opponent even though you knocked him out last time?
JT:"That situation with Holyfield and Brewster. Like I said they're all doing whatever they can to keep me from getting the title. If Brewster wants to fight Holyfield so be it. I just leave it to Dan and everybody around me to see what the next best move is. You know Don (King) is doing his thing. He's saving all his fighters. He's saving Byrd, He's saving Ruiz. He's saving Brewster. keep all those guys. They're all garbage. It doesn't matter to me. Whoever wants to step in with me is going to be the one to get hurt. You see Don he keeps his little crew over there talking bad and...kiss my ass."
What did you think about Brewster-Meehan?
JT:"Garbage. They were friends. They were like, you hit me, no you hit me. They finally did something and I guess it was an awkward fight. I feel asleep like a dog."
When you hear of  McCline and Holyfield fighting, do you feel like it should be you in there?
JT:"No I just laugh at them. That's garbage. If you pay for that you sick. Watching a fight like that is like watching golf. Watching tennis. Everybody hates to do but it's ther on tv. To me golf and tennid shouldn't even be on tv."
In anyway do you think this could be a dangerous fight? Do you think the crowd will be supporting you or do you think they'll get behind Rydell?
JT:"For me. Definitely the crowd at home is for me because I represent Detroit. I speak Detroit all the time. Ann Harbor, Grand Rapids, it's where I come from. I always represent that. And every fighter you fight is dangerous. Ilook at it like this, every fight could be a dangerous situation. I can get cut or something like that. But I'm prepared for anything. To me this is not a tune up fight. This is not something that I'm trying to go in just to get a win. I'm going to try to destroy this guy good. This is what we worked on. I worked too hard to come in and do a Kirk Johnson. I'm not going to do that. I am the best heavyweight in the world period. I'm going to show it. I'm dead serious about this fight. Ryell's running his mouth, he's going to deal with me next when I see him. Bottom line. Just like Holyfield. The guy ran his mouth. Holyfield had his attorney running his mouth. I had to deal with them. Same way. Same situation. I'm highly motivated. I haven't beat anybody up in nine months. It's getting close. I took two steps back and now I'm about to take four steps forward. I can't wait."
Why do you think that the Klitschko's have been avoiding you?
JT:"Because they're scared. They don't want to fight. They've been fed a whole bunch of grapes their own got damned career by their promoters. That's why alot of these fighters, they've been hand fed. When it comes to fighting somebody real they get scared. I don't care about none of them guys. They both suck."
When you got medical clearance to beging training, how quick did you get in the gym?
JT:"I was already in the gym. I was just doing stuff on the down-low. I was being hard headed. We ready man, I'm telling you."
What's your opinion on Riddick's comeback?
JT:"I don't care. He talked shit about me saying that I'm disrespecting the heavyweight division. He wants to fight me. Well check this out. I got a curve ball to throw back at his ass. I'm going to beat his ass so bad he never going to hit another woman. I'll beat him back to prison. I'm not worried about him or Ibeabuchi. Ibeabuchi's manager comes down to the gym last week to challenge me. Now look at Ibeabuchi, can't get out for another seventeen years. It doesn't matter. If Dan says that's the next fight. We're going to make the money, so be it.I don't ask Dan no questions. All Dan got to do is show me the got damned pen, the paper and where to sign at. If Dan wants me to fight Godzilla, just sign the contract."
Speaking of Meehan and Brewster being friends, if you did know Rydell and you were best friends and you guys were going to fight each other what would you do to him?
JT:"You know what I do to my real friends? I beat them up. It doesn't matter."
What can you tell us about Danny Green, the Australian middleweight who you have been sparring with?
JT:"Danny Green? He came in one day last week. I was in the office with Dan doing something that was very important for me to do. I got my own obligations first. They assumed I was scared to come out and box with him. So I came back the next day and if you were there you would see the blood that was left behind. So he was nothing special. He was nothing at all. I sent him and all those Aussie assholes back to Australia. Bleeding and blue. He tried to go ten but he left out in six. It was nothing spectacular. He didn't do nothing to me. Nothing at all. So we can dismiss the myth that he did something to me. He didn't do a damn thing to James Toney. They got what they didn't want and I sent their asses out of there. They lucky they left with their health intact."
Is it a thought in your mind that after Klitschko maybe you will have a rematch with Roy?
JT:"What I need a rematch for? He's the guy that doesn't want to fight nobody. You all enjoy letting Roy knock out stiffs. You all like Roy fighting mailmen and police officers and telephone people. He don't want a real fighter. He don't want to see me. He's lucky he fought Tarver. You see what Tarver did? Tarver can't even spell the word fight. If he's a real fighter he'll go back and fight the guy who knocked his ass out. Roy Jones ain't no classical fighter. He's not a make history fighter. He did like every other fighter from the south. He just liek any other fighter from the south cause you all ain't got no got damn heart. It's strong words and I mean it. And I'll tell everybody to their got damn face.It isn't up to me. It ain't up to Dan. It's all up to Roy Jones and if he has the balls to get in the ring with a real fighter. He fought a bum at heavyweight. He fought John Ruiz and ran for twelve rounds. Meanwhile if I would have fought John Ruiz I would have knocked him out. You see what I did to Holyfield. Chris Byrd couldn't do what I did to Holyfield. He ran for twelve rounds too. Everybody is saying that Holyfield was old, Holyfield tried to whip my ass. He just couldn't do nothing with me. I'll fight any heavyweight you all want me to fight. I'll fight Dominic Guinn. I'll fight any young stallion you got, I want to knock their ass out. If it was up to me I'd fight one fight every day for the rest of my natural life.How you going to say that Roy Jones is an all time great, a legacy? He only fought one great fighter in his life and he fought the guy when he was out of shape, which is me. In the seventies Roy would have not lasted in the light heavyweight division."
Besides yourself who do you think are the top five heavyweights out there?
JT:"Um...see I can't even say it because I can't even think it off the top of my head."
Do you wish you had another heavyweight to push you or do you not mind being able to go out there and kicking everyones ass?
JT:"I want challenges. The world strives on challenges. Just like Dan, he's the best and he got other promoters that challenge him. I need another heavyweight to challenge me. I want the fans out there to pay for the fights. I want to give the fans what they want to see. I want to give the fans their moneys worth. They don't want to see mismatches every time. After this fight whatever Dan gets together with Don King and put the charm together so be it. I don't have a problem with that. I want what the fans want. I'm with what Dan wants to do."
When you fought Jirov was that exciting for you? Is that what you wanted?
JT:"The fans love me. Did you have fun watching that fight? Like the Evander Holyfield's, Hearns, Hagler. When the guy is willing to fight those are the fights fans want to see. People don't want to see nobody run around the ring.James Toney is giving out blood and guts. Anything less is unacceptable."
Do you have respect for Hopkins?
JT:"Yea I have respect for Hopkins cause he isn't fighting me. That's the smartest thing he ever did in his life was not to fight James Toney. It enabled him to stay alive and it enabled him to get this fight with De La Hoya. That's his thing and I wish him the best."
How does the fight go on the 23rd and how do you win?
JT:"Soon as I hit him on the chin, he's going to sleep. Or even in his fat ass gut. If I hit him in the tities I will knock him out. I meant breast. If he keeps his word that he's going to come jump on me, which I hope he does, it will be a short night for him."
Send questions and comments to: onfireboxing@verizon.net