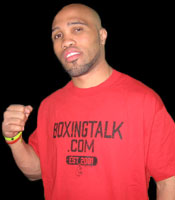 After reading what Peter Manfredo Jr. had to say about their sparring session that was released exclusively on Boxingtalk.  Ishe 'Sugar Shay" Smith immediately contacted us to respond to what Peter had to say. "He flew down here and left after 2 sparring sessions; now that doesn't sound like he kicked my butt does it," stated Smith 16-1 who easily had his way with Manfredo in the sparring video.  Read on as you don't want to miss what else the very outspoken junior middleweight contender had to say.  Plus he gives us an idea of when he will be stepping into the ring again.
SP:  First off let me say congratulations on the baby; how are Latoya and the baby doing?
IS:  Thanks a lot, they are both doing well; it is truly a blessing having kids man.  I am praying for a big year in 2006 and actually we have some big things planned for this year that we will be announcing very shortly.
SP:  I know you're a frequent mailbag host and reader of Boxingtalk, what were your thoughts when you read Peter's comments?
IS:  Bottom line, it is like this, he didn't just get off a plane, and he got his butt kicked on tape; and we all know that for sure!  Peter saying that he kicked my butt the next sparring session is also a lie; it didn't go down like that at all.  We didn't have much sparring for the Bailey fight, and we really needed sparring; so after I put hands on him that bad, Danny Smith my coach at the time told me to take it easy on him.  So I boxed and moved and took it easy on him, we were trying to get him to stay, because he told us after the first sparring session he was going to leave, as a matter of fact he told me, "you took it easy on me today", his confidence was shot so I was trying to pick him up by telling him I didn't.  If he keeps popping off at the mouth I am going to put that session online too, so the people can see for themselves.  He flew down here and left after 2 sparring sessions; now that doesn't sound like he kicked my butt does it.  All you have to do is call up Danny Smith and ask him, he will tell you the same thing.  You know what is funny?  This guy says that I want attention and I haven't fought in almost a year, true that I haven't fought in awhile; but why do I get more publicity than him by sitting at home playing my XBOX 360 and lifting weights?  Come on man, you can't fool the public or true boxing fans, they know who the best out of the group was and Peter Manfredo wasn't one of them.  I get talked about and mentioned more amongst boxing circles more than any of them and that is a fact jack.  I was on USA Today prospect list in 2003, I won 3 minor titles in 2004, and I was ranked in every sanctioning organization at one point.  If you're going to mention the Bailey fight, mention the fact that I was cut in my mouth and bleeding profusely from a faulty mouthpiece.  I have sparred some of the best fighters in boxing, from Pernell Whiatker, Shane Mosley, Oscar De La Hoya, Fernando Vargas, Floyd Mayweather, and I have never been beaten up by any of them.  If someone beat me up as bad as I beat him on that sparring vidoe, I would quit boxing, seriously if I ever got hit with that many punches it would be time for me to retire.  So out all of those great fighters and I have never touched the canvas by any of them or got stopped by a body shot, why would a guy like Peter beat me up, lol….. He is a coward man!  Ask him did Shane Mosley stop him with a body shot in the gym?  Ask him who Shane put first and who he put last in the sparring rotation?  He sparred Jose Celeya, and Jose beat him up so bad, lol, that's my word!  He talks about being off for a year; this cat needs 10 years off, look at his face!  The time off has been refreshing for me to be honest, but my time off was due to legal situations and now negotiations.  This guy just needs to disappear for about 10 years; maybe his nose will grow back into place.  He is so scary I will refer to him as Manscaredo now, that is his new name.   
SP: So you're telling me he flew from Rhode Island to Vegas and left after 2 sparring sessions!
IS:  Yes!  That is what I am saying!  I sent him packing, like get out of here, go back home, it was really that bad man.  This is the same guy that if you threw a bowling ball at him he would get hit with it, this is the same guy Shane Mosley stopped with a single body shot in camp, this is the same cat that was given a million chances at winning a million dollars and he did nothing but get hit with a million punches.  This cat looked like a train ran over his nose; I mean how can you look like that and say you beat anyone!  If I was him I would take some of that money I am making and go get a good nose job.
SP:  So you guys were at Mosley camp together?
IS:  Yes, when he fought Oscar the second time.  He took punches in bunches man, Shane got in good shape beating up on that kid.  I beat Manscaredo so bad on that vidoe, but it's not how I beat him, it is how I talked to him in the ring.  Turn the sound up and you can hear me dogging him real bad from like the 7th round on.  I begged this cat to stay; he was like no this work is to hard and your to fast, Sherwin Davis is tall and slower, so we're going to go back home and work with a taller fighter like Scottie.  Then he was like this work was harder than sparring Shane; that's my word he said that, I would tell him to his face, he can't deny it.  Just like he can't deny he got his butt kicked on tape!  I train in LA and he trains in LA; I got mad respect for Freddie Roach as a person and a coach, but if Freddie would allow it, my coach and I will come over to Wildcard next time I am in camp and I would smash him right in his own gym.
SP:  He said that when he sees you he is going to kick you in your face; what do you have to say about that?
IS:  lol….  Killers move in silence, I learned that growing up.  It would be the last time he stepped foot in the ring or walk again if he did something like that.  I mean this is a guy that has a lot of bones in his closet, he better be quiet before I tell his fans what really happened and what kind of guy he really is.  He is a follower with no heart, turn up the heat and he melts like chocolate.  Jesse Brinkley was too fat for me to even consider fighting, I was never offered 150k for a fight with Judah; once again he is showing that he takes too many punches.  He talks about class; let's talk about what you and your buddies did on THAT SHOW.  Bottom line is that Manscaredo is a burger, a well done burger at that, because if you throw punches at him, all you will hear your coach say is Well Done!
SP:  Do you talk to any fighters from the show?
IS:  Every once and a blue moon, not too often though.  I am excited to see if Joey can beat Jimmy in a real fight.  If I am not too busy I will be attending that fight, they're first fight was explosive man and I truly believe that this one is going to be just as good.  I will be there if I am not busy or in camp.
SP:  What can you tell us about your current promotional situation?
IS:  This process has taken a lot longer than I expected; but when you have a good people working for you their going to look out for you and your best interests.  I can't do things like I use to, I have two kids and a family to think about, so the next deal I sign will possibly ride me into retirement, so the deal has to be right.  I don't want to elaborate much more because we're in the late stages of negotiations, but as soon as I sign boxingtalk will be the first one to know.
SP:  I won't say any names, but do you talk to any of the old (managers and promoters) people you use to deal with?
IS:  That's funny you ask because I have spoken to some of them, well one.  At an HBO after party, I had a conversation with this particular person, and to be honest I respect him for some of the things he had to say.  I still talk with some of the guys over at Guilty Boxing, I have mad love for them because without them I wouldn't be where I am at today, those guys were great to me.  I had a great matchmaker in Brad Goodman, Jeff G was good to me all the time, and Tony Burrell made sure things ran smoothly.  I wouldn't be where I am today without those guys starting me off.  Manscaredo hired or works with a flunky that I dumped awhile ago, and to be honest this cat is the worst of the worst.  He wears the same clothes every single day, and I am not making this up; how can you call yourself a manager and wear the same clothes everyday. He better stop popping off too because he got mad bones in his closet as well, just ask my boy James from Vegas.  I already got a lot of ammunition on this cat, but my boy James gave me and atomic bomb, so he better be quiet and be happy he is working with Manscaredo Jr.
SP:  Do you think you will ever fight for The Contender or any of their fighters in the future?
IS:  Boxing is a business and I am learning how to become a good business man; that being said, maybe in the future something can happen and then again maybe it won't.  You just never know what the future holds; I have learned just to go with the flow of things man.  When water runs everything goes with the current, it is very hard to go against it; in my life I have learned just to go with the current.  
SP:  Is there anything you want to say to your fans in closing?
IS:  I am happy to be returning to the sport of boxing this year, a lot of fans on my forum website are calling 2006 the year and return of Ishe Smith.  I just want to thank the Sugar Shay Bomb squad for holding me down during this time.  My wife has been very supportive and I just want to thank her as well for all of her support and I am just glad she gave me another son.  I just can't wait to return to the sport of boxing and when Manscaredo career is over he can come work for me, I think I need someone to carry my spit bucket; but he can't come work for me just yet because I heard that Manscaredo and Jesse will be staring in the sequel Brokeback Mountain 2. 
Send questions and comments to: spjr21@yahoo.com