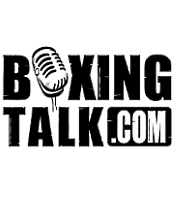 GL: You've read Sechew Powell's harsh remarks, is there anything you would like to say in response?
"First of all, I'm glad he think I look good but I'm already taken. I'm married, plus I don't swing that way. I'm right handed, I don't go both ways. But I'm trying to do some things outside of boxing and it's good to know that another man think I'm handsome, I appreciate that. He did his thing in this fight, I seriously doubt that DiBella is trying to expose any more of the prospects he has. It's funny that he's calling out Sergio Mora, because if he's calling out Sergio Mora, it's clear he's not ready for somebody like me. I think the guy needs to get a couple more wins under his belt and then we could put the fight together. I don't think he's ready for me. He hasn't beaten anybody and he got a gift against Grady Brewer. I think it would be a big fight for 2006 though. He says he's coming for the 154 pound division and I'm coming to that division myself so it's a fight that could definitely happen."
GL: For that to happen I imagine you would have to clear yourself from The Contender. What's the status of your arbitration with them?
Ishe Smith: "Once my promotional situation is resolved I'll be fighting often in 2006. And if he hasn't been exposed by then I'm definitely interested in teaching him the difference between an untested prospect and a real contender. He says I'm no shark and he's right, I'm a killer whale. This guy wasn't a shark, he got stopped by Nurhan Suleymanoglu. He just went in there and played with a dolphin, I could take my kid to Sea-World and he could go swimming with the dolphins so I don't want to hear that.
GL: How would a fight between you and Powell turn out?
IS: "I'd knock him out. Stop it G, he can't hang with me. I think it would be a good fight between two young guys. In my eyes I'm undefeated still and his eyes I'm sure he considers himself undefeated even though the Grady Brewer thing was a little gift wrapped up...Merry Christmas. It's a fight that could happen and once my promtional situation is resolved we could make it happen. It's definitely a fight I would love to take. He thinks he's the best young fighter at 154 and I think that 2006 is my year so let's see who's right."
Send questions and comments to: gleon@Boxingtalk.com