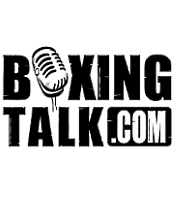 Bostontko: Ishe, just curious if you'd be at all interested in the winner of manfredo/pemberton? Or are you looking for bigger and better names
? "Bostontko not at all I wish Manfredo the best."
Ishe_Smith: My forum (Members (Slicknick56, CanUcountTo10, Vinny, Boxing_Madness, Alex, Sabrina (Mrs. Abe), Abe) in here deep tonight baby
FRESHoffOFyourASS: Ishe, I heard Zab put hands on you in the amateurs?  True?
Ishe_Smith: Zab beat me 2-1 on a decision, I don't call that putting hands on someone
Slicknick56: Shay, who is on your list for 2006?  Do you know yet?
Ishe_Smith: I would love to fight Sechew, and whomever my promoter wants me to fight
2FastTodd: Hey Shay, hope u doing well. I think I read somewhere that you've sparred with Shane Mosley. How did that go, how was Shane in the gym? Who have you got in Mosley/Vargas? Best in the future, Todd/Canada
Ishe_Smith: Mosley and me went at it in sparring it was back and forth, I got him winning the fight against Vargas, that shoulder roll wont work
Alex: Ishe, if the fight came off between you and Powell what would your game plan be? Do you believe your body shots will play a big role in the fight?
Ishe_Smith: Number 1 he gets hit to much and number 2 me and him in my eyes are not on the same level, I dare Lou to put him in there with me, It will be easy work, the body shots will break him down
Audley_A-Force: Shay, I believe you gonna fight at 154, is that because you have eyed up the division or can't you make welter any more?
Ishe_Smith: I like the 154lb division. And I can't make 147 anymore; I can't wait to fight again in my new division
BigJuicyHog: Ishe, are you planning on staying at 154, and what do you think of fights with Vargas, Ouma, and Karmazin?
Ishe_Smith: I would love to fight those guys, they are the cream of the div right now, so of course I want to get in there with them.
Bostontko: Ishe, its good to have you free from that contender contract. do you plan on linking up with any TV promotions (ShoBox?/HBO?) anytime soon? I figure you'd be a big name draw that TV companies would seek out. Any set plans for that? Much love up in Boston.
Ishe_Smith: I hope your right Boston; I am free, so hopefully my team can find a good promoter and a good network to showcase me on.
CanUcountTo10: Shay I aint got much to say that u don't already know bro.... just good luck in the future dawg. Keep up all the good work. Chat with you later man ...Sugar Shay Bomb Squad for life
Ishe_Smith: That's Right 10, the forum (SugarShay.Com) is up in here deep, The Squad is in the Building
FRESHoffOFyourASS: Don King can get the exposure you need, bro.  He'll keep you on all of his cards, and he has the capital to build a million dollar fighter, out of you, off of you rep from The Contender.  Besides Arum, who is the leading promoter that you have your eyes on?
Ishe_Smith: You know what in the past I worried about the business side to much, I let my team take care of that, I guess if promoters are interested, they will call me or my reps
IsheKOMora: Ishe big ups on moving on with your career. How about a Quartey fight?
Ishe_Smith: I would love a Quartey fight, one tune up and I will fight anybody
Jaycee: Yo Shay, Love to see you on HBO against Vargas and put the Ferocious Squad into retirement, How awesome would that fight be... Suga Shay Bomb SQUAD representing!!!!
Ishe_Smith: Jaycee thanks for the love, I love all my true fans from my forum, I honestly respect all of them especially the Squad, they have held me down when other people put me down
Jordan: Ishe you would beat Y FOREMAN?
Ishe_Smith: I like Foreman, but he is not on my radar, I want a tune-up and then a big fight, whether that be Verno, Shane or Vargas, Ouma, so be it, I want the big fights
Reg_One: Ishe, respect for joining us tonight. I expect to see big things from you in the next year or two! Will Bernard win this weekend? God Bless you brotha.
Ishe_Smith: I like B-Hop this weekend; hopefully he can pull this one out
Slicknick56: Ishe I heard about this video roaming the Internet, which contains a sparring match between you and Peter Manfredo from about 2 years ago when you were at Welter.  Is it true that you WHOOPED HIS ASS IN THE VIDEO?  Just wondering.  #1 Fan!  Nick.
Slicknick56: I heard he got his ass beat in that video!
Slicknick56: Like no tomorrow!
Slicknick56: Like he stole something. You just whooped his ass.
Slicknick56: Had his knees buckling and what not.
Slicknick56: Is this true!
Slicknick56: I HAVE TO KNOW!
Slicknick56: If so where can we get the link?
Ishe_Smith: Yea I guess there is something floating around, hopefully BTALK will put it up soon, If Scott needs help fighting Manfredo, then I got the blueprint woooooooooooooooooooooooooooo!
Ajespy: Ishe who are you picking this weekend Hopkins or Taylor and who do you see yourself going after next
Ishe_Smith: I like B-hop, and I will fight Verno as a tune up and then after that I do not care who I fight
Russ: Hey Ishe, Do you think Manfredo beats Scotty Pemberton?  I don't think this fight is going to be that easy for Manfredo.  Keep in touch buddy; we love you out here in Queens, NY
Ishe_Smith: Russ who knows man I encourage Scott to watch my video if he needs some pointers, I don like the way Manfredo fights, Scott should be able to win the fight, I hope Scotty KO's him to be honest.
Sweetscience: Ishe, with the editing of the TV fights do u feel the Contender chose their baby from day 1 considering Mora lost to Najai, lost to you and lost to Manfredo in his last fight? What about Manfredo moving to 168 and will u stay at 147? Would u beat Manfredo?
Ishe_Smith: I will be fighting at 154 from now on, I do not have nothing bad to say about the people from the Contender, I think every knows where I stand on that issue, I will say that I want to forget that part of my career and I still feel like I am undefeated
Raydog: You ready for Vernon Forrest?
Ishe_Smith: I would love to fight Forrest, hopefully in the future it can happen and now that I am getting with a good promoter it is something that is possible
SlickNicksDad: Ishe, who do you think is the weakest link for a championship belt?  And how the hell did you lose to Mora.  He is garbage.
Ishe_Smith: lol, you tell me it was a SD lost, with one of the judges giving him all 5rds, and everyone in the arena that night booed to be honest, but I seriously want to forget about my past and focus on the future, I think all the champs is good
www.boxerswanted.com
: What's the word on your new promoter
Ishe_Smith: We just taking it slow right now, hopefully we can have something done B4 the Winky Wright fight?
Abe: No Question, just a statement: Vindication and Redemption are sweet!  Shay's years is 2006!
Ishe_Smith: Thanks Abe
Raydog: If I were your promoter I would have you jump on Quartey ass for short money and get your name out there.
Ishe_Smith: I would love to fight Quartey, like I said it is up to my promoter who I fight, but I will be letting them know that I do want big fights
2FastTodd: Ishe, do you think that De La Hoya can honestly make 147 next year. He was last at 160 and now looks to be quite a bit heavier than that. Just wondering what u think. Thanks for the chat tonight, Todd
Ishe_Smith: I think Oscar can make 147 if he trains for it, I also think he will beat Mayorga, I think he will just out box him to be honest, and all of us look fat when we're not training
Jaycee: Hey Shay do you think you will fight at the Chumash in Santa Ynez…. I'm from the area and would love too see you give a beat down there.... lol. Peace
Ishe_Smith: I fought there once, I would love to return back there, and I think the Big G Man (Gary Shaw) has that site on lock though.
Ajespy: Who are your sparring partners when you fight and have you sparred with Corrales before
Ishe_Smith: I sparred Diego once or twice, Shane Mosley, Vargas, Oscar, Zab, Abdulaev, Pernell Whitaker, and Kofi (Jantuah)
Antonio00: Ishe, do you go to any of the Friday Fights at the Orleans?
Ishe_Smith: Always, the last I went to is when Dominic Chavez fought
Matt_2192: Ishe who you got for Mayweather vs. Judah how did you do against those guys
Ishe_Smith: It was very good sparring sessions matt, and the 2 fights against Zab in the amateurs could of went either way, I really cant pick a winner, but I will say Floyd better not trade with him like he did Mitchell
Yoda: Ishe what's up man? How about Mosley Vargas?
Ishe_Smith: I would love for Shane to win and then him and me fight for the Sugar Name
Jodeci888: What up Shay?
Ishe_Smith: Sup Jodeci?
Jodeci888: Shay when we doing NY again?
Ishe_Smith: Very soon man, hopefully b4 Christmas.
Gatekeepah: Just want to wish Shay good luck
Ishe_Smith: Thanks gatekeepah.
CanUcountTo10: Hold it down Ishe...we coming for that #1 spot!!!!!! "Shut up...did I say to talk ...shut up (Quoting Ishe from his sparring video against Peter Manfredo).
Ishe_Smith: Thanks a lot 10, you have been a true fan from the beginning and I respect that, The Squad is In the Building
Ishe_Smith. I just have one thing I want to say before I get out of here. As a fighter I have to say that it is disheartening to have fans not respect what you do, every time we step into the ring we might not come out a live, I think all fans need to show us respect in that aspect, its okay to voice opinions but some fans take it too far. I respect all of you for keeping it real tonight and I hope all of you will respect all of us as fighters and warriors.  Much Love to THE Squad for holding it down tonight, and much love to BTALK for always supporting me, RIP Najai Turpin and Levander Johnson, 2 great warriors, you will be missed
Be sure to sign up at
www.sugarshay.com
for frequent chats with Ishe Smith, become a member today.