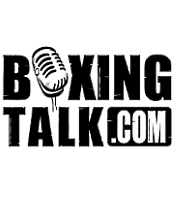 "I feel sorry for my next opponent!"
RC: Shay, before we get into any questions, why don't you tell us how this relationship between you and your new trainer Joe Goossen came about?
IS: We just felt like we needed a change of venue, and that we needed to pick up on some things that we weren't learning. I felt that we had already reached a certain level and just stayed at that level. Joe and I happened to meet up a while ago and we just clicked right from the jump and it is good to be working with him.
RC: Not a bad choice in picking Joe Goossen, but what made you ultimately pick him?
IS: I think Joe's reputation speaks for itself, and I just really want to be somewhere I feel comfortable.  This is where I want to retire and end my career. I was just looking for somewhere like that. From the beginning of my career I have had several different coaches, and from each of them I took something. Some good things, and some bad things, I am just very excited about this transition. I think Joe is a great person, a great coach, I come in do my job and he does his job. Again I am just really excited that I can call this place home.  
RC: How is the actual training coming along so far, are you learning anything new? Are you guys' working on anything in particular?
IS: I feel bad for the next opponent I fight, I really do! I am happy; I think Joe is definitely brining the best fighter out of me. I am doing things that I didn't even know that I can do. So I feel bad for anybody I have to fight from 160 down to 154lbs.
There are a lot of things that we are working on, I feel confident in what we are doing and what we are trying to accomplish. I won't give anything away on what we are working on, but with Joe Goossen…… I see why he was able to take Shane (Mosley) from getting dominated in the first Winky (Wright) fight, to having him compete in the second fight and almost win. I see why Diego (Corrales) has been able to do some of the things he has been doing lately in his career, I mean Joe Goossen is just a great trainer. And like I said, I feel bad for anybody I have to fight from 160lbs on down. I am learning a lot of different stuff.  I'm in tremendous shape right now, we are growing closer each and every day and like I said I am just glad to call this place home. This is somewhere I want to settle down and retire, I look at my career and figure I got about six years left before I call it quits.
RC: Prior to you taking part on the Contender reality series on NBC, your last fight was against Randall Bailey at 147lbs on ShoBox, and on the show you fought and defeated Ahmed Kaddour at 158lbs, how do you feel carrying the extra weight? And do you think you will be able to compete with some of the top notch names at that weight?
IS: You know what? I think the sky is the limit. I think 154lbs is alive, there are a lot of good fights out there, and when I say I want this guy or that guy, people think that I am not ready for them because their only image of me was the last image when I fought Randall Bailey, they tend to forget that the guy (David Estrada) that is fighting Shane Mosley, is a guy I dominated for ten rounds. They actually scored that fight like 8-2, it wasn't even close. I don't care about what he said about him being sick, all I know is he got dominated for ten rounds.
But like I was saying, I left that memory, I left that nasty ugly memory in their head and that is my fault. I didn't perform like I should have performed, I had 13 fights, and I was young. Over the past year or so, I have grown a lot as a fighter and I have learned a lot. Now I want to fight the best, like Kassim Ouma, Jermain Taylor, Kingsley Ikeke, Sam Soliman, I will definitely fight any of those guys.
With what we are doing now, I know I can compete with anybody. I am confident, and I'm just ready to prove to myself and prove to the world that I am a threat. I have always felt that way, which is why I was willing to take fights like Randall Bailey. Look how many fights Cotto has had, he had way more fights than me and he just now fought Randall Bailey two fights ago. I fought him when I had 13 fights. They didn't cut me any slack and I didn't cut myself any slack either. The people shouldn't hate on big fights, they should actually want to see the fights. I am very excited and ready to make big fights and use my God given talent that God has gave me.
RC: You have worked with Danny Smith for about three years, what is it like no longer working with him?
IS:  I think Danny Smith is a great trainer I have always said that Danny Smith is a great trainer. He is going to do great things with (Fernando) Vargas; I definitely think that Vargas is a great fighter and a great person. Fernando will always have a special place in my heart and I would always be appreciative to what he did for me when no one knew who I was. But on the other hand I don't feel that that is a fight that his people nor Danny Smith nor anybody on that team would take, because what Danny is trying to teach him is a natural thing. Fernando Vargas is a great fighter and I think he is going to do well in that style. It isn't for everyone, De La Hoya did not do well with it, you just can't force that upon somebody and think that they are going to learn it just like that. There are so many things you can do with that style. Danny knows I know that style, he knows what I can do off that style. I know what counters to do, I know what is capable of being done, I mean that would be a great fight.
What can I say? The guy that spoke big about me, that would be a great fight. I have the outmost respect for Fernando Vargas; I think he looked great in his last fight. I just think he needs to adapt a little more, because like I said you just can't force it, but if there is anybody that can teach it to him, it would be Danny Smith. Danny is a great trainer, but like I said my personal life is my personal life and they are some things I wasn't happy with. There is no need to talk about it. I just moved on, I wish him the best, but like I said down the line I want the best and if Fernando Vargas is the best then I want to fight  him, the fight could be made. I don't think Danny would come into that fight with that style because he know I know how to expose it, so that style wont work against me.
RC: It sounds as if you have put plenty of thought into that fight. How would you feel going in there against the new person your old trainer is trainer? And in there against a guy in Fernando Vargas that certainly made people take notice to you, a lot sooner rather than later, how would you feel going in the ring against him?
IS: Like I said, I would always be thankful to Fernando Vargas for doing that, he is a great person and a great guy but on the business side of things, when it comes to warriors we will make it happen. It wouldn't feel weird for me at all, but like I said it definitely would not be a style that I would use if he was to fight me. If I was Fernando Vargas, I would not use that style to fight Ishe Smith, not at all. And if I am Danny Smith I don't tell Fernando Vargas to use that style because it was a style that I learned at an early age and Danny bought out of me. I have been learning how to catch with the shoulder since I was eight years old. It was one of the first counter punches I learned how to do. Ride the right hand and throw a right hand. It was something that I learned from day one from the coach that started me off. It was something that I always knew and Danny just bought it out of me, he bought a different aspect of the game out…… but like I said it is natural for me, it has to be natural; I think that if anybody can get it natural for Fernando, it would be Danny because it just can't be forced. You can't take that style and try to fight somebody that knows that style because it is just not going to work. Like I said I have the outmost respect for Fernando Vargas but on the business side of the things, if it is a fight it is a fight. After the show (The Contender) the sky is the limit, and I am looking for big fights. I will be 27 this year and I am looking for six more years and I am done.
RC: Do you still communicate with Danny Smith at all?
IS: No, I just want to do me, I don't want to get involved in all the other stuff and what all the other people may say. I don't have anything bad to say about anybody, like I said with everybody that I was involved with, I learned things from them, whether it be good or bad, from managers, from promoters, from friends, from anybody.
I have a great family. I have a great church and I love doing what I do. People can say what they want to say about me, but I do a lot of great things in my community. I just started a company and we are doing big things. I also do a lot of great things at me church, and I wish all of those people the best. All of the people that still wish to see me fail, and those who wish to see me not succeed. It shouldn't be like that, I don't wish anything on anybody. I learned something from all of them, it didn't work out, and it's just like a marriage. It wasn't perfect, it wasn't right, the situation that I was in just wasn't right. I am glad that I am out of it and like I said I wish Danny the best.  I just don't want to be involved like that. Like I said my personal life means everything to me. 
RC: Is there anything else you would like to add in closing to the millions of Contender viewers and to all of the readers out there on Boxingtalk.com that support you?
IS: It feels good to be doing an interview on Boxingtalk again, and I just want the people to be aware, I know I left that bad taste in y'all mouth. I know it, and all you get to see is clips (On The Contender) you are not seeing the real fight. So you are still seeing that bad taste, you still remember that Randall Bailey fight, but it is okay I will get that taste out of your mouth. Me and Joe, we are a perfect fit; we go together like peanut butter and jelly baby. You'll are going to see some big things from me this summer and the rest of this year. Just look out for big things man, I am happy where I am at, Joe and I are getting along, I have the outmost respect for Joe and I just wish everybody good. I am really happy about the sport of boxing right now, and can't nobody bring my high down. Nobody that talks bad about me, nobody that said I couldn't do it, nobody that said anything, NOBODY! They said Michael Jordan couldn't do it when he came back, and he did it. He lost to Orlando in the playoffs but he came back and then won three more rings. I left that taste in you'll mouth man, but I'll get it out.
Send questions and comments to: rayocampbelljr@hotmail.com