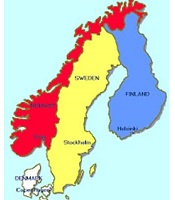 Norway's Alexander Hagen (13-2-1, 6 KOs) may not be the stereotypical boxer but he is confident his methods will prepare him well for Emmanuel Feuzeu (10-10-2, 4 KOs) on November 16th in his nation's capital city, Oslo. The 30 year-old will be boxing on the undercard Katharina Thanderz's WBC interim super featherweight showdown against Danila Ramos in Oslo. He is hoping a victory can help him achieve a world ranking. "I am basically in training camp 365 days a year, so I have just been getting some extra sparring to prepare for this fight," he says. "I have also done quite a bit of work visualising what it will be like fighting at the Ekeberghallen. Boxing's most important part is the mental part, so I am preparing in that aspect as well.
"I expect Feuzeu to behave a bit wild and dangerous in spots, so I will have to be careful at all times, but I think it will be a fun and entertaining fight for the audience. I know I am capable of winning by knockout, but my main focus is on boxing. I always land better shots when I'm relaxed and stick to my boxing. If I win this fight, then over the next twelve months, I hope to get a smaller title with one of the bigger boxing organizations so that I can get a world ranking. That would mean a lot to me."
Outside of the ring, the light heavyweight is an advocate for clean living, and reveals his hobbies, which include reading fine literature and collecting obscure European disco records, have led to him being labelled a nerd. "I think most people consider me a nerd," he says. "Not only because of my glasses, but mostly because of my hobbies. I read fine literature and I still buy music on physical formats. I'm particularly fond of reading Russian literature and listening to Italian disco on vinyl.
"I'm also a teetotaller, which definitely has a positive impact on my fitness and career. I don't get ready, I stay ready. I don't need substances of any kind to feel joy and happiness. For me it helps to live a simple and clean life."
Katharina Thanderz headlines the show at the historic Ekeberghallen as she faces Danila Ramos for the interim WBC title, while Kai Robin Havnaa finds himself in a cruiserweight clash with Al Sands of the United States. Tickets are available online via www.ticketmaster.no. All the action will be available to watch live across Viasat 4, Viasport + and Viaplay in Norway.