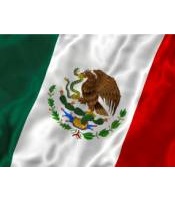 Banner Promotions has signed Mexican heavyweight Isaac Munoz Gutierrez to a co-promotional deal with United Promotions. Gutierrez, age 27 years, is from Torreon Coahuila de Zaragoza. He has a listed record of 12-0-1 with 10 KOs, but he had additional pro bouts in the World Series of Boxing so 17-3-1 is a more accurate record. Gutierrez was 220-20 as an amateur, and was a multi-time Mexican National champion, and was part of the Mexican National boxing team for two years.
Gutierrez turned professional on September 9, 2011 with a first-round stoppage of Misael Jossy Chavez. Gutierrez has established himself as a power puncher, and is coming off a first-round stoppage over Jesus Alberto Martinez Torres on September 7th.
"We are extremely happy to sign with Banner Promotions. This is exactly what we wanted, and need for Isaac's career. I have known about Banner Promotions and Artie Pelullo for a long time, and I know he can get Isaac to the top level," said Gutierrez' manager, Manuel Garrido.
"I feel very happy to sign with Banner Promotions. Being with a big company will be great for my career. With Banner and United Promotions, I feel my career can go to big heights, and I am grateful for that," Said Gutierrez.
"We are happy to bring Isaac to Banner Promotions. He is a very good prospect that was brought to my attention by Don MacDonald of United Promotions. I have seen him and he has good power. I feel that he will make waves in the heavyweight division," said Banner Promotions president Artie Pelullo.
McDonald added, "I have known Artie Pelullo for 25 years, and I know what he can do. I feel Artie and Banner Promotions is the promoter that will make the inroads for Isaac in the heavyweight division."