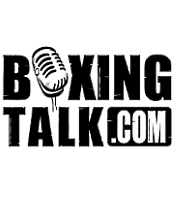 By Alex Pelletier
Interbox will take the show on the road to Quebec City on Saturday, where super middleweight prospect Lucian "Le Tombeur" Bute (9-0, 9 KO) will attempt to grab the NABF super middleweight title in only his tenth pro fight against New Orleans' Carl Handy (19-5-2, 13 KO) in front of an anticipated audience of 2 million TV viewers.
Romanian-born Lucian Bute has been steam rolling through all of his opposition, having preserved a perfect KO record after nine bouts. His brutal four-round battering of old warhorse Dingaan Thobela in December was a tremendous showcase for his talent, his overwhelming style and the punishing strength of his rushes forced the referee to step in and spare the former WBC super middleweight champion from more damage. This was a happily unexpected result against an experienced fighter who was brought into test Bute's stamina.
At 24 years of age, Bute has had a solid amateur career, winning the bronze medal at the 1999 World Championship and struck gold at the 2001 Francophony Games in Hull-Ottawa, where he was spotted by the same interests that allowed Leonard Dorin to pursue his professional career, and he turned pro in Montreal late in 2003. He's stopped all of his opposition in a total of 19 rounds.
Carl Handy has had 26 pro fights and has won half of his bouts by KO. He lost inside the distance twice so far, once early in his career against cureent Boxintalk #3 cruiserweight O'Neil 'Give'em Hell' Bell and in his latest fight, losing by TKO to knockout specialist Alejandro Berrio. He is more likely to give Bute some extra rounds than Thobela was, and Bute has to look forward to the possibility of going twelve rounds for the first time of his career, which is a huge leap for a man who has never gone past four.
The fight will be at 2 PM to accommodate the few million viewers
Expected in Bute's homeland of Romania. On the undercard young
Canadian Olympian Benoît Gaudet will make his professional debut against Bahamian Richard Pitt (1-1). Gaudet made some waves in Athens with an upset first round victory against Somluck Kamsing of Thailand. 25 year-old Gaudet also won the bronze medal at the 2003 Commonwealth Games and was also bronze medalist at the 1999 World Championships, as well as ten Canadian championships. He will be campaigning at 130 lbs.