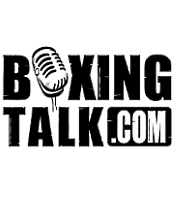 Saturday night at the Silver Star Hotel & Casino in Choctaw Mississippi, former 2 time Nigerian Olympian Eromosele Albert will step into the ring and face Dorian Beaupierre ( 12 - 3 - 6 KO - 2 D). This fight will be for the vacant IBA Continental Light Middleweight Title, and with a win Albert takes a big step towards his goal of becoming a World Champion. Boxingtalk just caught up with this Nigerian brawler, and talked about his next
challenge on Saturday night.
BT - Albert, you have a big fight coming up this Saturday in Choctaw Mississippi against a very tough Dorian Beaupierre, what do you know about this guy, and what do you need to do in order to come out victorious ?
EA - Actually, I don't know too much about the guy I am just training. As a fighter you have to take each opportunity as it comes to you. To me I have trained hard, I am in the best shape of my life, and this is a big challenge to me. I have a lot to lose, and a lot to gain with this fight, I am going to use my amateur experience against this guy, I am a former Olympian and I have had over 500 amateur fights.
BT - Talk a little bit about your experience representing Nigeria in the 1996, and 2000 Olympics.
EA - I went to the Olympics in 1996 in Atlanta, and the 2000 Olympics in Sydney, and I bring over 500 amateur fights worth of experience.
BT - 500 amateur fights?? Yes, I would say that is definitely some amateur experience (laughs)
EA - Yes.
BT - How did you in the Olympics?
EA - My first Olympics in 96 I lost to the same guy that won the gold, a Russian. Then I lost to the same time again in 2000, I lost the fight by like one punch. This was the same guy that stopped Jeff Lacy in the quarter finals, in the third round.
BT - You're 12 - 1 with 6 K0's, what style of fighter would you best describe yourself as?
EA - It depends on my opponent, sometimes I like to work my opponent down, when I fight I like to throw a lot of punches. I will be in front of you all of the time, I am not going anywhere. You have to be in shape to fight with me, sometimes I fight, sometimes I box, I do it both ways.
BT - Albert, there is another pretty good fighter out of Nigeria in Samuel Peter, do you guys know each other?
EA - Yes, I am the one that brought Samuel to the United States. I was the International team captain for 10 years, we used to have the same manager. He asked me to help him to come to The USA, and I said ok. We know each other since from back home, we used to live in the same house in Las Vegas.
BT - I am guessing that we still have not heard the last of Samuel Peter.
EA - No, I talked to him last night and he told me that he will be the Heavyweight Champion, and I believe him. Peter is a real nice guy, and I am happy for him.
BT - What are your goals for 2006?
EA - I am going to win on Saturday night ( laughs ), I plan on becoming the World Champion because to me next year I don't feel like those guys in the top 10 are better than me. If these guys can become world champions, why not me? I am a former Olympian, and over 500 amateur fights, why not me ?. I believe that I am equal to that task next year, and I know I can beat them guys. I know I can beat Ricardo Mayorga, I am ready for him, and' if he gives me the opportunity, I am ready for him.
BT - Talk to the fans Alber, what can boxing fans expect from you in 2006?
EA - In the coming year I will be one of the most exciting fighters, I want anyone from 1 through 10 to bring it on. I want to become the World Champion by the end of next year. I am ready to prove most people wrong that don't believe in me.
BT - Anything you want to say to Dorian Beaupierre you opponent before the fight?
EA - Well, I just want to say is that he better be in shape. If he is not in shape, I feel bad for him. I am in the best shape of my life, I have been training very hard. I just wish him the best of luck, because I don't talk with my mouth in the ring, I talk with my hands. He better be in shape, and he better be ready. I pray that nobody gets hurt in the ring, and look forward to an exciting fight.
BT - Good luck Saturday
EA - Thank you for talking to the next World Champion!
Send questions and comments to: bradcooney1@bellsouth.net