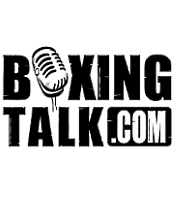 Scotty "The Sandman" Pemberton (28-3-1) is a fighter much like the Arturo Gatti of old, he can absorb an amazing amount of punishment and still have enough left in the tank to dish it back out and, in most cases, win the fight. He's proven the point in fights with Omar Sheika twice and with his losing effort against Charles "The Hatchet" Brewer. The NABF and IBU titleholder is now ranked #3 by the WBC.
Steve - Your last fight was in June, against Rick Camlin (TKO-8) and before that were the two wars against Omar Sheika. What's next on the agenda for you?
Scotty - Right now I don't know. I'd probably like to fight the winner of the Markus Beyer and Cristian Sanavia fight.
Steve - What about a match up with the winner of the Jeff Lacy/Syd Vanderpool fight?
Scotty - You know something, I'll fight any one of those gentlemen, whoever is gonna pay me the most money and whoever is gonna give me the best chance of winning a championship. Now, let's say that Jeff Lacy fights Syd Vanderpool and beats Vanderpool and they offer me a half million dollars to fight him for the IBF championship and also, Sanavia beats Beyer again and they offer me $100,000 to fight him…then I'm gonna be fighting Jeff Lacy.
Steve - You know what I find really refreshing about talking with you, is that you are honest about this, honest about the money and the reason you are fighting. Most other boxers just aren't that honest about it.
Scotty - Exactly. I got involved in this sport, at first, because I love it. But now, it's not about love anymore, it's about me getting a payday, enough of a payday so I can buy my family a home. You know what I'm saying, houses have gotten so damned expensive that, right now, I need a large amount of money to buy a house.
Steve - Have there been any talks going on for your next fight?
Scotty - Nope…nothing whatsoever. From my understanding, my promoter, Jimmy Burchfield is going to try to do something with the winner of the Beyer/Sanavia fight. And that's basically what I'd be leaning towards, more towards one of those guys. You know, if I get the choice of these 4 guys, Vanderpool, Beyer, Sanavia and Lacy and my best chance for beating one of these guys is to fight Lacy, for example, then I'm gonna lean more towards fighting him because it's gonna give me the best opportunity of winning the world championship. But, mind you, I don't want to do it for peanuts, I wanna do it for some money because what happens if I don't win? I'd rather take the fight that's gonna help me out the most.
Steve - Judging by your opponents, it doesn't seem like your afraid to take on the real punchers. You have fought guys like Omar Sheika, Charles Brewer, Richard Grant and Levan Easley. You are not afraid to fight, it's obvious. Out of these guys that you fought, who was the one that really gave you the hardest time, really shocked you in the ring?
Scotty - Honestly, I cannot really say. Before I fought Charles Brewer I thought of him as the baddest, the baddest dude, and there were times when I thought he had a good chance of beating Roy Jones at a time when Roy looked particularly unbeatable. Then, when I was fighting Brewer, I was like "I cant believe I'm fighting Charles Brewer!!" Actually, I was shaking. But after he pummeled me in the first and second rounds and he was laughing at me, I was like "I'm gonna give him everything I can possibly give him!!!" And I almost won that fight.
Steve - You've gotten into the ring with most of the big punchers in and around your weight class, but there's one name missing from your list….Antwon Echols.
Scotty - I was scheduled to fight Antwon Echols last year, just before Christmas and it was supposed to be in Albany, New York. What happened was that the promoter who was doing that show didn't think it was economical so they cancelled it. So Jimmy Burchfield tried to get us the fight at Foxwoods and Antwon Echols said he wouldn't fight me in my backyard. And, in all actuality, Foxwoods is just as far from Massachusetts as it is from New York, it wasn't my backyard. He backed out of the fight right before Christmas.
I thought Brewer was giving Echols a boxing lesson until he got caught and I thought that fight was prematurely stopped, just like my fight with Brewer was prematurely stopped.
Its hard to say what would happen if I fought Antwon. Styles make fights and he might have a style that beats my style of fighting and visa versa. But we just don't know because that fight hasn't been fought yet.
Out of all the other guys out there right now, I'd like the opportunity to fight Jeff Lacy. I know Jeff Lacy fairly well, he's a really good, solid guy and it's an opportunity for me to make some money. He had told me at one time that if I have a title that he desired to have, he would make sure that I got paid very well for the fight.
Steve - It's great to hear stuff like that, guys looking out for each other.
Scotty - Yeah, it's great. You know, there are a lot of guys who are arrogant about the whole thing. It's a sport that I believe has been corrupted from day one, maybe by the mob. You know there isn't one governing sanction over everything like there is with the NBA or the NFL. It's always promoters and the ABC organizations like the IBF, WBC, WBO and the WBA. I believe it's taking the sport away from the athletes. It's sad that the only ones really making any money are just the top 2 percent of boxers.
Steve - You fought Omar Sheika twice. The first time was a split decision and the second time you won by TKO in the 10th. Did you come into this fight with a different gameplan? You both ended up slugging it out, but did you come into this fight with a different gameplan or a different strategy?
Scotty - Well, I really didn't. I did some sparring before with Sheika and I basically knew what he was about. The first fight, I don't really think I had the right conditioning that I probably should have been in. In the second fight, I made sure I was prepared, had the right conditioning. In the first fight I was trying to catch his left hook with my right hand then I would fire my own, but in the second fight instead of catching his left hook, I'm gonna throw a lot more right hands. I saw the fight between him and Eric Lucas and I said to my trainer, even thought I never believed it, that if I hit Omar Sheika with as many right hands as Eric Lucas hit him with then I'm knocking him out. And I didn't believe it, but it eventually ended up happening. I hit him with some good, solid right hands. As a matter of fact, the referee gave me an eight count in the 6th round because he believed that the way I fell over the ropes I was gonna get knocked down, but then when I came back with a right hand and almost took Sheika's head off. That was the turning point of the fight and I think he realized it too and that's why he was saying that they should have stopped the fight in the sixth round. He had me hurt but couldn't finish me off. But when I had him hurt, I finished him.