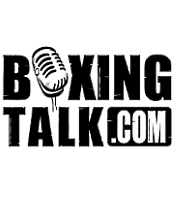 By Ray O. Campbell Jr.
Boxingtalk.com recently spoke to undefeated 1996 U.S. Olympian David Diaz to get his thoughts on his upcoming match up against hard hitting Columbian Jamie Rangel 29-6-1(25) December 10th in the Main event on 8 Count productions "The Best in Chicago Boxing" at the Aragon Ballroom. In this one-on-one exclusive, Diaz, 25-0, talks to us about his preparation with junior welterweight champion of the world Kostya Tszyu, as well as his patience that he believes will eventually pay off once his time comes.
RC: What's going on David? How is training coming along for your upcoming bout?
DD: Everything is cool, everything is coming together. I am just preparing myself and getting ready for Friday.
RC: The majority of the public don't know much about your upcoming opponent Jamie Rangel other than his losing effort against Zab Judah last December, can you tell us a little bit more about him?
DD: No I haven't seen anything on him other than that fight, I heard he fought this guy Edner Cherry to a decision or something like that, and that is about it, that is all I know.
RC: In preparation for this fight, you were helping out Kostya Tszyu for his fight against Sharmba Mitchell fight, what was that like?
DD: Yes, I was out in Australia for about four weeks, and I was getting him ready for that fight. It was a very good experience, I got to see what an undisputed champion trains like, it was a real good experience for me.
RC: After working out with him and seeing things he does that has made him successful, has your workout regimen changed any?
DD: Not really, but probably just a little bit more strength training, but other than that I am have been doing the same thing.
RC: What does working with what many consider the best 140lb fighter in the world, what does that do for your confidence going into your upcoming bout with Jamie Rangel?
DD: Ooh it boasted my confidence; I came back here with more confidence knowing that I did pretty good against the champ. So it is a real confidence builder working with a champion like him, and previously working with Spinks as well, so I feel pretty good with myself as far as where I am at right now.
RC: Not knowing much about Rangel, how do you plan on approaching this fight?
DD: Well like I said before I don't know much about Rangel, I think he is a southpaw and we are going to just have to play it by rounds and see how it unfolds. We are just going to have to see, and if I get that punch that Judah got, then I am going to take advantage of it, and if I don't then I will just take my time and be the cautious fighter and the well prepared fighter that I am.
RC: If all goes well in this fight, you also have a fight on ShoBox in February in which you were originally suppose to fight undefeated junior welterweight prospect Demetrius Hopkins, but now from what I understand he might be replaced with once-beaten Kendall Holt, what can you tell us about that?
DD: From what I know that is the latest, from what I know what you know is what I know that it is supposed to be Kendall Holt now. We don't know if it is a signed deal yet or what, but first of all what we want to do is take care of Friday and then be able to take care of February when February rolls around.
RC: What is your promotional status right now, the last time...
DD: (Cutting in) (Rhetorically) my promotional status? My promotional status is still on hold. Nobody is calling, nobody is nothing. We are just going to have to go out there and prove ourselves. For me I feel that this fight and the next fight coming up are going to be real test for me to prove to the people and promoters that I am here. I am a man of patience, and it will all turn out fine, believe me.
RC: Does is bother you that you have to prove yourself against prospects that turned pro four and five years after you did, after beating highly regarded Zab Judah to make the 1996 Olympic team, and then from then on never to quite get…
DD: (Cutting in) Well the thing is I stalled my career, if there is anybody to blame for anything it is me. I stalled it, I took time off, and I really wasn't into it like I am now. The way I see I mean I have been back for two years and I am pretty pleased with the way things are turning out actually. I am cool with it, I am not stressing it, because I know my time will come, and when it does I am going to grab hold of it and not let go.
RC: Is there anything else you would like to say to your loyal fans in closing?
DD: Just be prepared for a very good fight on Friday and keep an eye out for me on Showtime, but definitely we are going to take care of business of Friday.
CLICK HERE FOR MORE OF THIS EXCLUSIVE
Send questions and comments to: rayocampbelljr@hotmail.com