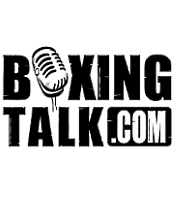 Boxingtalk.com managed to get a hold of Jr. Welterweight prospect Al "Speedy" Gonzales 14-1-1(7) right after he finished weighing in for his co-feature appearance on Telefutura's SOLO BOXEO Friday night professional boxing series. In this one on one exclusive, Speedy speaks for the first time since his loss to undefeated prospect Demetrius Hopkins. Read on to see what he had to say about his upcoming fight and what made him decide to continue his boxing career. 
RC: What's going on Speedy?
AG: I just finishing weighing in and everything's going alright, the dude (Derrick Wilmore)  that I was originally suppose to face pulled out so I have a replacement that I will be fighting, that is why I had to weigh in at 139lbs for this fight
RC: Who will you be facing now?
AG: I don't even know his name, I didn't even bother to ask, and I was upset because they gave me three days notice to get lower. I was like you'll told me 143lbs and now you'll are telling me to go down to 139lbs
RC: How much of an affect…
AG: (Cutting in) it is a big difference my mind was already set for 143lbs. (Speedy then finds out who his opponent will be) His name is Derrick Moon.
RC: Do you know anything about this guy at all?
AG: nah not really, I just know he had a fight last week and that is all I know.
RC: How excited are you about getting back into action?
AG: Ahh man I am so excited, I didn't think I wanted to do this anymore, and everybody was like "Man your good" I was like fuck it let me get back in here and give the people what they want.
RC: So after your last fight you were contemplating no fighting any more?
AG: Yes
RC: What motivated you to continue on boxing?
AG: It was my team, my trainers and everyone telling me I am a good fighter, and asking me why should I quit and give up even though they robbed me in my last fight, so I was like fuck it let me stick with it.
RC: After contemplating quitting are you going to be into this fight or any of your future fights mentally?
AG: Ooh yeah, I am into it. I have been having some tough sparring with Mark Suarez 21-2(9)
RC: What was preparation for this fight with him?
AG: We were going to war banging each other up non stop, we went eight rounds, ten rounds. He was even talking about me being a tough mother fucker in a recent interview he did. Man, I like it over there, I moved to California already. I am sharing a place with Eleazar Contreras, we have an apartment, and we are training together so things are going good right now.
RC: You were originally suppose to face Derrick Wilmore who is 6-3(1) and now you will be facing Derricks Woods 5-3-1(1), in your previous fight you fought highly regarded undefeated Jr. Welterweight prospect Demetrius Hopkins 15-0-1, why such a drastic change in opposition? Why not a little better competition?
AG: Well that is what I wanted, I wanted better competition. I don't know what happen. They had like thirty different guys for me but they all pulled out. They didn't want to fight, me I don't know what it is, maybe they thought I was too much for them, maybe they didn't like the pay, man I don't know
RC: After not winning the fight against Hopkins, and no longer wanting to continue your boxing career in the back of your mind then deciding to continue, were you more motivated going into this training camp?
AG: Nah it really didn't bother me too much, in my mind I know I won and everybody knows I basically won the fight so it didn't really bother me too much. It just made me want to come back stronger, and that is what I did.
RC: Do you feel you have to look extra spectacular against a guy with a record of 5-3 after loosing a decision on national television?
AG: I Well I have too, this is boxing, I always have to look the best I can.
RC: It looks like he has never been stopped in his career; can we expect to see this fight go the distance?
AG: ooh he has never been stopped? Ooh ok, well nah I don't think it is going to go the distance, if it does then he is a tough mother fucker.
RC: In an interview here on Boxingtalk.com by our very own Jose "On Fire" Aguirre, your manager Patrick Doljanin mentioned that if all goes well in this fight you guys are looking at either a match up with Courtney Burton or Julio Diaz, who would you prefer to fight and why?
AG: I would like to fight Burton but to me it doesn't matter I just want to get back into stepping stone fights. I mean I would fight Diaz too though. But it doesn't matter to me.
RC: Your handlers will obviously like for you to face Paul Malignaggi, is he out of the question for you personally?
AG: Yeah, man I am done with him. All he can do is just run his mouth, I don't like to run my mouth about other fighters, I like to get in the ring and let the hands do all of the talking. I don't have anything else to say about him anymore.
RC: What can all of the "Speedy" fans on hand at the Hawthorne Race Course in Cicero, IL and the fans on watching around the world on Telefutura's SOLO BOXEO Friday night professional boxing series?
AG: Well I am going to go out there and put on a great show like I always do, so it is basically going to be the same thing I am just going to come out a little meaner this time.
RC: A little meaner? The last fight you said you were going to come out like a pit bull and you did, how much meaner can you get than that?
AG: Shit, you are going to see how much meaner I can come out. We are going to have to make up some type of name for how mean I am going to be. (Starts to laugh)
RC: Now do you think that having to loose the extra couple of pounds on such short notice going to affect your performance in any way?
AG: Nah I don't think so, I feel so good. It isn't like… when I was training in Chicago two or three fights ago trying to get down to 141lbs I was almost dehydrating myself, and this time it didn't bother me as much, and it felt kind of good so I am glad about that too.
RC: Is there anything else you would like to say or add in closing?
AG: No, I would just like to see everybody come out and watch my performance if not they can watch it on T.V. to see how I do.
In the Area? Check out Speedy, as Dominic Pesoli's 8 Count Productions and Bob Arum's Top Rank Incorporated along with Miller Lite presents Mexican Independence Brawl this Friday night, September 10th at Chicago's Hawthorne Race Course televised internationally as part of Telefutura's SOLO BOXEO Friday night professional boxing series.
Tickets, starting at $25, can be purchased in advance by calling 312-226-5800. Hawthorne Race Course is located at 35th & Laramie, just minutes from the Eisenhower and Stevenson expressways. Doors open at 6pm, first bell is at 7pm.
CLICK HERE FOR MORE OF THIS EXCLUSIVE INTERVIEW
Send questions and comments to: rayocampbelljr@hotmail.com