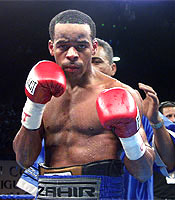 Zahir Raheem upset with Top Rank!
RC: What's going on Zahir?
ZR: Nothing much, I am just chilling get ready to start training and get it in.
RC: Everybody wants to know what's going to be the next move for Zahir Raheem. Rumors had surfaced that you might be fighting February 4th, we heard Morales if he gets by…
ZR: (Cutting in) I mean all of that is on hold right now. I have to go down to the justice of peace downtown, I got some business to take care of. I gotta change my name, my name from now on is going to be (In the funniest Spanish accent) Zahir Gonzales. I am officially going to be a Mexican from here on out, that way maybe Top Rank will give me a fight, and then that way I wont have to wait for Morales.
RC: (Start to laugh) How much does it bother you that coming off of your biggest career win, you pretty much got your hands raised and it looks like they just went on to do big things with Morales, a guy you just defeated, Easily. Give us your thoughts?
ZR: Hey man, it just goes to show you that Boxing is not what it use to be. Boxing use to be may the best man win and people wanted to see good fights, and fighters fought each other. But nowadays things like that happen because promoters let the politics and the money ruin the game. Why are you going to promote a tournament, and then not stick by your rules? You made the rule, and now you are going to break them? This is boxing man; it is going to take reporters and commissioners to make people be a man of their word. Top Rank gave their word and sad it was going to be a tournament, and they told the fans this, and they lied to the fans. I mean how can you lie to the fans when they are the ones that pay the bills. 
RC: Are you upset that you aren't the one fighting Pacquiao?
ZR: No, I am not going to say that I am upset, because whether it is Pacquiao, I mean you name emm. It doesn't really matter to me, I mean if you really look at it, they made a tournament but Morales just beat Pacquiao, and then I turned around and beat the man that beat the man. So I mean I don't care if I fight the looser or not. The tournament doesn't really make a difference to me, but if that is what they said when they were going to have a tournament, and then I expected to fight him. You know what I am saying? But they didn't do that.
Okay lets forget about that fight, my thing is…. Give me "A" fight, anybody, just give me a fight. Don't lie to me and then just have me on ice, and then play these monkey games with me for Morales. I BEAT HIM!
RC: Many feel that at worse they would expect to see you on the undercard of the Morales-Pacquiao match up this week…

ZR: (Cutting in) No no, it is much deeper than that, I am upset. Forget about that card, forget about the Pacquiao fight, and forget about the Morales fight. I signed a deal with Top Rank because I believe Top Rank is a very good promotional company. I have a lot of respect for Bob Arum, Todd DuBoef, and the Top Rank staff. I signed with Top Rank because I believe they were going to do the best in their ability in promoting Zahir Raheem, I believe that was a good decision for me career wise. And now I turn around and they are doing the absolute opposite. I mean they are going totally against what I thought they were all about. I thought they were going to promote me and do what is best and help my career. But it seems to me that they are going out of their way to destroy my career. I mean okay, I beat Morales, but forgive me if I did a bad thing Top Rank. Was I not supposed to win? Because then you'll should have told me that! You'll didn't inform me of that. Anytime you put me in the ring, I am going to train my hardest and I am going to win. I am going in there to win, I am a winner.
RC: At one point did you realize that after coming off your biggest career victory by beating Morales that you had disrupted….
ZR: (Cutting in) You wanna know when I knew that Ray? I am going to tell you the honest to God truth man. It was after the win I got the decision and my hand got raised man, it was the greatest feeling in the world and I felt that I had overcome so much, but when Bob Arum and Todd DuBoef was in the ring and they walked over to me, both of them, Todd DuBoef gave me a limp handshake said congratulations and at the same time he looked down at the floor, and at the same time Bob Arum was standing right next to them and they both were shaking their head. I am looking like damn. I thought that when a fighter of my status beats a fighter of that status your promoter is going to be happy, and be like "Yeah we did it" but instead these guys looked at me like and excuse my French, but they looked at me like "Yo, you done **explicit** up." But not just that, I get out of the ring and walk to the Post fight press conference. When I walk in that room… who is at the podium? Erik Morales and Pacquiao. I am the winner, Zahir Raheem, where do I fit in? I stand against the wall in the corner; they threw me over there like as to say this press conference is not for you. I stood against the wall dawg. I had to wait for their press conference to be over, and they both leave and then I was able to get up on the podium.
RC: Despite many throwing out there that networks feel you don't have a crowd pleasing style and whatever reason they say it is hard to get you fights. Most fans are oblivious to that, how did the fans treaty you after your win over Morales?
ZR: Let me tell you something, when I left out of the hotel, I was swarmed by people. It was unbelievable; I shut down a couple of stores in California right after that fight. It has changed my life but at the same time I just sat back and was quiet and humble about the situation because I look at it like I am not getting any younger. I don't want to go through any legal problems, I don't want to go through problems with my manager and my promoter, and I just want to fight. So I just sit back and try to be the good guy, but now they put my back against the wall. It aint but so much I can take. What is right is right.
RC: Basically, are you saying you wouldn't have mind them going forward with Morales-Pacquiao II, as long as they gave you a fight in the interim so that you could keep busy?
ZR: I mean that is only right. ANYBODY would see it that way. I mean look nobody can ever talk trash and say that Don King is a bad… I mean everybody can see clearly what just happened to me. It isn't that they just didn't give me the Pacquiao fight in a tournament they promoted, but they didn't give me any fight. I am asking them over and over can I get a fight? Can I get a fight? They say "Okay yeah, we are going to put you on a Telefutura card, but it is not going to be televised" what kind of **explicit** is that? Then I go to top rank office and I got a Christmas card from HBO and HBO staff saying they are proud to have me as a member of their family. So you cant tell me HBO wont let me get a fight. I am not being Cocky or anything like that, but HBO sees a very good thing in me.  They would love to have me on their network again. So it is not a matter of me not being able to get on the network, these networks and everybody are waiting and asking, "Where is Zahir Raheem?" It is my promoter that is holding me back. WHY?
RC: So what is the latest right now? As it stands today what are they saying to you?
ZR: Hey man, you can't keep a good man down. You see the WBO just sanctioned me and called Arum, and mentioned a fight with Frietas and me. So I got two things on the table, and I think Erik Morales wants a rematch. So I have two things on the table. But the legality of things, you know I got my lawyer looking at paper work and looking at a lot of things, and we are just trying to push forward. I didn't want it to come to that, but that is what things are coming to.
RC: You mentioned "Legal Things" can you elaborate on that a little further?
ZR: I mean I sat back and was quiet for a while but I had to have my lawyer intervene. I had to have him send Top Rank a letter and maybe it would just push them a little bit to do right by me. As far as going into the details. I rather not because a lot of the legalities are still pending right now, but the first chance I get that
I can tell you, I will inform you, you know that. RC: This weekend you'll be in the building when Morales-Pacquiao II takes place, and you also have an opportunity to fight Freitas for the vacant belt. Obviously the biggest fight out there for you is Morales because he would bring the most money, however if he was to loose Saturday. Would you take the Freitas fight, or would you be more interested in a match up against Pacquiao?
ZR: Ray let me tell you this. When the Morales fight was first mentioned to me I thought I was worthy more money than they wanted to pay me. I am not going to say no names, but someone told me I was not in a position to negotiate when I told them I wanted more money.
So then I said to myself, "ooh okay, it's like that" and it hurt my ego. But you know what I did? I went in there and I beat him. So now my thing is, I don't need Morales, I already beat him. If he wants to fight me, then pay me. If you are not going to give me the type of money I want then I don't care about the Morales rematch at all. I am in this business to make money, but I am also a man. I got pride and I got dignity. Let me tell you something, I would rather die on my feet than live on my knees. Yeah Morales is the bigger payday, but are they going to give me what I want or not? Only because I took what they wanted to give me last time! This time around I am telling them look… I don't need Morales. I will fight Freitas and I am going to win, and I am going to get titles and eventually I am going to make that money man.
RC: Many feel that the Freitas fight is probably actually a more dangerous fight for you and you'll probably make less, while the Morales fight is easier, and you'll make much more money. In a perfect scenario what wo…..
ZR: (Cutting in) No No no, you know what that might true… but Morales has to win Saturday, if he wins Saturday then maybe that's a possibility. Now me fighting Freitas is a more dangerous… I am pretty sure a lot of people didn't think I was going to beat Morales either, and lot of people are probably going to say that I am not going to beat Freitas. But that is what makes great fighters, when they do things that everybody say they cant do. I am not just saying I think this and I think that, it is going to be a tough fight, but I will beat. I will win if I fight him.
RC: I'm sure many wont doubt your ability as much as they did before, but as far as money goes... Well put it like this, it can come down to fighting for a world title against Freitas or a lot more money against Morales and prove that your first fight against Morales wasn't a fluke…
ZR: (Cutting in) But Ray, they gotta show me the money man. Basically what I am telling you is that I beat Morales and I am moving on to the next thing unless they pay me. If they don't pay me then it is no fight, and I will go ahead and fight Freitas. In the Freitas fight I am sure I am going to make money regardless. They gave me peanuts for the first fight and if they try to give me peanuts again, I will fight Freitas. To be honest I am not really the one looking for a Morales rematch. I don't care for it. How about that? BUT, if they pay me, I would be more than GLAD to give him a rematch but honestly I don't care for it.
RC: I'd ask if Manny would you want to fight him, but it looks like they have an immediate rematch clause, so why don't you just give us your thoughts on who you feel will win the fight between those two?
ZR: That first fight was so close and I can't even say who I think is going to win, it is going to be a good fight. I don't know who is going to win because that first fight was so close; I got respect for both of those guys. I think they are decent fights.
RC: Boxingtalk recently broke the news about you working with Floyd Mayweather Sr. Can you tell us how that came about?

ZR: A Phone call, a mutual friend of ours put us in contact and Big Floyd was telling me he was very interested in it, and I was very excited about it. He told me he wanted to make me his prodigy. He said Oscar (De La Hoya) has one or two fights and then he is going to retire so he wants me to move in line, and we are going to do it. I think he is a great trainer.
RC: Is this a situation where you were looking for a new trainer, or it is one where the opportunity came up and you feel that Floyd Sr. will be able to do a better job than your current trainer Don House?
ZR: No I am not saying he is going to do a better job than Don house, I have a lot of respect of Don House, it is not really a matter of me getting rid of Don house, because if don House wants to continue to work with me, then I am all for it. But I think that right now I can't worry about hurting anyone's feelings and doing the right thing for someone else. I can only be a man and do what is best for my career. And I think that Floyd Mayweather Sr. will be a great help in my career making me a much better fighter and polishing my style.
RC: At this point in the game with a 27-1 record, what difference would Floyd Mayweather make?

ZR: We are like a hand and glove with my style and the way he trains. I mean my reflexes my timing, my angles; it is going to be a whole different ball game now. My fight game is going to step up and improve a lot more. Don House is a terrific trainer, and I will never be able to take anything away from him. He is a terrific dude, and I have nothing but love and respect for him. I just feel that Floyd Mayweather Sr. would be a great help to my career.
RC: So pretty much your next career move is contingent on what takes place tomorrow?
ZR: Well not really because I need a fight. Whether I am going to fight Freitas or Morales, I need a fight; I mean whoever I have to fight in a big fight. I need a tune up fight first; I have been sitting on ice. I need a fight before a fight, so regardless of what happens I need a fight.
RC: In other words if the fight between either you versus Morales or Freitas came up, you'd like t o have a fight in the interim before you took on either one of those two?
ZR: Absolutely, I am not going to just go into that fight, I need another fight first. I mean they got their tune up fights before they fought each other didn't they?
RC: Your right!
ZR: (cutting in) the only thing is I tuned his **explicit** up. (Starts to Laugh)
RC: How excited are you about appearing on ESPN Friday Night fights?
ZR: Very I am very excited about that and I am going to give my thoughts on the fight, but I hope they don't expect me to tell them how to beat Morales because that is my secret. Plus I can show them better than I can tell them.
Send questions and comments to: ray@boxingtalk.com