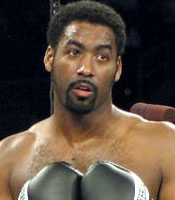 By Ray O. Campbell Jr.
RC: Calvin you just fought this weekend on a non televised card at the Mountain High Casino in Black Hawk Colorado and defeated 70 fight Heavyweight veteran Wesley Martin via second round TKO, why don't you give us a little run down on your performance?
CB: Well I give myself an "A" for this performance because the guy was a southpaw, he had a good fundamental stance, he was looking to land a good left hand, an over hand left and I was getting out of the way. Basically working behind my jab and countering with sharp rights, and landed a few hard rights toward the end of the first round. Then I came out in the second round and started landing more right hands and dropped him a couple times, and then I dropped him with a hook the very last time I knocked him down for the third time in the second round, and ended the show.
RC: Prior to your last performance you were a little disappointed that your knockout streak had ended. Did you feel as if you had to go out there and stop him early to make a statement?
CB: Yeah, I went the distance in two fights before this one, so I had to go back to making a statement, I had to get back on a Knockout streak, and make a statement to my promoter and boxing fans as well as the people in the press.
RC: Your last televised fight was on NBC when you faced then-undefeated Terry Smith, who was 20-0-1, after that it was Willie Williams who was 16-7 going into your fight after that, and just this past weekend Wesley Martin who was 16-45-8. Why take opponents like that, which are considered steps back after making such progress?
CB: Well Main Events (his promoter) just wanted to keep me busy and keep me going, so I can get a good tune up boxing match for January in Atlantic City, and they were trying to find an opponent on somebody else's card. I was originally supposed to fight on October 22nd; the match fell through because my opponent didn't pass his physical. So I guess they got another opponent and that is just who Main Events chose, and whoever they choose is who I get in the ring with.
RC: Did it bother you that the guy had such losing record and they could have probably found you someone better?
CB: Not really, I read about up and coming prospects getting knocked out all of the time by guys with bad records like the guy I just fought. You can't sleep on anybody, the guy has two hands, and he has muscle just like I have two hands and muscles. Good prospects get knocked out; guys who been to the Olympics and won a gold medal like Mohamed Abdulaev have been stopped. Then other guys that you read about getting knocked out like Duncan Dokiwari, another one of my Olympics teammates David Jackson got knockout. DaVarryl Williamson has been knocked out by a guy with a loosing record, TJ Wilson,  Malcolm all three of them got knocked out by the same opponent, a guy that is supposedly can't punch and with a loosing record but they got knocked out by them, so you cant sleep on these guys that have bad records.
I train hard for everybody, I go in there and handle my business against them, and it is still developing me and getting me experience and get me in the habit of knocking people out again. And I plan on hopefully doing the same thing when I reach higher competition.
RC: Is it sometimes a little harder getting motivated for those type of guys?
CB: Well you know I learned my lesson from July 24th during a boxing match in Atlantic City when I fought Willie Williams. I couldn't quite get motivated thinking I got myself an easy opponent and come to find out, the guy came in shape, strong, ready and he was better than what I thought he was. I went on to win a decision against him, but I had to keep my hands up and take my time or else I could have got knocked out. So that was like an eye opener. That kind of woke me up and let me know I have to be ready for whoever, I train hard and take everybody serious. I know that every time I step in the ring I still have to look good.
RC: So you will be fighting in January?
CB: Yeah January 29th, I am boxing on the Arturo Gatti against James Leija under card
RC: Will the bout be televised?
CB: I don't know, I am possibly going to be the co-main, but I know I am definitely going to be on the card.
RC: Any word on any possibly opponent you will be facing?
CB: No, not yet
RC: If you had your choice what type of opponent would you have? Would it be someone with a recognizable name?
CB: Yeah of course a recognizable name.
RC: Going into this fight you were one of the chief sparring partners for Jameel McCline, what are your thoughts on his performance this past Saturday night?
CB: He performed well, the same way he did in the gym, I thought that he could have boxed a little bit smarter, I felt that with his height, his size and his strength he could have kept Byrd out on the outside with his jab and just go in, Maul him and over power him. Then when he got tired of mauling or throwing punches, he should have just held Byrd, and he would have not been able to get any punches off on McCline. He made a mistake staying on the inside too long, and let Byrd get off punches. McCline can move, he could have moved around or boxed Byrd. He could have stolen the rounds just by jumping in and overpowering Byrd at times; he could have made it a lot easier fight. Other than that I think it was an interesting fight. He fought well in the fight and I take my hat off to both men.
RC: What did you think about the Holyfield-Donald matchup?
CB: Larry Donald was in great shape he looks good but he was in there with Evander Holyfield, and Holyfield has been a great champion, but his skills and his reflexes are diminished. He still has lot of heart but he just don't have the juice anymore.
RC: How about Rahman-Meehan bout?
CB: ROCK looked great, he looked real real good against Meehan, not to say that I can say he is the best in the division because of his fighting Meehan, because Meehan lost his last two fights. He was a sparring partner against Lamon Brewster so he didn't have anything to be scared off, so it kind of showed me where his heart was when he fought Hasim Rahman. He looks like he was scared to fight, so I think Rahman went ahead and did his job, jumped on him took his heart early and took him out early.
RC: Ruiz-Golota?
CB: It was a very sloppy and boring fight. Neither one of those guys, Ruiz or Golota showed me anything, but I thought that Ruiz pressed the fight, and although he got knocked down a couple of times, well maybe one legitimate time he got knocked down, and had a point taken away, I think he edged it out because Golota wasn't doing anything, he just wasn't fighting to win the fight if you ask me.
RC: So you thought Ruiz won?
CB: Yeah I could see where he could have edged it out because he was fighting to win the fight, he was pressing the fight and Golota wasn't.
RC: How long before you feel you will be ready for any of the winners from Saturday night?
CB: I am ready for them now
RC: Your promoter Main Events recently inked a deal with ESPN that will be showcasing many of their talent up and comers will you be a part of that series?
CB: Yes, I will be on in April, April 8th.
RC: Is there anything else you would like to say in closing before I let you go?
CB: I just appreciate Boxgintalk.com showing me this much love and keeping me out there.
CLICK HERE FOR MORE OF THIS EXCLUSIVE
Send questions and comments to: rayocampbelljr@hotmail.com