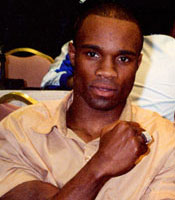 GL: What's the latest with Vivian Harris? "
The latest right now is I'm fighting in California on January 20 against Marteze Logan. I'm ready to go fight and put on a great performance on Friday night."
GL: There were rumors floating around that you could be opening up the Showtime telecast on February 4 against Alvaro Aguilar. Was there any truth to those rumors?
VH: "I'm saying, I really don't know. I saw the same thing on the internet. But I have a promoter (Gary Shaw) and if that's what my promoter wants me to do I'll support him. I have a fight scheduled, and if my promoter wants to cancel this fight for me to fight on Showtime, it's whatever they want to do. If he wants me to fight both of the fights, it's whatever, but the only fight I really know about is January 20. Whoever is next after this, it is what it is."
GL: Are you anxious to get back in there to get the Maussa experience off your back and start the year off with a bang?
VH: "I'm saying I'm going to get on a winning streak and this is just going to be a continuation for me, I'm ready to step up to the plate and I'm ready for whomever. I take every fight seriously; even this fight coming up is serious to me. I take no opponent easy, but I'm ready for whatever comes to the table, you know what I mean?
GL: What are your goals for 2006?
VH: "Whatever God has in store for me is good enough for me. There are a lot of guys out there I want to fight and there are a lot of things I want to accomplish, but I'm going to take advantage of whatever doors open for me."
GL: Even though Maussa lost to Ricky Hatton do you plan on avenging that loss?
VH: "Yeah, I want to reverse that but my goal is to get my title back by any means necessary and I know I'm going to get it back. My only question is, after this fight, whose next?"
GL: Who's going to be working your corner against Logan?
VH: "I'm back with my old trainer Lennox Blackmoore and we're getting back to the things we normally did, Vicious Vivian Harris style."
GL: What happened with Emanuel Steward?
VH: "Nothing happened; I just think he has too much on his plate right now for him to really focus on Vivian Harris. I'm a young guy and I'm in the prime of my career so I need someone who could give me their attention and I just don't think Emanuel has the time for that will all the things he has on his hands. He's a great trainer and a great person, but I need someone that's going to have the whole training camp for me, not just two weeks. That's why before I looked for a new trainer; I went back to my man who I was with since I was a kid."
"I'm just looking forward to Friday night and I'm excited about it, and I'm excited about February 4 too."
GL: If you manage to make easy work of Logan on Friday night would you be willing to return two weeks later?
VH: "Whatever my promoter wants to do, I'll do it. I've never backed down from a fight so all they have to do is show me the way. There's no tough fights or easy fights for Vivian Harris, I treat all of them the same."
GL: Is there anything you'd like to say in closing?
VH: "I'm just happy to be back, actually I'm just happy to have a fight on January 20 and I just want everyone to tune in to watch me fight. I've never gone nowhere, I had a bad night in my last fight, but now we're moving ahead and believe me I'm going to get my title back."
Send questions and comments to: gleon@Boxingtalk.com