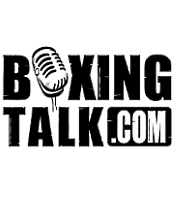 USA #1 amateur heavyweight speaks out!
Fresh off his fiftieth amateur win, Travis Kauffman speaks about getting revenge in Azerbaijan and sparring with Oleg Maskeav in preparation for the fight with Sinan Samil Sam.  Travis wa also going to be one of the main sparring partners for Rob Calloway in preparation for James Toney, but it seems that fight will no longer take place 
Matthew Goldstein:  How did the work go between you and Oleg?
Travis Kauffman:  Before I began sparring with him, I assumed things about him.  People said he was slow, good, defense, and power,   It was amazing, the power he had.   
MG: His Power was amazing?
TK:  In comparison to Nobles, Guinn, Scott, Estrada, Witherspoon, guys in the top ten, and no heavyweight, amateur or pro, ever hit that hard.   And both hands, jab, and right hand.   
MG:  What do you think Oleg's chances of are coming back and taking a title from Rahman or any other heavyweight.  
TK:  Well, he already beat Rahman, so there's a confidence already there.  Rahman is a great fighter, but I think Oleg is better than what he was.  
MG:  How many rounds did you spar with Oleg?
TK:  I would say about 50 rounds.  3 out of the 4 sparring partners he had, he dropped.   I am not going say any names, but I am the only one he didn't drop. 
 
MG:  So what did you learn from Oleg?  How did the experience help you?
TK:  Well, I know if I am going to fight a guy like Oleg, I am going to have to be more dedicated.   He trains like a maniac.  And to be doing what he's doing at 35 is great.  I have more skill, and more talent, but I have to dedicate myself like Oleg.   Everybody has ups and downs.  Oleg went through the trials and tribulations, but I'd pick him over any heavyweight right now.   He's got a different team around him and I think that has a lot to do with it.  He's got a new trainer, new manager and new promoter. 
 
MG:  When are you going pro?
TK:  As soon as my dad thinks I am ready.  As soon as the money is right.   We are thinking about it, but it's not a sure thing.  We don't have a set date.   My main focus is the Olympics.
 
MG:  What is next for you?
TK:  I'm supposed to be getting ready for USA vs. Azerbaijan in Chicago on Dec 3.  The guy I fought last year in Azerbaijan was the bronze medalist in the Olympics.  But this year, they are in my back yard.    
MG:  What are your biggest assets in the ring?
TK:  Once I am down to 225, it will be speed, but now I'm starting to develop my power and I'm punching like a bull. 
 
MG: How has you game differed in the last year? 

TK:  Well, I am more experienced and I've worked a lot over the last year.  I sparred with more heavyweight than most fighters.  I've sparred with the top notch guys. 
 
MG:  Where do you think you want your abilities to be in the next year?
TK:  I need to use my jab more, and set up my combinations, but once you stop learning and improving, you need to give it up.  There's always room for improvement.