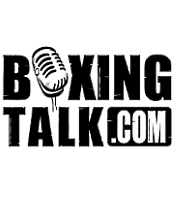 BT - Talk about your latest fight against Dicky Ryan.
"It was a very interesting fight, he's been around a long time. Dicky has never been knocked out, so going through the fight I wasn't looking to knock him out. I kind of went in there with the wrong attitude to be honest with you. The shots I landed on this guy in the first round, I don't think anyone else could have taken. He's a super guy, an abnormal person, I was hitting that guy with bombs, and he took it like a trooper. After the first round I told him ' you made it out of one', and after the second I said, ' you made it out of two' , and after the third round I told him ' you ain't making to four', and that's when I knocked him out. When I say he was never knocked out, I mean he has never been on the canvas."
BT - Shannon with that win you grab the NABA, USBA, and the vacant WBO/NABO titles, not a bad night.
SB - Yes, I walked away with a couple of titles.
BT - The last time you lost a fight was against Jameel McCline back in April 2002, talk about that.
SB - You know even the McCline fight, I went into that fight with a bad back. A lot of people told me to take the fight because it was a shot I needed. I couldn't run or get ready for that fight because I was injured, so when I was in there with him, I couldn't catch him, I tried to knock him out early because I couldn't catch him. I never lost a fight when I was in shape, the Lennox Lewis fight I wasn't prepared because I went into that fight with a broken hand. I feel great about being able to say that I never lost a fight when I was healthy, and in shape.
BT - Jameel McCline is not the right guy to get in there with when you have a back injury, he's a big and strong guy.
SB - Yea, but even with all of that I still thought I had a punchers chance. Jameel was in better shape, so I wanted to try to knock him out early.
BT - Shannon you have one of the better knockout ratio's in the division, talk about that some.
SB - Yea definitely , I never said I am the greatest, I am just the latest. I look at it like, people don't really care about the art of boxing. People want to see knockouts nowadays. I am either going to get knocked out, or I am going to knock someone out (laughs). I am an entertainer, I train to knock people out. If I have to win by a decision, that's ok, but I am looking for the knockout every time, and my opponents know that.
BT - With your last win, does that earn you a shot at Samuel Peter?
SB - I don't need Samuel Peter, I don't need Samuel Peter, he's a bum. Peter almost got killed against Klitschko, I thought a sniper shot him from the crowd he got hit so hard. Peter is a puncher, but he's raw, he's no Lennox Lewis, he's no George Foreman, he's no sharpshooter, he's just a strong nAfrican guy.
BT - What's next for you Shannon?
SB - I am just looking to stay busy, my manager Scott Hirsch is a multi billionaire (laughs), he's doing everything possible to make things happen. I am looking at 5 belts right now, I have a great year. Scott isn't looking to earn a bundle off of me, he took a guy in me that everyone forgot about, and it's a blessing to have guys like Scott in my corner. Sometime in May I am looking to decapitate Chris Koval, look for that.
BT - I am interested in your thoughts on the Hasim Rahman vs James Toney fight?
SB - I think that a lot of people are saying that James didn't give it his all. I think that's what James can do, James has been boxing for so long that physically he's doing what he can. I don't think he has the motivation to train hard anymore, I don't think he has it anymore. James is giving what he can, that's what he has. James is a future Hall of Famer, and a great fighter. I thought Rahman looked like an amateur, he looked basic, no flare, no enthusiasm, very boring to watch. I dream for a fight with Hasim, I would have knocked him out. I know for a fact that Hasim Rahman could not take my shots.
BT - Shannon, who do you want ?
SB - Wladimir Klitschko is fighting Chris Byrd, hopefully Chris Byrd, I would like to fight Valuev too. Who is this guy Valuev? They hiding him? They won't let him fight over here? Come on man, let's stop playing.
BT - What about someone like Calvin Brock, is he someone you would like to fight?
SB - Yea, but Calvin Brock is an idiot. Calvin Brock talked about fighting me, bla bla bla . We talked about a fight with him, but they told us no. I don't think the guy has a chin. Calvin knocked out Zuri Lawerence, a veteran yea, but what? ok big deal? he's basic, and id like to fight him tomorrow.
BT - You had a shot at Lennox Lewis and came up short, how hungry are you to get back at a title shot?
SB - Yea, I'm definitely hungry for it because back then I was a kid, and stupid. I got a couple of bucks in my pocket after beating guys like George Foreman, and I was just running the streets having fun. Lennox was a mature man, and he was physically stronger than me. I wasn't there mentally when I fought Lennox, or mature enough. Looking back, it was an opportunity blown, but I am happy to be where I am today. When you look at other guys that came up with me in the 90's , they are no longer around. I am not beat up physically, I am sound, I have a great family.       
BT - Shannon it sounds like you're a happy guy.
SB - Yea, I am having a great time. I have a great family, my wife is hot (laughs), I am doing some acting too. I am looking for a career in acting after boxing. I had fun in Bad Boys 2, and Transporter 2, it was fun and I made a couple of bucks. No one is having more fun than me in boxing, no one.
BT - Shannon what are your goals for 2006?
SB - I will decapitate Chris Koval in late May, he's talking a lot of smack right now. I am a free agent, the door is open right now.
BT - Are you looking for a promoter Shannon?
SB - Yea definitely, I mean my manager is very well off so we are good financially, but it's all about TV fights. If Arum or Don King or any of these guys want to give me a shot, I am ready. I am looking at 6 belts right now, and I would like to add some more.
BT - Talk to the fans out there Shannon.
SB - I appreciate the fans that I do have, I know a lot people don't like me ( laughing ), they don't like some of things that I say or do (laughs). Hey man I am just me, and I am enjoying life. I was a kid who had nothing living on the streets, and now I am living a dream. I am going to keep doing what I am doing, I am looking for a knockout every time.
Send questions and comments to: bradcooney1@bellsouth.net