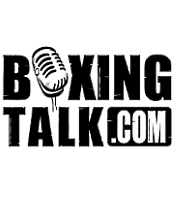 PRESS RELEASE
: On the first Universum Box-Promotion show next year, scheduled for January 7, undefeated heavyweight sensation Alexander Dimitrenko, 20-0 (12), will take on American veteran Rob Calloway, 56-5-1 (43), at Zenith of Munich, Germany. Boxing.de contacted the man from St. Joseph, MO, and found out what he expects from his first fight in Germany and how he thinks about his boxing career.
Boxing.de: Mr. Calloway, you have a fight in front of you in Germany, facing undefeated Alexander Dimitrenko. But originally you were scheduled to face James Toney in December. Could you explain this situation to us?
Rob Calloway: I signed a contract in October to fight James Toney in Los Angeles on December 1st on "The Best Damn Sports Show Period" on Fox Sports. The date later was changed to December 15th. I had been in training camp for 4 weeks when I heard the fight was cancelled because Toney would get the 1st chance to challenge Hasim Rahman for the Heavyweight Championship and he did not want the risk of a set back. This was a major let down. However, the fight with Dimitrenko came up and I was just glad another great opportunity was offered.
Do you think James Toney considered you too big of a risc?
I feel James Toney definitely felt I was too big of a risk and really you can't blame him when he has the opportunity for a bout with Rahman for Millions of dollars.
When and how did you start your boxing career? Have you done any other martial arts beside boxing?
I've never been involved with any kind of mixed martial arts or anything. I started my boxing career as a teenager and won the Kansas City Golden Gloves 3 times and the USA six state regional tournament before I fought my way to the semifinals of the 1992 Olympic Boxing Trials.
How did you come up with your nickname: "All American Prizefighter"?
In 1997 my hometown (St.Joseph, Missouri) won an award in the US and was named an All American City. So due to the fact that I'm very involved in my community and I've been married 14 years now and have 2 children my Team gave me the name The All American Prizefighter.
What in your mind was your best victory in boxing?
I feel my best victory to date was when I traveled out of the country to Australia and beat Bob Mirovic, from Australia, for the WBF World Heavyweight Championship and the WBA-PABA Heavyweight Championship. Bob had just given Timo Hoffman a very tough bout in Germany that many feel he won.
Your record identifies four no-contests. What happened there?
My accurate record is 61 wins, 5 losses, 1 draw and 46 knockouts. I have never fought a No Contest but early in my career that was put on my record without me knowing by some states commissions even though the bout ended with me winning by knockout.
What do you know about your upcoming opponent Alexander Dimitrenko?
I've never seen Alexander fight before but I have tapes coming. I understand he is very skilled and should have plenty of power with his size but I look forward to getting into the ring with him myself!
Some regard him as a possible successor to the Klitschko brothers. Does this worry you?
I think it's too soon to say he will be the successor to the Klitschko brothers but he does have some decent wins. I feel I will be his toughest opponent to date so I guess this will be a better chance for those so called experts to decide.
Have you ever fought someone with a height of 6-foot-7 or more?
I have fought several opponents that are taller than me, I'm 6'3, so I will be used to the size difference. The tallest opponent I've fought was Julius Long who is 7'2 and I was able to win a decisive 12 round unanimous decision.
How did your training go so far? What specific workouts are you doing daily?
Training is going great! My wife and I own TEAM CALLOWAY FAMILY HEALTH & FITNESS CLUB in my Hometown so I am always in great shape and we do all of our business and training from there. I do bring in sparring partners close to bouts but for this bout I will be going to Philadelphia to work with my trainer Marshall Kauffman at his gym and he will have several guys for me to spar with to better prepare.
Who do you want to fight in case you beat Dimitrenko?
Universum has several of the best fighters in the world! I fought Ruslan Chagaev in October of 2002 in Detroit and we clashed heads in the 2nd and he was able to land some big blows in the 3rd resulting in a standing 8 count and then the doctor stopped the bout due to my cut from the clash of heads and the match was declared a draw. He has gone on to do very well and so have I, so I think it would be very big for us to have another bout since I won the first round on all three judges scorecards and was doing well until the clash of heads in the 2nd. Had I never even come out for the 3rd round the result would have been the same due to the cut but I wanted to continue and the fight ended without a final significant result, a Draw. So to answer your question I think a rematch with Chagaev would be great after I beat Dimitrenko.
In case you lose, at age 36, would you want to continue your career or could it be time to say goodbye?
I am 36 years old but I feel 26! I own a beautiful Family Health Club in my home town and I stay in great shape. I have a beautiful family and a beautiful home! I would never want to risk that by staying in this business too long but I plan to box until I am 40 years old and have my retirement fight at that time in my home town!
Ticket prices start at 17,50 Euro:
Ticketbox Ostbahnhof/Hertie am Stachus/Pasinger Bahnhof, Tel. 089 - 55 72 32
Universum Tel. 040 - 69 65 59 59
CTS Tel. 0180 - 55 70 000
You can buy tickets online on
www.boxing.de
.