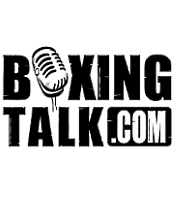 JA: What's new Rich?  I understand that you have a five fight boxing series. Can you tell us a little bit more about that?
  "The show is going to be televised on a two week tape delay on Fox through out the north east on prime time T.V. It is a series that we been doing for three years now, we have had a lot of success with the shows and our main goal was too bring the series to the casino. I am proud to announce that we are venturing into that partnership with the Mohegan Sun. The first televised night of the series is going to be on February 18th. We will be featuring Gabriel Holguin against Rasheem Brown.  In the co-feature it will be Mike Oliver against Castulo Gonzalez, they are fighting for the Vacant USBO title. It's a great match up; I think that they are the two best super bantamweights in the area. I am really excited about that fight. The series is something that we been working on for quite a while now and it's exciting to see the series grow the way I would like to."
JA: Is the series going to run past 2006 into 2007?
RC: 2006. I am ultimately looking to do more in 2007 and hopefully to do some shows down in the west coast also.
JA: Sounds like you bigger and better things are happening with Cappeilo promotions.
RC: We have been around for nine years and we have taken slow and steady steps to get where we are. We have had some big wins this year. Melvin Cumba had a big win to end last year. Rasheem has a big fight coming up; Kevin McBride won his big fight. We have been slowly building our fighters and building our company. We have been very fortunate to surround ourselves with very good people who have been doing good business, which is unusual in this business but that's the only way I will do it. 
"In this business it seems like you always have to watch your back, there seems to be no loyalty. It seems the more success you have the more people who want to knock you off your feet. Like I said before that the main goal is to surround your self with good people and do good business."
JA:  Are you at the point in your promotional company to pick fighters that you want and not just sign people just to sign them?
RC: I have actually released about a dozen fighters this past year. The only guys that I am looking to sign are guys that I feel that can fight at the top level. Right now I have been doing that. The bottom line in this business is you are only as good as the fighters you have, if you don't have fighters who can fight in the top 10 than you really don't have much.  All the money is at the top, there is no money at the bottom and very little in the middle, its all up at the top. You have to get guys who you can feel can go up to the top and win big fights. If you get yourself one or two world champions now your in the drivers seat and puts you in a position to do business with the major networks. That's what its about and we are concentrating on signing those type of fighters. It doesn't happen over night and it's a process that takes a while. Every year I have seen my company grow, I believe slow steps will take you to the top but I have seen the company progress every year. 
JA: I bet it was not a small step when Kevin (Mcbride) beat Mike Tyson. 
RC: That was a big step in the right direction. No one thought Kevin had a chance in that fight. I knew that Kevin fought to the opposition. The seven fights that he fought before I started to promote him, he did what he had to do to win but he did not fight at the level of I know he can fight at. I know that he never trained that hard and I knew that he could punch hard, with the right opportunity and the right situation I knew that he would come out successful. I know that we seen an older Mike Tyson, but no matter how you break it down it still is a great win. That was great exposure for our company; we had a lot of phone calls following the fight. A lot of people are now taking us serious. If you can get guys in positions like that, you are going to get a lot of fighters calling.
JA: Do you have any standard or goals that you want to achieve with your company in 2006? 
RC: Well I am going to do my series and I want to mix in a couple of ESPN shows. Then I am in the middle of working on some other plans that I am continuing to work on. I want to run great shows and I want to have good solid cards that will bring the fans out. I want to try to get guys into some big opportunities to fight for world championship. Rasheem Brown with a big win coming up could lock him with a big fight with anybody in the top ten; Willie Gibbs is in the same boat. Elvin Iola is going to be back soon. 
JA: Sounds like you have a lot of up and coming prospects that could be making a lot of noise in the near future
. 
RC: Yeah I have a few other guys that I am looking at signing; once that gets complete I will give you a call. 
JA: How many shows are you looking to do in 2006?
RC: I am looking to do about 10 shows. I am going to do some shows in Boston, I have a show on March 17th on ESPN, I am doing it with North East promotions. I want to go to Boston; I want to go to Mohegan and hopefully the West coast.
JA: Is there anything that you would like to say to the fans Rich?
RC: I just want to say thanks for the support. I want the fans to come out to a Cappiello promotions card, your going to see quality shows and good fights. I also believe that if your going to make a fighter better you have to put them in competitive fights. I always put guys in fights where I feel they should win but have to work for it, it backed fired on me a couple of times. But if you want a world champion they have to learn along the way and that means you have to fight tough guys along the way. We seem to have a good following because people expect to see good quality fights. I hope that you all can make it on February 18th at the Mohegan Sun.
Send questions and comments to: aldenjimmy@cox.net