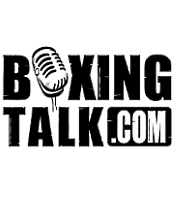 JA: How has training been?
"Training has been going really well, I have been working with the chin checkers. I am fighting for the number one spot, I don't care who I am fighting I am going to go in their and take care of business."
JA: May 6th is going to be a dynamite card in Worcester. Are you looking to come in here and steal the show?
RG: Oh yeah most definitely. I know that Jose is from Worcester but you know I am going to go in their and steal the show in dramatic fashion.
JA: Do you believe that this will mean big things for you with a win on May 6th?
RG: Oh yeah I think this will propel me to fight the winner of the Winky Wright-Jermain Taylor fight. I beat Jermain in the amateurs and I would love to bring him back some flash backs.
JA: Do you think that he was ducking you or do you feel that he is going out there trying to prove that he is the best in fighting Winky Wright?
RG: I wouldn't say that he is ducking me I think that he is trying to make the money while it's there. I think that there both in a very good situation and I would love to fight the winner of the fight.
JA: How is everything going with you?
RG: Everything is going fine, no complaints. Training is going great and I love it.
JA: Is May 6th going to be the biggest fight of your career?
RG: Most definitely. This is going to be my coming out party and I am going to come out with the victory. Once I become the mandatory there is going to be no more ducking me, there going to have to fight me.
JA: Do you still feel that your underdog in the division and that no one gives you that you deserve?
RG: Most definitely but my time will come. I always feel that I have something to prove. Ever since I was an amateur they ducked and dodged me and then all of a sudden I was number one in country. Everybody is going to see how good I really am.
JA: What is your prediction for the fight on May 6th?
RG: I will tell you how I am going to win. I am going to soften my opponent up; I am going to take him into the deep rounds and drowned him in the deep waters.
JA: Are we going to see a knockout Randy?
RG: The knockout is definitely going to come, it might be in the late rounds or it could be early on. I have power but I like to punish my opponent. I love to show my skills in the ring.
JA: Is there anything that you would like to say in closing?
RG: I just want to say is to keep supporting Randy Griffin and continue to show me love. Bet on Randy and you won't lose.
Send questions and comments to: aldenjimmy@cox.net