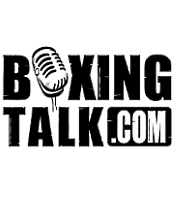 JA: Brinkley-Spina is all set to go Patrick. Tell us about it.
"Mad props have to go out to Jimmy Burchfield for making the fight happen in the wake of a lot of naysayer and pessimists. Jimmy put his nose to the grind stone to make this fight happen. We are very grateful to Jimmy for making this fight and we are ecstatic about this fight."
JA: I am going to be talking to Mr. B about this, but in your own eyes what was the turning point in the negotiations?
PD: I don't know what the turning point in the negotiations were because Jimmy was the one handling the negotiations part of the deal. All I was doing from a manager's point of view was getting Joey ready in Las Vegas with  Eddie Mustafa [Joey's trainer]. The one thing that was clouding the fight was and is Brinkley's reluctance to fight Joey, I don't think that Jesse wants to fight Joey and on May 10th whether it is after the 12 rounds or sooner we will see why Jesse Brinkley was not interested in fighting Joey Spina. I don't think that its going to be a good night for Jesse let me just put it you that way.
JA: I heard from a couple of sources that they weren't offering Jesse the money that he wanted to come here and fight. Do you think that the money situation had a little bit more to do with why the fight didn't get made so quickly?
PD:  No. Lets face facts he got a gift decision against Anthony Bonsante, there is not a person in the world that will say Jesse beat Anthony Bonsante. He cant think about getting a bad decision anywhere, if any thing we should be concerned because we are going up against a 600 pound gorilla in "The Contender". If it does come down to a close decision I think that its going to fall on their side rather than ours. I don't think that the location will play in the decision and I don't think that it played a role in Brinkley's mind. I am not in Jesses head and I don't know the particulars were with his decision.
JA: A lot of people can argue that Joey got a couple of gift decisions so do you think that the playing field is even?
PD: It is funny because Manfredo Sr. has come yapping his mouth saying that Joey got gift decisions, everyone has received gift decisions. If anybody had received a gift it was Peter Jr. after he got knocked off the show and then gets back on, that makes absolutely no sense. To this day I cant figure out when someone gets booted off a show, I don't care if it's the contender or Jeopardy that you can get back on after you lost, its amazing. I think that every fighter at one point or another where he hit a horse shoe that day and got lucky. The old saying is "When you point a finger at somebody, three or four come pointing back at you."
JA: Were you surprised with what Peter Sr. had to say?
PD: This guy is boxings version of Captain Lou Albano. I don't know where he is coming from, Joey has never said anything negative about Peter Jr. or Peter Sr. Peter Jr. is a class act; he handles himself really nice and is a great boxer. Where Peter Sr. is coming from I have no idea, the guy is making a fool of himself. He went even further when he said that Joey wasn't going to beat Jesse and this and that. I am going to make sure that we have a nice 18" crow pie for him, and I will hand him the fork and help him eat it.
JA: A lot of people that I talk with in the boxing world think that Joey isn't a great fighter. Do you think that this is going to be Joey's coming out party?
PD: I think so. I was down in Vegas for about a week and everybody who is anybody, real trainers not Manfredo Sr., real trainers were telling me that if Joey does what we are telling him to do than its going to be a long night for Brinkley. Joey knows what this fight is going to mean for his career and he is going to pour his heart and soul preparing for this fight.  Eddie Mustafa Muhammad is Joey's trainer and he is going to make sure that we see a Joey Spina that we have never seen before. Just in the few days that I been down there he was making some nice adjustments that he needs to work on. Joey is a work in progress, he hasn't had a lot of amateur fights and this will be his 19th pro fight. Nobody is saying that Joey is the er-apparent to Joe Calzaghe, no one is saying that. Joey is a diamond in the rough and we are going to see a real nice beginning to his career on May 10th.
JA: Do you think that Joey has to win this fight just to prove everyone wrong?
PD: Yeah and if there is any pressure there, Joey is not feeling it. This is Joey's biggest fight of his career and all the stuff that happened prior to this fight means absolutely nothing. Joey Spina is going to prove a lot of people wrong on May 10th,  people who may not think that he is that great of a fighter there minds will be changed and if not that's ok. When people don't like you or care for you there is nothing you can do to change that around. This is Joey's signature fight up until now and I know that he is going to rise to the occasion. Joey has a ton of heart, desire, dedication beyond your imagination and you are going to see all of this come together on May 10th.
JA: This card is a stellar card with Brinkley-Spina being added, are you expecting nothing short of a sell out?
PD: Yeah the card is a stellar card. Matt Godfrey and Shaun George going will be a great fight. I have an interest in that fight with Aaron Williams who moved to 7-0 a couple of weeks ago out here in Vegas. He has 2 amateur victories over Matt and that is a fight that we are looking to make some where down the line.
JA: Is there anything that you would like to say in closing?
PD: Other than that this fight is going to be a great fight. I don't want to set the bar to high, but when we you get styles like Jesse Brinkley and Joey Spina have your not going to get nothing short of fireworks in the fight. There is not going to be a feeling out process, there is not going to be a lot of holding and grabbing, these are going to be two guys going out there and giving it there all. I want to thank Boxingtalk.com and you James for getting the word out for this fight. We hope to see all of you out there on May 10th.
Send questions and comments to: aldenjimmy@cox.net