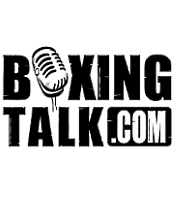 Boxingtalk just caught up with Jermain Taylor's chief trainer, Pat Burns. Pat gives us his thoughts on Jermain's performance, and he talks about a possible Winky Wright/Jermain Taylor showdown in the near future. You don't want to miss what Pat Burns had to say, only on Boxingtalk!
BT - Pat first of all congratulations to the entire Jermain Taylor team.
PB - Brad, thank you very much.
BT - Pat give us your thoughts overall thoughts on this fight, then we'll break it all down.
PB - Well one, let me say it was a great fight and I am very glad that we won't face Bernard Hopkins again. Bernard made a real good fighter in Jermain Taylor look less than great. Jim Rome made a comment about Winky Wright being the better prospect, but I can assure you in my opinion, Bernard Hopkins would beat Winky Wright, and as a matter of fact, I think Bernard Hopkins can beat any Middleweight in the world, with the exception of
Jermain Taylor. Bernard is very slick, and very difficult to hit. With that said, I thought Jermain showed a lot more patience in this fight, he used his combinations, and his punches a lot better this time. I was very happy to get this win, and to get this fight behind us.
BT - Let's touch more on Winky Wright... Pat do you see a Jermain Taylor/Winky Wright fight happening in the near future
?
PB - Oh definitely... I see this fight happening. I think it's what the public wants to see as well.
BT - Pat, Lou Dibella mentioned that he intends on giving Jermain a little break and that he may give Jermain's fans in Little Rock an opportunity to see him fight at home. What are your thoughts about a homecoming fight in Little Rock Arkansas?
PB - Well I don't know if it would be a break or not, we certainly are not going to step backwards. We will fight someone ranked within the top 10 in the world. But I guess when you look at it, compared to fighting Bernard Hopkins twice in a row... anything would be a break (laughs).
BT - Pat, to me it looked like Jermain used his jab more effectively. I notice one time during the fight you got on about "having his hand in his pocket
".
PB - I thought Jermain did use his jab much better this time around, however there was a time during the fight when I noticed that he had his hand down too low, and he got away from the jab a bit. I told him in the corner to ' get your hand out of your pocket, and don't be flat-footed).
BT - Pat did Bernard Hopkins do anything that you were not prepared for during the fight?
PB - No, actually Bernard came out and started his little nasty tactics again. If you watched the fight, you saw a different Jermain Taylor this time. When Bernard hit low, Jermain hit low, when Bernard hit behind the head, Jermain hit behind the head, it was tit for tat. You definitely did not see the amateur, Olympic style Jermain Taylor during the fight, all of that went out of the window.
BT - Pat, Jermain seemed more relaxed this time around, give us your thoughts on Jermain's mind-set before and during the fight
.
PB - Jermain was much more relaxed this time Brad. Jermain got the last fight behind him, and was much more focused and relaxed this time. Jermain was ready for whatever Bernard threw at him, including any of the rough-housing.
BT - Pat some say the reason Jermain clinched this victory was because he finished stronger down the stretch.
PB - Well if you saw the fight, you saw that Jermain just dominated the 11th round. If you go back and look at the tape, I thought Jermain clearly won the 12th round. Jermain had his moments where he was a little flatfooted, but overall he did great. He clearly finished strong, and there was no doubt that Jermain wanted to put the exclamation point on this fight.
BT - Pat after Jermain's first victory he felt as if he had to prove to himself, and his fans that he could do better. How does Jermain feel now after retaining his World Title?
PB - Well Jermain is own worst critic, and he was not very happy with his performance. Jermain thought he won the first fight, and if you remember, prior the first fight, he never lost a round. Now all of the sudden after getting in there with the legendary Bernard Hopkins, he loses like 4 in a row? Now Jermain realized that 'hey I am in a fight'.... Jermain found a way to win. In 25 fights, he lost about 8 rounds, and most of them were to Bernard Hopkins.
BT - Have you had a chance to speak with the Bernard Hopkins camp at all after the fight, and if so, what were their thoughts about the outcome?
PB - When I was walking back to my hotel, I had a bunch of Bernard's family members, and team members approach me, and they were like ' Hey coach, no controversy this time, Jermain won this time, congratulations'. So I had both Bernard Hopkins fans, and team members saying Jermain won the fight. I have to give the folks from Philly credit, they were all very respectful.
BT - Pat, what's next?
PB - Well, what's next is my son's baseball game. I am on my way to his game, and my daughter has a soccer game coming up. That's what's next right now. Right now, I am not going to get into boxing and get some down time in with my family during the holiday's. I have one more thing to do this coming Saturday night in Mississippi at the Silver Star Casino, with Big Star promotions. They are a great bunch of guys, with a lot of enthusiasm. I didn't intend on getting into fight promoting, but these guys are the right guys to do it with. I am going to enjoy this win, and Jermain is too, it was much more enjoyable this time.
BT - Pat when you heard Michael Buffer announce " And STILL undisputed Middleweight Champion"... what was going through your head?
PB - Well we knew that the first fight was very close, it didn't get much closer. I want to forget the first fight, Bernard was talking that he was going to knock Jermain out, and he couldn't deliver. Bernard had his chance to do it again, and he didn't deliver. Jermain came in and he did what he had to do again.
BT - Pat talk about Bernard Hopkins a little bit, what are your thoughts on Bernard Hopkins the legend?
PB - Bernard Hopkins is a first ballot Hall of Fame fighter, there is no question about it. Bernard beats a little different to a different drum, but when he gets into the boxing ring, he has been nothing shy of a great fighter.
BT: Is there anything you'd like to say to the fans in closing
?
PB - To all the Jermain Taylor fans, I want to say what a breath of fresh air to have a kid like Jermain Taylor as the Undisputed Middleweight Champion. Sometimes good guys do finish first, and now that we have Bernard behind us we will be fighting guys a little more traditional, and you will all see just how great a fighter Jermain Taylor is. Jermain will get better and better, and you haven't seen anything yet.
BT - Pat thank you very much for talking to Boxingtalk, congrats on retaining the title.
PB - Brad thank you very much, and stay in touch.
QUESTIONS/COMMENT -
bradcooney1@bellsouth.net
PURCHASE BRAD COONEY'S NEW BOOK - BRAD COONEY'S LET'S TALK BOXING at
www.authorhouse.com
Send questions and comments to: bradcooney1@bellsouth.net