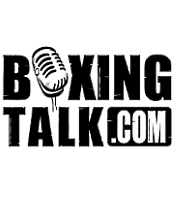 "Barrett Won't Go The Distance!"
GL: What's going on Owen?
"I'm getting ready to get in the ring, I'm ready to take care business and I'm going to get my hand raised. I'm doing a bunch of work and I'm up here in Ohio going at it like I've never gone at it before."
GL: Can you tell us what you know about Monte Barrett?
Owen Beck: "I know Monte is a good little fighter. He's a good journeyman with basic skills. He's someone I know and I know I'm going to take him out. This fight will not go the distance and if it does he's not going to win any rounds.
"I'm bringing it like he's never seen it before. I'm bringing it."
GL: How do you feel about this fight being for the #1 spot to Klitschko-Williams winner?
OB: "That's a great thing, but like I told you before, I'm looking for all of the belts. I believe I'm the one who's getting them all. As long as no one ducks or dodges me I'm getting them all and the WBC belt will be first, there's no doubt about it."
GL: None of your fights have been seen on TV in America, are you or your trainers concerned with getting caught up in the moment?
OB: "Oh no! Trust me this is going to be just another day at the office." People who haven't seen Owen Beck are really going to be impressed. I always have the pressure of staying undefeated everytime I get in the ring. Staying undefeated is something else I always use to motivate me.
"I've been waiting on this opportunity for a long time and I beieve I know how to react to it."
GL: Who do you like in the Klitschko-Williams fight?
OB: "I don't really have a favorite in that fight but you know I'd rather beat Klitschko because he's got the bigger name and that means more money! I'm ready for Barrett and I'm going to drop him like he's hot!"
GL: Is there anything you'd like to say in closing?
OB: "I want everyone to come out early for my fight, it's going to be a great performance. And whoever doesn't know Owen Beck will after I'm done with Monte Barrett." 
CLICK HERE TO SEE WHAT ELSE THE UNBEATEN HEAVYWEIGHT HAD TO SAY
Send questions and comments to: gleon@boxingtalk.net