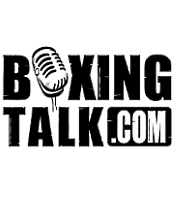 JA: Congrats on your win, did your opponent surprise you at all during the fight?
  "Thank you. No she didn't. I didn't really know what to expect because I didn't watch any tapes on her. I did know in the past that she was a world champion and it was going to be tough fight. I just wanted to train hard for the fight and worry about what I was going to do in the fight, I wasn't going to let her dictate the way I fight, I wanted to fight my fight and that's what I did.  
JA: Was this the toughest fight of your career?
MF: Yeah I would say that it was the toughest fight of my career up till this point.  
JA: Did she ever hurt you in the fight?
MF: No. In the third round thought they called it a knockdown on me, I felt more as though that I slipped, she hit me but I was more off balance. She never hurt me in the fight.  
JA: Do you feel as though that you hurt her in the fight?
MF: A few times she seemed like she was going to go down so I don't know what was keeping her up. I was catching her with some body punches, some good hooks but she wouldn't go down; she continued to stay on her feet and fight.  
JA: I just got off the phone with your trainer Peter. He was telling me that he wanted you to use the left hook more. Do you feel that was the key in the fight?

MF: Yeah after the first round Peter kept telling me that she is open for the left hook, just keep throwing it. When he told me to do that I was starting to catch her with the left hook.
 

JA: I know that you girls clashed heads in the last round did you get any stitches in the fight?

MF: Yeah I got about 20, 10 on the outside and 10 on the inside. I'm just glad that the head butt happened in the last round instead of the first (Laughs)
 

JA: Did the cut make you madder in there?

MF: It didn't really make me mad in there, even if it did go to the score cards I felt that I was ahead on the cards.
 

JA: This is a great way to finish fighting in 2005; do you have any plans on fighting for a major World Championship in 2006?

MF: Yeah I would like to fight for some of the other titles in my weight class; hopefully we can unify the division.
 

JA: Now is there anything that you want to say in closing Missy?
MF: I just want to thank all my fans for continuing to support me and I'm glad that I could win the title for you guys. You're going to be hearing a lot more from me in the near future.