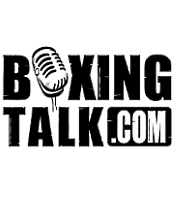 Jose Aguirre: What's good Lou? You have a show on January 21st at the Mohegan Sun with Chris Smith headlining against David Estrada. Tell us about that show.
Lou DiBella: That's a hell of a welterweight fight. And I have Sechew Powell against the kid [Aslanbek] Kodzoev. And then I'm going to do a Broadway Boxing underneath with Josuah Clottey and Raymond Joval in two different fights. It's going to be an unbelievable show on the 21st at the Mohegan Sun. But I have a wild month of January, Aguirre. I have January 3rd, [Jose] Navarro fighting for a [WBC junior bantam] world title. And then I'm supposed to have Levander Johnson fighting Julio Diaz for a world title [IBF lightweight]. And I closed the deal for Kofi Jantuah to fight Kassim Ouma for a world title [IBF junior middle]. And I have Ike Quartey coming back in Africa so it's going to be a wild month.
JA: Speaking of Ike Quartey, his name has been mentioned as one of the possible opponents for Felix Trinidad. What can you tell us about that?
LD:"I think it could be an interesting fight. Ike's not coming back because he needs money. He's coming back for pride and he's coming back to get a shot at Hopkins or Tito. If King is interested in the fight, and we're seriously talk to him about it, we're not going to look at a good offer and let it go. If a good offer comes in we're going to take the opportunity. I think even if it's not the next fight, Ike Quartey factors in for Tito Trinidad sometime in the next year.
JA: What can the fans expect from Ike Quartey with all the time that he's been off?
LD:"He didn't walk away an old man. He walked away when he was thirty years old and it's not like he'd got beaten to a pulp. I think what they can expect is probably more than they expect. I think he's going to come back pretty strong and I think they're going to see a pretty good fighter. Tito got beaten up and disappeared for a couple of years and they thought that Tito was crazy when he said when he said bring me in tough, I'll fight Mayorga, a lot of people thought he was nuts. It looked like the rest did him pretty good. Maybe it did Quartey good too. He's been a businessman in Ghana. He's hasn't been running around getting himself beat up and he's still not even thirty five years old. And he doesn't have a lot of miles on him as a fighter. He walked away a fairly young young guy without having been badly beaten up."
JA: Ike Quartey had some great fights with Vargas and De La Hoya and many may argue that Quartey beat De La Hoya. What are thoughts on Quartey in those fights?
LD:"It was a very close fight. I could see how Oscar might have swept it out at the end but it was a very close fight. It really got underneath Quartey's skin. Frankly, after that fight he sort of fell apart and I don't think he took the Vargas fight seriously. He lost that fight but I don't think he was at his best. I think he knows he wasn't at his best. One of the things that has been in his mind all these years is that he didn't go out the way he wanted to go out. Against Vargas he wasn't mentally or physically where he was supposed to be for that fight. And I think he thinks he could be a whole lot better now. It's going to be interesting to see what he has. Ths guy has always been a geart African Warrior. He's a guy that's never been out of shape and I have a feeling that people are going to be surprised how much he has left."
JA: Has he spoken to you about coming back and how excited is he?
LD:"He's training his ass off. He wants to get this win in Ghana which is really sort of an easy fight to show his countrymen that he's back and to get the confidence and get his feet under him and then he's ready for real fight. Ike Quartey could be a big part of the mix in 2005."
JA: Why Ike Quartey and not Jermain Taylor for Tito Trinidad?
LD:"Ask Tito. We told King that under the right set of circumstances we would do the fight. I think that Don is interested in the fight but I think King believes the fight could be a little bit bigger later."
JA: What can we expect for DiBella Entertainment beginning in Janauary?
LD:"I have potentially three guys fighting in January. Everyone of them is in a competetive fight. Competetive actions fights that they can win. I think Levander Johnson has a show with Julio Diaz. Don't be surprised is Kofi Jantuah is now the new fifty four pound champion in late January. I think Ouma-Jantuah, if you're a boxing fan is a dream match up. Style wise that cannot be anything but a great fight. I think it's a terrific fight. We have great respect for Ouma but Kofi punches harder than he does so don't be surprised."
JA: Is there anything you want to say in closing?
LD:"Only that as always OnFire it's good to be talking to you and Boxingtalk. It's going to be a Happy New Year, hopefully for us all. I think January is going to be a big month for my company and I hope boxing fans pay attention to what's going to happen in January because there is going to be a lot of fun stuff going on. Happy Holidays to everybody and all your readers. And Feliz Navedad to all my Latino brothers and sisters at Boxingtalk."
JA: Happy Holidays.