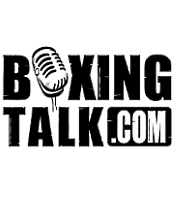 On September 16th future hall of famer Johnny Tapia 55-4-2 (28 KO's) will step in the to the ring for the first time since his hard fought ten round unanimous decision over Frankie Archuleta. In what could only be called a tune up match Johnny will face last minute opponent Sandro Marcos 24-13-2 (20 KO's). Johnny now campaigning in the featherweight will be making his Chicago, IL. debut and hopes to do so in spectacular fashion. Boxingtalk recently spoke with the former three division champion about his upcoming fight and future plans.
BT: Johnny what all do know about your opponent Sandro Marcos?
JT: I don't know nothing about him, nothing. As a matter of fact I was fighting somebody else then they switched it and got me somebody tougher and rougher. So all I can do is just prepare and get ready for it.
BT: This is going to be your first fight in Chicago how do think the fans out there are going react to you?
JT: I'm just going to do what I got to do and, you know when I  meet somebody I treat them with respect and treat them     good and I hope I get it back bro.
BT: After this fight who do you have your sights set on?
JT: I got my sights set on this guy right now. I never look past a fighter cause that's how a lot of people do get knocked out and get hurt. I take my fights and each person like I'm fighting Mike Tyson.
BT: At 38 how much longer do plan to continue fighting?
JT: As a matter of in February it will be thirty years. I started out when I was nine I got my first fight when I was eleven.
BT: Do you plan fighting for a world title again?
JT: The truth is if it comes it would be beautiful, if it doesn't I got six world titles now, a total of six, seven, eight. I got three intercontinental titles and then I got three world titles. I mean I have broke every record you can think of in the sport of boxing. I got like maybe twenty nine title defenses in all my bouts put together but, like I said if it comes together that's great but if it doesn't that's fine too. I just want to go out with my head up you know boxing's been my whole life and there is a better life after boxing and the book will be coming out in October, I just signed a book deal with Walt Disney and also did the movie with Jerry Bruckheimer and that will be coming out in a couple years so if God's willing and everything goes right I am alright.
BT: Thanks your time Johnny.
JT: God bless and be safe.
Send questions and comments to: boutdatgreen@aol.com