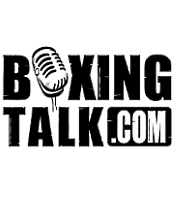 JA: I know that you're not going to be training Scott Pemberton in the February 12th. Can you tell us from your perspective why your not going to be in his corner on February 12th?
  "After the last fight I guess that he ran into some troubles with Jimmy Burchfield and Lou Mayo, to tell you the truth I don't know if Lou was his manager but Scott was staying at Lou's house when Scott came up here to train. Scotty had some issues with them and because of that it stopped him from coming here to train. It is similar to what happened with Chad Dawson, I was forced out because of the business side of the game."
JA: How do you think Scotty is going to do in this fight without you in his corner?
SP: I only worked with him for one fight and I don't know how much of a difference I implemented in his career at this point. If I was with him when he was 22 or 23 maybe I would have influenced him a lot more. I don't think my input is going to make a difference one way or the other in this fight.
JA: What do you think about the Pemberton-Manfredo fight? Who do you think is going to win?
JS: In my opinion, I think at this point in there career and with all things considering with the weight, the experience, I think that it's a 50-50 fight. A couple of years ago when Scotty was fighting Sheika, I think that Scotty would have been a little bit to big and too seasoned to for Peter. Right now with Peter's recent experience and his speed, I think Peter's lack of size could be an advantage for him. I think that a lot of it has to do with Peters conditioning and if he can with stand if Scotty gets in a groove.
JA: I know that you train with Matt Remillard. How do you feel about him coming up…
JS: (Cutting In) I help Matt in the corner during his fights and I help him with his jab. Matt is a very good prospect and he trains with more intensity and more extreme than I have ever seen. If you look up dedicated in the dictionary you will see Matt's picture right next to it. He is dedicated and is a great student; he picks up things really quick and is starting to come into his own with his weight and muscle. I noticed that his punching power is really improving, his man strength is improving and he is definitely improving.
JA: Do you see bigger and better things for Matt in the future?
JS: Oh yeah Matt is going to get a shot someday at a world title. When you see a guy who is 5-0, people in the know, know that Matt is not just an ordinary prospect.
JA: I know that your trained with Roy in the amateurs can you tell us a little bit about that?
JS: Well I actually trained with Roy in the pros and lived in Pensacola for a while. Roy is a great fighter, probably the best all around fighter that I boxed with in my life and I boxed with over 500 fighters.
JA: You know Roy really well. Why do you think that Roy lost 3 out of his last 4 fights?
JS: I have my theories on it. People have to realize is that he was in the Olympics 17 years ago, where in 2006 now and that is heading on 18 years. You take Muhammad Ali, Sugar Ray Leonard, Joe Frazier and put them 18 years into there career and there not the same fighter by no stretch of the imagination. Ali 18 years after the Olympics was fighting Leon Spinks and was barley getting by him. Sugar Ray Leonard 18 years later wasn't even fighting. Roy was on top for a long time, Roy was on top way before he went to the Olympics when he won National junior Olympic tournament in 1984 as a bantamweight. When you are on that level training, focus, determination for 20 years, no one can keep that up for that long of a time. I think that he lost that focus; he talked like he had it and acted like he had but when you go to the gym for 20 years, its hard to keep that momentum going. I think that he lost the edge and enthusiasm, to me when you watch a lot of his older fights and you watch him later on, he didn't have the same spark to him and I think that he was going through the motions. I think that he tried to go and get it back and it wasn't quite there.
JA: You think that something that grows with age
?
JS: Not just the age, but you're talking about a guy who is in the gym all the time.  He is in the gym sparring with great fighters, in the newspaper everyday and everyone knows him. To have that last forever it is just not going to happen. No matter what Antonio Tarver has to say, in his heart he has to know that wasn't the same Roy Jones Jr. that fought James Toney. Mentally, physically, emotionally that is not the same guy; you are talking about two different human beings.
JA: It seemed like it all started to go down hill after he beat John Ruiz.
JS: You can look at it that way. There are a lot of things that come into play, can you imagine and a lot of people cant, you can not imagine the mental high that he was on after beating Ruiz. And to come down and to fight Tarver which he figured he would blow away, to have to that tough of a fight. Tarver can say that Roy was making excuses, any time something happens to a fighter and I used to do the same thing when I lost, I used to give reasons on why I lost. People would say that it was an excuse, well it's not an excuse it's a reason why I did not perform. There fact is that is undeniable that he lost all that weight. I saw Roy at the fight against Ruiz, his body looked beautiful and he was very strong. Then to get down to175 pounds, it looked like someone did an operation on him. Tarver is going to try to sit there and convince people that Roy's body wasn't affected by that, he's dreaming. Especially at 35 you just can not lose that kind of muscle and you think you are going to be the same person, it's not just going to happen.
JA: Ten years ago it might have happened.
JS: Yeah and the thing is when he put on a lot of the weight he used Mackie his strength and conditioning coach. He is an expert in that field of putting weight back on. When he fought Tarver he did not have Mackie in his corner, he did it on his own. And what experience does Roy Jones have in losing 25 pounds of weight.
JA: Where do you see Roy going from here? Do you think that he should hang it up?
JS: I have always been a person to never tell another fighter when to give it up. I know because I went through that and I know that its feeling, it's not all about the money and you like fighting and you like being on the top. The thing with Roy is I don't see where he can add to his legacy in any way from this point. People are saying if he trains right and does that he will be the same as what he used to be. When we were kids, when we first trained together back in 1988 in Sugar Ray Leonard's Olympic training camp, the thing that always stood out to me about Roy was his mental strength. I always thought that was Roy's best attribute as a person, he was always focused and fearless. Lets take Roberto Duran as an example, when he fought Leonard in 1980 he was a stone killer and when you see him at fights he is laughing and is this big teddy bear. No one would believe that he was this guy that wanted to kill people, the stuff that he said about killing Ray Lampkin back in the 1970's. You see Duran now he is this big teddy bear, he is no the same person. I think that Roy has lost his edge, and I don't think that is something you can say "Ok, I want to be mean again, I want to be hungry again." It just does not work like that.
JA: I know that you have a book coming out, can you talk a little bit about that John?
JS: I have been working on this book very hard, it's been three years since I started writing the book. Being totally honest with you I think that it's going to be one of the best boxing books ever written, to be honest with you. It is a book that Larry Merchant could not write, Jim Lampley could not write it, Max Kellerman and so on, no disrespect to those guys, but those guys could not give you this book. I have read boxing books about fighters and they talk about there lives, I don't know anyone has ever touched on about being a fighter, that's what I have done and I am going to continue to do. When I get done I think that people are going to have a whole new respect for a boxer, there going to realize what kind of person a boxer has to be to be a fighter. I think I am on the right track and because I email parts of my book to boxers and the response has been over whelming. You could sit down 25 boxing experts in a room, and you sit two boxers in a room, the two boxers can sit down and talk about things no historian can ever relate to. I think my book is going to be unique, I have a whole chapter about Roy. I talk about sparring with James Toney, fighting Michael Nunn, talking about Muhammad Ali. A lot of this book is centered around Muhammad Ali and his influence on me and other fighters. I touch on every aspect of boxing that you can think of.
JA: What do you hope comes from your book?
JS: Above all of else, I want the fighters to read it and say I wish I could of wrote the book that I wrote and I saved them the trouble of writing it. For kids coming up I want them to read it and it be more like a guide for them to see what is coming up in the years ahead and what to expect. For me it was like a therapy, when I was writing it was talking me back into time, it felt like I was going into a time machine and I felt like I was getting ready for a fight. I think that it's an inside thing that only a boxer can know.  I think that fans, writers, announcers, anyone who likes boxing would enjoy this book.
JA: When is your book going to be released?
JS: For the last year and a half I have been saying next month. Sometimes I sit down at 10 o'clock at night and I would finish at 6 in the morning, because all this information would come flooding out of my brain. Other nights I sit down and I can not write five lines. It's the type of thing with if I can let things flow I can get down relatively soon. I am hoping that by the spring or early summer that it will be for sale.
JA: Is there anything that you would like to say in closing John?
JS:  One thing that is different about me compared to a lot of the fighters is that I am very accessible and you can give out my email (
icejohnscully@aol.com
). Any body who want to read my book or see some of the hundreds of pictures that I have, all you have to do is email me. I like hearing from the fans. It's interesting because I have a chapter in my book about Archie Moore and I actually became good friends with Archie. Ring Magazine used to have a section call Veteran boxers beat and they put addresses to fighters in there magazine so you can write them. When I was 15 years old asking for an autograph and told him I was a boxer and was going to have my first fight. He wrote me back a letter about boxing and gave me a lot of tips, as it turned out we became good friends and he used to call my house, we met a couple of times. I have about 50 letters from him at my house. Its amazing when fans email and ask me for my autograph, sometimes I write back is you joking, do you even know who I am? I find it funny that people know who I am. When I started boxing I wanted for people to know who I was, I didn't care about the belts or about the money, I just wanted people to know who I was. I welcome people to email me. There are some people out there that may have my email but are afraid to bother me, don't think like that, I welcome them and invite them. If you want to read some of the book, just ask and I can send you an excerpt of the book, just ask. If they like it they can buy it, if not they can at least a little bit of it for free.
Send questions and comments to: aldenjimmy@cox.net