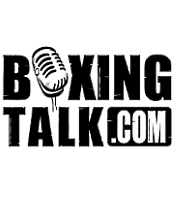 Boxingtalk.com recently caught up with one of the most exciting to watch prospects in all of boxing, "Irish" John Duddy to give us his thoughts on his upcoming fight, which takes place tomorrow night at the Dana Barros Sports Complex, Mansfield, MA. Duddy, undefeated with 11 wins, 10 by K.O. will take on Albuquerque, NM Joseph Brady 13-4-1(6) in the main event of the evening, in a Middleweight bout scheduled for eight rounds. Read on, as he gives us his thoughts and much much more. l
RC: What's going on John, how are you feeling as you get ready for this bout?
JD: I am feeling great, feeling fantastic. They are making a lot of noise about it up in Boston and we are getting good write-ups about it in the papers and online. So I know I know it is going to be a good show.
RC: What can you tell us about your opponent Joseph Brady?
JD: Joseph Brady, he is a tall fighter, the same size as me (5'11). He seems very durable and doesn't look like he likes pressure. But if you give him enough time he can get off some very good shots. So I am just looking to do what I always do. Which is follow my game plan and let my hands answer all of the questions.
RC: You are a very big ticket seller in NY, and from what I understand you did very well when you fought in Illinois, how do you feel going into Massachusetts where they have lots of Irish boxing fans?
JD: Well I am really looking forward to it. I was talking to my father a little while ago and he was telling me that there were a lot of talks about it already being sold out. Which I don't know it if is true or not, I have no clue but I am happy about the opportunity to put on a great show not just for all the Irish fans but all of the boxing fans in Massachusetts, so I am looking forward to it.
RC: Are you at all disappointed that this fight won't be televised?

JD:  I don't care to be honest with you; I am there to hopefully improve my record and my experience in the ring. I think national T.V. is great, but this fight is for part of the public that we needed to expose, so whether it is on T.V. on not I think it is gong to be great exposure for John Duddy and Irish Ropes, and hopefully we can make a dent in Boston and they wont forget us too soon.
RC: "Irish" Micky Ward, a huge fan favorite especially in Massachusetts, has spoken very highly about you. How does that make you feel hearing that, coming from one of the ultimate blood and guts warriors himself?

JD: Fantastic, it helps me believe that I am going in the right direction when you are getting compliments from fighters like him. Even on the Chicago show, Pernell Whitaker was commenting on it as well, and it was nice getting his kind words and constructive criticism. These guys have been there and done it all. And if that is all I have to work on I am definitely going in the right direction. It is nice getting it, but I don't let it get to my head too much, at the end of the day it is up to me to do the business in the ring. It doesn't matter what they say about you, if you don't put the performance in when it counts, their words mean very little. 
RC: John, lets get off the subject of this fight for a second. I've heard that Bob Arum, Don King and many others have shown interest in signing you. Now since you have turned professional I know many promoters have all showed serious interest. As of right now what can you tell us about you promotional status?

JD: It is great when you have those kinds of people interested in working with us, but we are in a position that we don't have to rush anything. We are very comfortable, and we are taking small steps at a time. It is flattering getting the big boys interested in your career, but at the moment we are quite confident in the team that we have. We are going to sit down at the end of September and put together all the offers that were made and see what the best one is for us to take. It was nice seeing and meeting Don King and Bob Arum and all, but we are in it for the long haul, and I don't want to be sort of here today kind of fighter.
RC: You fought a very tough and crafty Patrick Thompson (W UD) in June at Madison Square Garden, then in July you faced a very durable Patrick Coleman (W TKO8)on ESPN in Illinois, what did you learn from those two bouts, being that in one you had to go the distance for the firs time in your career and the other you didn't get your opponent out of there until the 8th and final round?
JD: Well I suppose, to be honest with you I wasn't going in there to try and blast that guy out. I was going in there with a game plan. With Coleman, I figured being that he was a bit older I was going to take it to him early, work his body, and hopefully being that he was a bit older after me working on him I thought I could get him to think "Maybe I am getting to old for this shit" and have him quit maybe later on in the rounds. But every time I hurt him, within a blink of an eye he came around again and came straight back with his own work. Then finally after Harry (Keith) got through to me in the corner, he told me to relax to stop and going so hard at the guy. So finally in the eighth I kind of took my foot off of the pedal, let him throw a couple of shots, and got off the best two punches of the fight and they landed on the button and I got him out.
Against Thompson I was just putting my punches together and was just trying to win the rounds as I was went along. He was a very strong and a durable customer. To be honest with you that was probably the happiest I felt after a fight, because I was able to prove to everybody that not only can I go the distance, but I can go the distance pretty strong to. He was a very good tough fighter, he landed some good shots and I landed some good shots
RC: Your opponent has been stopped in his last four outings; however three of those four fights took place at a much higher weight. What weight will this fight be taking place at? 

JD: This fight is will take place at Middleweight, 160lbs.
RC: How much of a factor do you think it would be considering he last three outings he weighed in at 168lbs or more?

JD: No to be honest. It is not; I know I am 100% fit and ready to go I just hope that he is as ready as I am. When he first turned pro, he actually started off as a light middleweight. So maybe it was during the inactivity he put on the pounds, or maybe he wasn't training as hard. So I am thinking for him to get down to 160lbs, he will have to be a lot more dedicated than he was in his last three fights. I am expecting a tough fight, I wouldn't expect it any other way, and to be honest with you. I am really looking forward to it; I think this guy is going to be pretty tough.
RC: I know you are a very humble guy and don't like to make predictions, but what can the long list of fighters from that area that will be attending the fight, and all of the fans expect from John Duddy Saturday night?

JD: I think it is going to be an entertaining fight and very explosive. It is going to be fast and it is going to be exciting. I can't give out rounds or nothing like; I am not that kind of guy. I am predicting a victory and it is going to be very exciting and hopefully I will have everyone on the edge of their seats.
RC: John, lets cut to the chase, is this fight going the distance?

JD:  I never predict whether it is going to go a round or all of the rounds. I just follow my game plan and let the chips fall where they may. I am in it for a good hard eight rounds and I can tell you it is going to be an explosive fight
RC: Is there anything else you'd like to say in closing to all of your fans, and the people that will be attending your bout Tomorrow night?
JD: Get there soon to come watch a great night of fights. It is going to be explosive and a great night. I would also like to say keep an eye out for another great Irish fighter, his name is James Moore 2-0(1). He is a Bronze Medalist in the world championship 2002. He is a professional now, and this will be his third fight Saturday night. I think he is going to make a very big impact in the professional ranks like what I have done so far. I have been good friends with him for along time, we boxed together on the Irish team, so keep an eye out for him as well Saturday night.
Send questions and comments to: rayocampbelljr@hotmail.com