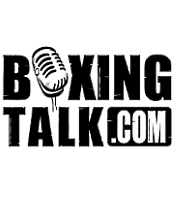 Since turning pro in March 2005 after seven consecutive Canadian amateur championships and an appearance at the 2004 Olympics, Jean Pascal, a flashy 23 year-old middleweight, has gone unbeaten in ten fights, winning nine via the knockout route. In December, he won the Canadian super middleweight title with a seventh-round stoppage of Martin Desjardins, and he looks to crash the North American scene in the upcoming year, starting with a bout against former junior middleweight world title holder Carl Daniels . Boxingtalk has caught up with Pascal and discussed the past as well as the future of one of Canada's finest prospects.
BT: Let's talk about your upcoming fight against Carl Daniels in Gatineau on February 25th. How do you envision that fight?
"He's a very experienced fighter. I don't think he's going to be very intimated by a young 10-0 (9) fighter. He fought 24 rounds with Bernard Hopkins, going the distance twice, so I don't think Jean Pascal is going to scare him. I am going to use my speed and intelligence to beat him. I'm training very hard not to become his victim, and I'm training harder so that he becomes MY next victim."
BT: You've been able to enjoy the Christmas season for the first time in ages, have you been having fun?
"I was weighing 180 lbs when I came out. It's the first time I was so heavy after the Holiday season, I don't know if it came from eating or whether I'm still growing into my body. I don't know if I'll be able to slim down to the 160-lb limit, but we're going to try. If we can't do it, we'll stay at 168."
BT:  Are you working on any improvements in the gym
? "I feel like I still don't have a defined style. I'm a bit like a chameleon, I've got many styles and I adapt to the opponent in front of me. Many people have compared me to Roy Jones in terms of style, but what people don't realize is that I can try being like Floyd Mayweather or Bernard Hopkins as well. In fact, I'd rather fight like Floyd than Jones or Hopkins.  My main weakness at the moment would be my defense. I'm aware of it and I'm not too worried, because I know that once the big fight happens, my defense will be ready. I'll have worked on it by then."
BT: Your fighting style seems to rest a lot on flash and you're getting a showman's reputation. Is that something that's important to you?
"Boxing is a sport, but it's also a show. I think it's important to invest in my marketability to get closer to the fans. I like putting my own touch every time I fight, because I want my fans to see not just a show but a happening! I always try putting on a show so that people remember. It's been working great so far, and we'll see how it goes."
BT: What do you feel has been your finest performance so far in your pro career?
"My fight against James Crawford [October 29th, 2005]. I was really able to follow my coach's plan, and I didn't allow myself to be intimidated by his experience or his record. I boxed him very well, and I think that's why I've been able to finish him in three rounds."
BT: You've had a lengthy amateur career, culminating in an appearance at the 2004 Olympic Games. What was your best moment?
"Winning the gold at the Commonwealth Games in Manchester back in 2003. I had to fight the English fighter in front of his crowd of 15,000 fans. It was a sensational moment. The stress and nervousness I felt before the fight was a great feeling, one I've rarely felt. After the fight, it was the sheer joy of winning. I also remember winning the gold at the 1999 Canada Games. That was another great moment."
BT: You are still in school, studying to become a policeman. Do you feel that your studies help your boxing career?
"At the beginning, I thought that school would be a nuisance. But it forces me to stay disciplined. Boxing and school occupy a combined 95% of my time, therefore I am forced to work hard and persevere. It helps my career in the long run."
BT: Where do you see yourself a year from now?
"I see myself an International WBC titleholder and a championship either with the NABA or the NABF."
BT: And how about five years from now?
"Unified world super middleweight champion."
BT: Is breaking the US market a priority in your career
? "Maybe not a priority, but I'd like to be an established figure by 2007 or 2008."
BT: Thank you for your time, Jean, and we wish you the best of luck
. "It's been a pleasure!"
Alexandre Pelletier-Audet  is the Editor-in-chief  of La Zone de Boxe Magazine
apelletier@lazonedeboxe.com