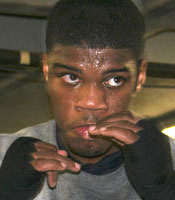 We all remember clearly, it was November 4th, 2005; one of the most anticipated ShoBox cards in the history of the Showtime series' existence. In just the co-feature bout, two undefeated prospects putting their flawless records on the line in what was suppose to be a competitive showdown between two of the divisions brightest young stars. (Don't front now, as if you felt all along Jaidon was in over his head). The Bell rang…((Ding)) a jab, a few left hooks, some right hands, and it was over. One fighter would run to his corner to celebrate, the other limped and unconscious, dangling in between the second and third rope. WOW was the first thought that came to mind then…. DAMN, then… we started to get a little worried when we saw family, friends, medical officials, promoters, security and trainers rush the ring with frantic looks of concern on their faces, to aide what looked like an almost lifeless like fighter on the floor. Now that he is okay (To God be the glory), we can all admit, at that time we were thinking the worse. Boxingtalk.com recently caught up with 21 year old New York based Super Middleweight prospect, Jaidon Codrington 9-1(9), to talk about his first loss as a professional, a devastating, K.O. of the year worthy, 18 second knockout loss to the hands of undefeated Allan "Sweetness" Green 18-0(12). You don't want to miss this one on one as Codrington speaks in debt with Boxingtalk the entire ordeal to his future plans. Read on for this must read exclusive. 
RC: So……. Tell us about it Jaidon; give us your thoughts on your last fight against Allan Green in which you suffered your first professional loss?
JC: Well first off I want to start off by telling everybody that I will be back in full effect, hopefully in February or March. All great fighters have to take a fall sometime in their career, and if they didn't, it's because they didn't fight anybody. I thought it (His fight with Allan Green) was a huge step up, I took the fight and I went to his hometown because I was confident that he wasn't half the fighter that I am, and I still am confident that he wasn't half the fighter I am, I just got caught. And the best fighters get caught and the best loose, Ray Robinson was the greatest middleweight to ever walk the earth and he loss, Ali lost fights in his career and so on and so forth. Zab (Judah) the undisputed welterweight champ got caught, and he helped me get through this too, he knew exactly what I was going though and he helped mentor me through this, but basically right now I am getting back to training in camp. I am healthy and everything is good with me. I am just waiting on the word. I am getting back in shape; I am getting sharper than ever. It is like a little extra motivation on my back, that is what I needed. Sometimes when you are considered the best prospect in the country, you tend to take things for granted.
For example, Allan Green, I trained harder than ever for that fight, so don't get it twisted, I would be lying if I said anything different. But being that I was the better fighter than him, I exxed out all of the variables that could take place, and one of the variables took place. One lucky punch, I wasn't warm, and it happened but you know I am going to get back in there. I am going to have a couple more fights and I am going to get through this. Hopefully one of these days I can get a rematch.
RC: (Cutting in) So you….
JC: (Cutting back in) Of course I would want a rematch, it is not like I have this eye out for Allan Green. I am not that kind of dude, but I am trying to be the best in the world and if that means beating him, then I will do that. If that means fighting Jeff Lacy a couple of years from now then I will do that.
RC: Damn Jaidon….. You didn't even let me ask any questions. You just took about eight of them away from me. It seems like you had it loaded up..

JC: (Starts to laugh) I have a lot to address, I had it loaded up inside, I have been backed up for weeks.
RC: Okay, well you are on Btalk now, and we are going to let you speak your mind.
JC: That's real, I appreciate that.
RC:  After the fight…. I mean, share with us how you initially felt after the loss. Obviously it must have taken a little time to get over, but tell us how you felt initially and what was your reaction when you….
JC: (Cutting in) I am going to bring it back to when I was in the ring and I was unconscious and I didn't know what was going on. A lot of people got at my camp like we were immature or…. Let me explain something to you. When I am on the ground unconscious and they have cameras being flicked in my face, video cameras taping all what is going on, interviewers and everybody else in the ring celebrating with Allan Green. All of my brothers (2) and all of my sisters (2) were there, everybody from my family was there and the five of us, we are all very close. The first they are going to do is look at everybody in the ring and think to themselves "I am getting in there for my little brother" so let me just get that out there. No body was doing anything negative; all they wanted to do was make sure their little brother was all right. If the cameras can be flicking in my face, then guess what? Then they can go in there and help their little brother out. They are entitled to that.
Now if you want to talk about anybody doing anything negative, that was Allan Green punk **explicit** talking about "lets go get the guns, lets go get the heat, we might need the heat" I resent the fact that any website try to get at me by saying these cats from Brooklyn was out of order. They didn't even know what was going on, if anybody was out of order it was Allan Green and his unnecessary comments about the guns in the truck and all of that, but I am not even mad at that, it is just a little bit more motivation. After I found myself to be healthy, I just used all of that as motivation.
Of course I am going to go through my phase where I don't want to be seen, and I don't want to show my face, but after I got over that I just used that as motivation to keep on trucking. I still think I am twice as better of a fighter than he is. That is why he came out like that. My trainer told me before the fight that his is a scared fighter. He said "It is either he is going to run from you, or he is going to come at you because he is scared, and that is what scared fighters do" Then he told me "he is not going to sit in front of you and make you miss and make you pay or try to out slick you because he is scared and he is going to react one way or the other" I assumed he was going to react the other way and when he sat down and started punching he landed one first and that is all that happen.
RC: You mentioned that initially you didn't want to be out much. How have people received after your loss? I mean, before that fight, you were in a pretty good position with Hip Hop Mogul Damon Dash, with Ja Rule all…
JC: (Cutting in) That is what helped me get over it a lot quicker. (Ja) Rule was with me in the hospital the whole time. The whole Murder Inc. crew was there, Irv (Gotti) was there, and Chris (Gotti) like a father figure to me was always there. The fact that Damon Dash, (Chris) Gotti and everybody else believed in me. It was a lot easier for me to get over it because not only do I think it was a fluke, they believe it was a fluke, and I feel like I don't have to prove anything. They already know what the deal is. I just gotta get back in there, train twice as hard and come back and show everybody else that it was a fluke.
RC: In a recent video interview that Boxingtalk's Greg Leon did with your co-promoter Damon Dash, he said that it might have been a little to much too soon; did you ever feel, at any point, that you might not have been ready for that particular step up in class, at that particular time?
JC: Okay you know what, there is something called professionalism, and being that Allan Green has been professional longer than me, has twice as many fights and three times as many rounds as me. He has gotten hit about fives times a many times as me in his career. I believe he was a little bit more ready psychologically and maybe experience wise, but as far as skills speak, you can watch ten of my tapes and you can watch ten of his fights, and you will have your own opinion but everybody will think Jaidon is the better fighter. But I do feel that if I had a little bit more professionalism I would have reacted differently in the fight. Maybe I would have took the knee when I got hit with the hook, maybe I would have ran instead of chilling against the ropes, so I feel like I wasn't ready as far as professionalism, but as far as talent wise, I could have never been more ready. And I am not taking anything from him, he is a good fighter, but I just think I am the better fighter.
RC: You said your people like Damon Dash, Ja Rule, along with Chris and Irv was there for you which we would all expect, but how did the fans treat you?
JC: I went back to the hood and everybody in New York was showing me love. At the amateur fights, and at the pro fights at the Hammerstein ballroom, everybody, was just telling me "don't worry, it was a fluke, it just happens." "Great fighters get up, and so on and so forth." Even the announcers, Me and Steve Farhood, and me and Brian Adams had talked about… well Brian talked to me before and after the fight. He told me that he never would take back one word he has said about me. He still thinks I am one of the best in the Super Middleweight division.
Zab Judah himself, the undisputed world champion at welterweight told me "Jay, it happens, it happened to me. You are still the best in that division, can't nobody mess with you in that division right now talent wise" 
RC: How much of talking to other fighters helped you in your recovery stage, it is one thing for someone to tell you "hey you looked great" and then have someone like Zab Judah who also went through a very embarrassing loss to Kostya Tszyu. How does that make you feel?
JC: That makes me feel so good. He came up to me and told me "You are ill Jaidon, and don't ever forget that" he is the one that advised me to go out there, don't try to hide. Let the people see your face and let them know yeah I got knocked out and I am going to be back, and that is what it is, and that is how we did it. That is what Yoel, Zab's pops told me, and that made me feel real good because I knew I wasn't crazy for having the attitude that I have.
RC: When you watched the tape of your fight for the first time after the incident took place, what was going through your mind? I mean is it hard for you to watch the tape of the fight? Was it hard the first time?

JC:   Not at all, it never was hard from the first time I just couldn't believe it was me. I mean I know I am human, I know fighters that get knocked out, I know fighters get stopped, but I could never picture myself on the ground for that period of time. I think I was on the canvas once my whole entire boxing career, and that is when I was 17 in the ring with Andre Dirrell (2004 Olympic Bronze Medallist) as an amateur and it was right after I gave him and eight count, I was off balance, and he hit me with a good shot. That is the only other time that I ever fell and actually hit the floor, so you gotta understand that was way left field for me.
RC: You mentioned you are back in the gym-getting ready, have you actually started boxing again already?
JC: Nah I haven't started boxing yet. This is the biggest break I have taken since I started boxing. I have never taken more than one week off ever, ever in my life. So for me to take a month off and do nothing for a month is really different. Maybe I needed that, maybe I was getting kind of burnt out, but I know when I come back in full affect it is going to be problems.
RC: You said you might be back in action sometime in February or March, are you comfortable with that, I mean is there a slight possibility you might say "You know what? Maybe I am not ready" or is that…

JC: (Cutting in) I am very comfortable with that, me and my trainer Nirmal Lorick, Victor Roundtree, Andre Rozier, Byron Oglesbee, and Gary Stark (Sr.), we all feel the same way.
RC: I noticed you were ringside last Thursday for your Chin Checker brother Curtis Stevens, when he destroyed Kia Daniels 5-3(3), what did you think of his performance?
JC: I think his performance is exactly what I expected from him, exactly what he needed to do. He did his job, I look at it like that is what he was supposed to do, and I am going to always feel that way until he gets to fight for a world title, or against a number one contender, then maybe I think it will be a little tougher. He is going to knock everybody out until he gets to that level of competition where he steps it up to another level, and even then he will probably knock half of them out to.
RC: The nickname "Chin Checkers" is an off the hook name, but after your loss do you feel like that name has been tarnished in a way?

JC: I haven't really talked to him about it; I mean he still shows me love like he did before, so it is not like he is a shamed or anything like that. We just gotta…. You know it is like a "We" thing, "We" box, it is not an "I" thing, so we just gotta step up our grind and show people that it was a fluke, and that a weak link doesn't necessarily make another person weak. I don't want people to think that he is weak, and I don't want people to think that I am weak. It was a fluke
RC: Is there anything else you would like to say in closing?

JC: I just want to shout out all of my peoples in Queens, the whole "L" gang, bang bang Brownsville gang, Y.N.I.C. and team ghost.
Send questions and comments to: ray@Boxingtalk.com