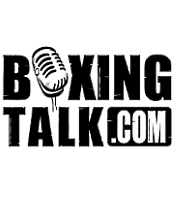 Vargas trainer on Mosley fight: "It's going to be a street fight!"
Upon reading what welterweight contender David Estrada 18-2(9) had to say about the February 25th showdown between former, two-time world champion "Ferocious" Fernando Vargas and former three time champion "Sugar" Shane Mosley in which Estrada picked Mosley to win. "I've been in training camp with him (Vargas) and I fought Mosley" stated Estrada in an exclusive interview with our very own Greg Leon, conducted earlier this week. "I think what they did to Vargas by changing his style up is hurting him" he continued and concluded with "I think Mosley's going to take it." Vargas' trainer, Danny Smith also known as "The Truth", contacted Boxingtalk.com to give us his thoughts on Estrada and his prediction.
RC: Danny, what's good?
DS: Everything is going great. Basically, I read what David Estrada had to say about Fernando. He was making comments on who he think would win based on his fighting (Mosley) and sparring (Vargas). But he shouldn't be talking, I was in camp when he was sparring with Fernando, and when I first seen him, Ishe (Smith) asked me if he was a professional and I said I don't know if he is a professional or not. Reason being is he didn't look that good, and when he got out of the ring we asked him what his record was and he was like 12-0, and we looked and each other and was like "Wow", we couldn't believe it, he looked like he didn't even have any fights. So when they called us (He and Ishe) to take the fight, and I was like of course that would be a pretty easy fight. He was actually tougher as far as taking punches than I thought he was because he took a lot of punishment from Ishe, so after the fight I did give him his props and let him know he was tougher than I thought he was.
Then he went on to win some fights against Chris Smith, and against Nurhan Suleymanoglu. So I was like this guy is probably better than I thought. Then he fought Mosley, and in that fight, it showed me that Mosley wasn't as great as he once was. Because I think Ishe looked better against Estrada than Shane did.
Mosley went on to fight another guy (Jose Luis Cruz) as slow as syrup, and he didn't look so great, and I know he has never had a weight problem. Mosley has always been a well-conditioned guy, a very hard working guy from what I seen when I was in camp with him, and he always trained hard and I didn't understand why he didn't look great because he didn't have the excuse that Fernando has. Fernando had to loose about 45-50lbs to make the weight against Joval and Castillejo, which were better fighters than he (Mosley) fought.
RC: Danny, why is Fernando having weight issues to where he has to loose 45-50lbs before a fight? I mean the Joval fight we can sort of understand, because he was out for well over a year going into that fight, but what about when he faced Castillejo?
DS: Well I think that when he gets home back to the everyday life, and gets out of that training mind, he puts on weight real easy because he doesn't have a very fast metabolism. It's like you and I may be able to go to Burger King and eat a combo, and not feel that much of an affect, but for him he would put on four, five maybe six pounds instantly. It's unbelievable for his body, but this guy we got Rob Ferguson, the job that he does is so unbelievable that I sometimes can't believe it. And Fernando is a little at fault, he admits it, he is a professional and he knows that this is his job, and he doesn't blame anybody but himself. So whatever happens in that ring, he takes full responsibility for it, he doesn't blame his trainer or say ooh this guy did this, he will tell you "Hey man I blew up in weight and I felt terrible when I fought" which he did, when he fought Castillejo. He was in the hot sauna for an hour, carried out, laid in the bed, and then we took him to go weigh in.
RC: You as the trainer have to put your stamp on him every time he walks into the ring, so what are you guys doing this time around in this very important fight against Shane Mosley , to make sure that doesn't happen?

DS: Well right now we started camp earlier. He is not going to be eating as much during these holidays coming up, he is in camp and in solid training right now. He is between 174-176lbs right now, so his weight right now is not as much of a factor at this particular time, where as last time at this point he was maybe 45lbs over weight. Now he is only like 21-22lbs over. So this time I am not weary, he is working a lot harder; he is running a lot faster, and we switched up a few methods that will make a big difference.
RC: What type of methods did you switch up?
DS: We are sparring earlier than before. We're going more rounds. This is a fight that Fernando wants. I heard Shane Mosley say Fernando gets tired and he plans on stopping him in the 9th or 10th round, and honestly we don't even plan to make it that far. We are trying to stop him before then. I know Shane has never been stopped, and he is a tough guy, but Fernando is going to fight him, no boxing.
RC: You said there wouldn't be any boxing, but it seems as if that is all Fernando did in his last two fights, are you guys switching it up for this fight?
DS: ooh yeah, for this fight the weight is not a problem. In his last two fights he had to box, there is no way he could have sat there and tried to shoot his load with his body being as fatigued as it was with all of that weight loss. So it was much easier for him to outbox those guys, that weren't smart enough to catch him, and cut him off and make him engage. If it had been someone like an "A+" fighter, it would have been a lot different.
Now he is not going to be in that type of situation where his body will be fatigued from the weight loss because he is training so much earlier and performing a lot better now than he did before. So when he fights Shane, it is going to be a close quarters fight, it is not going to be a boxing match where he is trying to sit out there and deal with somebody as fast as Shane. You know Shane is a fast guy and to try and out box Shane would be real stupid.
RC: So in other words you haven't changed his style; you just had him fighting that way because of the condition at that time?
DS: No, No, not at all, just knowing that he needed to box according to those circumstances that he was under I made sure that he wasn't able to get hit while he was tired and exhausted and as fatigued as he was. As fatigued as he was he wasn't taking any punishment, he was blocking, catching shots, moving around, and of course I always want to see him knock guys out. But sometimes you can't knock everybody out. We went and had two fights without taking a lot of punishment. So now he is going to go out there and he is going to fight Shane. It is going to be a fight, it is not going to be a boxing match, and I know Shane is going to try and make it that, but it is not going to be like that. It is going to be a street fight; somebody is going to have to go. Either he is going to have to get Vargas up out of there, because BELIEVE ME, Vargas is DEFINETLY going to be trying to get him up out of there.
RC: Give us your take on how this fight is going to play out?
DS: It depends; I have to see the first round. The first round we are coming out of the gate. We are coming straight out of the gate trying to fight. If Shane can evade and tie up like he has been doing, because he has been hugging guys and holding on in the last fights that I have seen, and I want to know if he is going to do that. Or maybe he lifted more weights, maybe he got on some weight gainers or protein shakes or something, maybe he might be physically stronger than we think. The first round is going to tell about the adjustments that have to be made in the corner. Are we going to still go head up? Are we going to cut the ring off to the left? Are we going to cut it off to the right? The very first round is going to tell me exactly what needs to be done according to what we are doing right now in preparation
I would actually like for Ishe (Smith) to come in, I have been talking to his people and trying to get him to come to camp with us because Ishe can simulate a lot of things that Shane can do, he is a little bit bigger than Shane but he can match speed, he is probably stronger and can punch a little bit harder than Shane, which will help us out a lot if Ishe would come to camp with us. So right now we are talking to help him to see if he will come out. 
.
RC: Okay, how would that work? You are Ishe's former trainer, and you're currently working with Vargas right now, in addition over the last year or so Ishe and Fernando has been going at each other's throat on the record about a possibly fighting each other in a future showdown, I mean how would that work do you think all of that would be a good mix in training camp? Is everything all right amongst the three of you?
DS: Oh yeah, everything is all right with Ishe and me. I have never gone online or said anything negative about Ishe, I mean we had a relationship for many years, and he went his way and I went my way. We met up after the Jermain Taylor fight (Hopkins II), and we were able to talk and clear the airways and see where everything was. So as far as I am concerned everything is all right, and as far as he is concerned everything is all right. Fernando doesn't hold a grudge, this is a business, people are going to call you out, people are going to say things because he is a money guy and to fight a guy like that, you know you are going to make big money. Who wouldn't want to fight Fernando or Oscar or Winky at this point and time. Everybody, Everybody wants to fight them.
RC: What did you think of his performance in his last fight against Anthony Bonsante?
DS: I didn't see him at the finale. I heard it was a good fight. I know one thing that I installed in Ishe is to become a superior body puncher. So that is not going to change, what I taught Ishe and worked with him over the years is going to carry him no matter who he trains with, or no matter what he says he has learned. I developed him into a superior body puncher. When I first started working with him, I told him he has to become a body puncher because he will slow down all of that stuff that people are doing.
He called me before he fought Ahmed (Kaddour) and he asked me how should he fight him, and he told me they didn't like each other and that their was a lot of animosity, so I told him that the guy is going to come out real hard, and I told him all he has to do it start getting at his body and once you start doing tat, he is going to stop fighting back. Then you can throw your hook right hands, you can throw your straights down the center, but always stay on their body, and I let him know that those cats will not understand nothing when you stay on their body, they will forget all about fighting.
RC: Speaking with Ishe Smith on a regular basis, he makes it clear to me that he would like for nothing more than a fight against Fernando Vargas, give us your thoughts on a possible match up between your old student (Ishe Smith) and your new student (Vargas), is that a fight that can actually happen?
DS: Oh No no no, that will never happen. Vargas doesn't plan on being around long. He wants to redeem himself. He wants a fight with Oscar De La Hoya and he knows in order to get a showdown with Oscar that he must be impressive against Mosley. He is going to let it all hang out against Mosley because this is a must win situation in order to be able to ask Oscar for another possible fight with him. So Ishe is a guy that is going to have to fight guys like (Ike) Quartey, hopefully Vernon Forrest, Kassim Ouma, and then possibly get a fight with one of Don Kings champions at 154lbs. I don't think right now he will be able to get the Floyd Mayweather Jr., the Oscar De La Hoya, and the Vargas and those kind of guys because those guys don't plan on having no more than two or three more fights, and they are done. Vargas may only have two more fights, if he beats Mosley and fights De La Hoya, win loose or draw that would probably be it for him. 
RC: How would you see those fights that you feel can happen play out?
DS: Well Mosley and Ishe is a fight that can happen, I mean if Mosley stays around that is a fight that possibly could happen, I would pick Ishe. Ishe didn't have any problems with him when he was sparring, so I don't see how Mosley could beat Ishe in any kind of way. I wouldn't even be worried about that fight at all. If he goes back down to 147lb,, or 154lbs, or whatever….
RC: (Cutting) I doubt he'll ever be able to make 147lbs again

DS: he probably won't but if Mosley went up and fought Ishe I think Ishe would win with no problem. He would be too fast, too strong, and too big
RC: As his old trainer how do you think you'll do against the other three names you just mentioned, along with Sechew Powell?

DS: I watched Sechew fight, I think he is very slick, he is crafty, he is a smart fighter, he doesn't have enough pop to keep a guy like Ishe off of him, nor does he have enough experience as a professional. He hasn't sparred with the likes of guys that Ishe sparred with; I don't think that Sechew is really ready for a guy like Ishe. I think mentally he believes he is, but when he get in there he will find out he is really not ready. Even though he beat Archak (TerMeliksetian), Archak is a target, a six-foot target sitting right in front of him. He didn't throw many punches, but he just stood right there, and if he didn't knock out a guy like that I don't think Sechew Powell is ready for Ishe Smith
Now the other ones are very interesting fights. I seen Ouma when he fought Karmazin, he didn't look like he was there mentally, and Ishe does well with aggressive guys that throws a lot of punches, he does well with those. The only person that would probably make for the bigger fight, and Ishe would have to REALLY be on top of his game would be against Vernon Forrest. He would really have to be all there, Vernon Forrest is a good technical boxer, and he throws a great one two. He would have to watch out for those big right hands coming from Forrest, to me that would be his most difficult fight of the three. Quartey doesn't look like much to me, he just looks like he is trying to get another payday. 
RC: Anything else you would like to add about the Vargas-Mosley showdown?
DS: It is going to be a great fight and we are going to get him man, I know Shane is going to be ready, and this is probably not it for Shane if he looses. He can always turn around and say I am a welterweight, and say something like "great guys go up in weight or down in weight to fight guys a weight division higher or lower, he is bigger than me so I will go back down and fight in my normal weight class." On the other hand, in this fight Fernando doesn't have an excuse for loosing at 154lbs, so BELIEVE me Fernando is going to get Shane up out of there.
Send questions and comments to: ray@boxingtalk.com