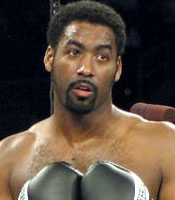 Brock speaks on Bostice fight, responds to Audley and more!
GL: What's good Calvin?
"I've just been getting myself ready to take care of David Bostice on November 19. But right now I'm getting ready to head over to Atlantic City for the fight between my man Samuel Peter and Wladimir Klitschko."
GL: Who do you like in that fight?
Calvin Brock: "I like Sam Peter by stoppage."
GL: Tell us what you know about Bostice and what you expect a victory over Bostice to do for your career?
CB: "All I know about Bostice is that he does come to put up a good boxing. He's 6'5 and 250. That's about it. I've seen him get knocked out before. He got knocked out by Wladimir Klitschko and he got knocked out by Jeremy Williams. I've only seen him box a couple of time but I know he's been knocked out three or four times."
GL: Following your big win over Jameel McCline on the ESPN PPV, you were expecting that win to lead to bigger and better things. Then there were talks that you could be fighting Vitali Klitschko, then there were talks about Wladimir Klitschko and here we are and all that's happened since the McCline fight is Kenny Craven and David Bostice. Does that disappoint you?
CB: "I'm not disappointed because I know everything will happen in God's time. My time to fight Vitali will come around again. Vitali knows that I'm the real heavyweight champion of the world and that's why he was calling me out. I had just got married though so I wouldn't have been training the way I would have wanted to and I would have been able to focus the way I wanted to. So the way I see it is, everything worked out well because the timing wasn't right and the money they were going to pay me will come back around. The opportunities for me to make my name bigger by the time I fight one of those guys will only make the fights bigger as I move closer to the crown."
GL: Audley Harrison told me that you turned him down twice. He also feels that your people are sitting on your position playing the waiting game. How do you feel about that?
CB: "Do you see Audley Harrison anywhere in the top ten? My goal is to become the heavyweight champion of the world, we're not trying to take a backwards step. I've got myself focused on Klitschko and names like that, not Audley Harrison. If you say Audley Harrison to a lot of people they don't know who you're talking about. He needs to win some fights and build himself up so he's worth fighting because right now he really hasn't done anything.When he gets some heat behind him, we'll meet in the ring and I'll be happy to shut his mouth."
GL: Don't you think that a fight with Audley Harrison is more appealing to the fans than a fight with David Bostice?
CB: "Yeah it would. But David Bostice is an OFF TV boxer. I can't help that ESPN is off the air for the rest of the year. Bostice right now is just us doing what we can to stay busy before the end of the year. Audley Harrison isn't the kind of fighter you fight off television."
GL: So you're looking at Bostice as more of a tune-up than a fight that will advance your career?
CB: "I'm not looking at him as a tune-up. I'm looking at him as a noteworthy opponent. Everybody in boxing knows who he is. I'm already in the top ten and I'm in line to become Vitali's next challenger if he beats Rahman so why should I be thinking about Audley Harrison right now."
GL: Is there anything you'd like to say in closing?
CB: "Calvin Brock is the best heavyweight in the world and I want everyone to know that I'm going to be even better the next time they see me."
Send questions and comments to: gleon@Boxingtalk.net