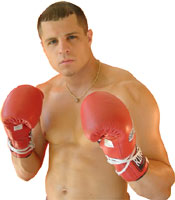 BJ Flores versus Jermell Barnes January 28th on Gatti-Damgaard undercard in A.C.
RC: BJ, What's going on?

BJF: Everything is good, we are in Ventura California right now training for this January 28th fight on the Arturo Gatti (versus Thomas Damgaard) undercard, and I feel great. I am ready to fight right now. I don't even need the last three weeks of training camp. I feel ready right now.
RC: Do you know who will you be fighting on the 28th of January?
BJF: Jermell Barnes 17-10(4)
RC: What can you tell us about him?
BJF: He was the former NABO cruiserweight champion and he has been in with a lot of good dudes. He has been in there with Dale Brown, and lost a pretty close decision to him, he has fought Felix Cora, I mean he has fought a lot of really really tough guys. He lost a tough decision to Brian Minto; He is definitely going to be a step up in competition, we were looking for tougher, higher quality level opposition and he fit the bill. I know he is tough, and I know he is going to bring his "A" game, and I am going to bring mine too, so it is going to be a good fight.
RC: You mentioned you are already ready to go, how are you preventing from overworking yourself at this point, or prevent from getting bored in preparation?
BJF: I am just going to stay focused. My trainer is really smart; Danny Smith is one of the best in the business. He does it right, he knows me. He knows what I can and cannot do. He paces me really good in the gym. Some days if I want to go hard he will tell me "Hey, today we are going to shadow, shake and do a lot of brainwork." He paces me just perfect, he knows me well enough to where he can keep me fresh for the fight.
RC: This will be your first fight as a cruiserweight, what made you decide to make that move down one division?
BJF: The last couple of years I have been fighting at heavyweight always forcing to put weight on to get up to 215 to 220lbs, and to do all of the things to gain weight. Honestly… it wasn't me when I got up there. I felt like I was better at 200 - 205lbs right around there, in that weight area. I am 14-0(12), I am kind of at the point in my career where I got to make a move one way or the other, and I said hey lets go get these Cruiserweight belts and we can worry about that heavyweight stuff later. I definitely feel that I have a good chance to grab one of those cruiserweight belts within the next year and a half to two years definitely.
RC: How hard is it going to be for you to make the cruiserweight limit which it 200lbs?

BJF: It's going to be hard. I am coming down from 218-220lbs. I am going to be real strong and physical at cruiserweight. I am use to sparring with Charles Shufford and Friday Ahunanya those guys are big heavyweights. So coming down to cruiserweight is definitely going to be an advantage compared to what I have been doing for the first few years of my professional career. But Cruiserweights have certain elements that certain heavyweights don't have, like speed and conditioning and stamina. It is going to be a different ball game, but I will be able to make the weight. It will be tough, but I will be able to make it fine with proper dieting and proper work out program.
RC: Barnes has been in there with a few very good up and comers such as Felix Cora, Shaun George, Brian Minto and Matt Godfrey. And he went the distance with all of those guys. Will you be looking to probably outdo them and stop him within the distance?
BJF: Definitely. We are always trying to win by Knock out, always. Sometime sit doesn't happen but that is always the intention. If for whatever reason he makes it and survives, and he is doing some things well from preventing me from knocking him out, then hey I will give him props. But the main thing is winning; I don't even want to confuse the purpose of what the game of boxing is all about. In some fights you don't look as great as you do in other fights. The main thing you do is go for the win, but we are always looking for the knock out.
RC: What has the training been like preparing for this cruiserweight bout, oppose to if you were still training for heavyweight? Does the sparring change; eating, dieting can you give us some sort of an idea?
BJF: The main thing I have been doing is stepping up my cardio. I have been more consistent with my cardio as far as making sure I have been doing it at certain times. Everyday I am doing it regardless of what happens. The second biggest thing is my dieting; the way I am eating. I am eating a lot of lean meats, a lot of chicken, a lot of good foods, a lot of vegetables a lot of different nutrients and proteins. That are going to help me to monitor the carbohydrates that I take in and monitor everything that I take in to make sure that come fight night I am going to b totally ready.
RC: Until recently, the cruiserweight division has been sort of the lost division the last few years. What do you feel you bring to the division?
BJF: I am going to bring everything to the Cruiserweight division. At the heavyweight division I bought a lot of hand speed, a lot of good boxing ability, a lot of good footwork and ability to adapt in the ring. At Cruiserweight I think I am going to bring all of that plus power and physical strength. I grew up playing football, so physical strength is very important. Weight lifting is going to be a very important part f my program. I am pushing 225lbs almost 15 times.  That is about a 345 max on the bench press. Now that doesn't tell he story, but if you have that and boxing ability and hand speed, all of those things do matter. I am going to be stronger than a lot of these guys and I am going to be pushing a lot of these guys around. Then with my hand speed, my range, my outside punches and then that physical work inside. I think I am going to be coming up real fast. We are looking to get past this guy and then go to a minor title immediately after that. We have already talked to ESPN about possibly being a ten round main event in March or April, so I am looking forward to that, but I gotta get past this guy first. Then after that we are looking to move onto guys in the top ten. So we are looking to move pretty fast once we move down to cruiserweight. 
RC: By years end where do you feel you'll fit into the cruiserweight mix?
BJF: Hey I am going to be in the top immediately. I have fought my whole life with Steve Cunningham, Felix Cora, all of those young guys coming up and I know I can compete with those guys. I know I can beat those guys. They bring a lot to the table. They are all great fighters, but at the same time with my mindset right now, with my determination and my physical talent, I feel like I will definitely be able to compete with those guys and bring a lot to the table. Like I said they are all great guys, everyone is good once you get to that level but at the same point, there is something that separates one fighter from the next and I am going to bring that.
RC: Give us your thoughts on the Bell-Mormeck fight tat took place this past weekend?
BJF: I thought it was a great fight, I thought O'Neil bell was very p for that fight; he obviously did something different in his training camp. He set the pace from the very beginning of the fight. He was using a lot of shoulder bumps, a lot of body pushing and things like that to gain control on the inside, and that is something that I didn't anticipate from O'Neil Bell. He was controlling Mormeck on the inside and the outside, Mormeck would flurry at times, but O'Neil Bell was really controlling the pace of the fight. All with outside jabs and right hands, so I gotta take my hat off to him he fought a great fight. He did what he had to do. He showed incredible resilience; incredible toughness and he got rewarded with the tenth round knockout. So he is the main guy in the division and I respect him for that but hey he is going to have a lot of guys coming after him and I am going to be one of them.
RC: One of the guys that will probably be going after him next is IBF # mandatory challenger Steve Cunningham. What are your thoughts on a possibly match up between those two?
BJF: Steve Cunningham is a very good boxer I remember him from the amateurs, I remember him from the 2000 US championships, I believe he fought Michael Simms, I been around Steve for a long time. He won the "98" national golden glove at 178lbs, he is a tall lanky, smart boxer. He has wins over Guillermo Jones, he has wins over Kelvin Davis, Sebastian Rothman, and I think he did a little better than O'Neil Bell did it, but styles make fights, so I can't necessarily say that Steve Cunningham is going to beat Rothman better than Bell did. I think it is going to be a great fight, but at the end it is tough to pick because Cunningham has great boxing ability but O'Neil Bell has been up there for a while and he definitely has the better boxing resume. It is going to be a tough fight, I think O'Neil Bell is extremely tough and I think he showed his metal on his last fight. So I have the give the benefit of the doubt to him until we see otherwise.
RC: With the Cruiserweight division starting to brighten up, do you feel any extra-added pressure to look good in front of the HBO suits? And possibly feel that you have to go out and knock him out to be impressive?

BJF: All I am worried about is Jermell Barnes right now. I am going to go in and follow the game plan. I am going to put pressure on this man, I am going to hit him with straight punches from the outside, I am going to dig his body early, I am going to touch him and test him. From there, based on what he does when I am testing him, I will know where to go from there. So I cant say I am going to knock this man out. I think he is going to come in very tough, you see it depends a lot of times. I get in with guys and I will start touching them early and then they will go into survival mode for the rest of the fight. But its tough to say, but if he comes out fighting and he comes out trying to get me out of there like I am going to be trying to get him out of there, then we might see a knockout, if he goes into survival mode then it is definitely tough. He is a tough fighter, he has been in there with a lot of good guys and he has only been stopped one time by a Heavyweight. So I don't necessarily think he is a guy that is going to go in there and fall down, and that is what I want. I want a tough, tough credible challenge and I think he is the guy so I am looking forward to it.
RC: Who have you been working with for this fight as far as sparring?
BJF: James Walton and Danny Batchelder. Batchelder is 22-1 former NABA cruiserweight champion. James Walton has been in there with all of the big dogs, Sergei Lyakhovich, Sultan Ibragimov and he went ten round with O'Neil Bell. So James brings a lot of experience to the table and he is really helping me out for this camp. We have a couple of other guys. I am doing everything that I can to make sure that I am getting good sparring; I don't like bringing in 4-1 and 5-1 guys. I like to bring in experienced veterans that can teach me stuff, so that I can really gauge myself on how I have been doing with these guys. I really feel like I have been doing well with these guys, I honestly feel like I can go a long way in this. I feel like my conditioning is excellent. My corner Danny Smith has taught me so many little things and now I am able to execute them in the ring. My sparring really helps me to prepare myself, for these fights that I have coming up. The whole team is on the same page and I feel really good about everything. So I am really excited to get this fight over with.
RC: Is there anything else you would like to add in closing?
BJF: Shout out to everybody that has been following my career, Shout out to my brother Jeremy Flores 1-0, he is having his second pro fight here pretty soon in the next few week and he is working really hard for it, so I am real proud of him, and everyone back in phoenix. 
Send questions and comments to: ray@boxingtalk.com